We've updated our Privacy Policy.
By continuing to use this site, you are agreeing to the new Privacy Policy.
It doesn't matter when University of Missouri, Columbia quarterback Matty Mauk snorted the cocaine like substance. It just matters that it happened. So, for all the apologetic defensive Mauk supporters, do yourself a favor and drop the shield and pick up a torch. When Mauk was abruptly suspended this past season, few people knew the details. Foul play or behavior was suspected but...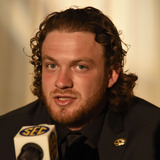 Missouri has suspended quarterback Maty Mauk from the football program indefinitely as they investigate a video that allegedly shows the Tigers QB snorting cocaine. The video below was circulated on social media, and it shows a man snorting a white powder substance off a table: Matty Mauk missing the line, just like he misses his receivers. #Mizzou #Rocktober #MattyIce @TMAFanpage...
Oh well. You can add J.P. Howell to the pile of lefty relievers Mike Rizzo has missed out on so far this winter: Howell to Stan Kasten's LA Dodgers Money Pit for $2.85 Million+. Fear not, Nats fans: we hear ex-Nats lefty Ray King is available... (Photo by Evan Vucci/AP) Befriend Nats Enquirer on Facebook. Follow on Twitter.
LIKE WHAT YOU SEE?
GET THE DAILY NEWSLETTER:
Like every year at this time, the autograph details for the St. Louis Cardinals Winter Warm-Up arrive in my mail. The three-day fan event is held each January over Martin Luther King weekend, this time from Saturday, January 19 through Monday, January 21. In my annual just-for-fun endeavor, I look at rising and falling autograph prices from year to year. These values are set by someone...
It's been 4 years, but I'm finally moving again.And it looks like over the course of 4 years, Craigslist has lost grip with English. Cute = Ray King Could Not Lay Down Affordable = ******** Refinshed = Not Since It Was Built Charming = Crackden Spacious = Crackden Occupied by Multiple People It's like adjectives were taken out back and shanked. And each time you click on a link...
While looking toward the future with our comprehensive slate of current content, we'd also like to recognize our rich past by drawing upon our extensive (and mostly free) online archive of work dating back to 1997. In an effort to highlight the best of what's gone before, we'll be bringing you a weekly blast from BP's past, introducing or re-introducing you to some of the most...
Spring Training is underway and former big league reliever Ray King has, again, found himself back in Arizona.As head coach of the Independence Patriots in Glendale, Arizona.And while he's a long way from the Major Leagues, he's keeping his love of the game alive and thriving.HOVG: You've been playing baseball all your life…who has been your biggest influence and why?KING: My biggest...
  (AP Photo by Lawrence Jackson. Stan Kasten and Mark Lerner, looking forward to mingling with bloggers?) Congrats to the five blogs selected by the Nationals to receive media credentials to cover the team. Here they are:  Nats News Network, Federal Baseball, Nats Farm Authority, Nationals Daily News (formerly Nationals Pride), and Nats 320. An anonymous source...
MORE STORIES >>
Astros News

Delivered to your inbox

You'll also receive Yardbarker's daily Top 10, featuring the best sports stories from around the web. Customize your newsletter to get articles on your favorite sports and teams. And the best part? It's free!