We've updated our Privacy Policy.
By continuing to use this site, you are agreeing to the new Privacy Policy.
The team announced Thursday morning it had granted infielder Ryan Flaherty his unconditional release.
By Matt Rappa, Sports Talk Philly editor The Philadelphia Phillies granted non-roster invitee infielder Ryan Flaherty his unconditional release on Thursday, opting to not sign the six-year veteran to a big league contract with a week remaining until Opening Day. Flaherty, 31, exercised the out-clause in his contract on Wednesday, allowing the Phillies 48 hours to decide to whether...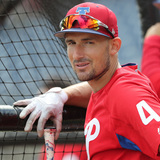 The Phillies have released infielder Ryan Flaherty, per a club announcement. He had triggered an opt-out provision that required the team to add him to the MLB roster or set him loose.Philadelphia had largely signaled its intentions already by adding veteran Pedro Florimon to the 40-man. He'll likely serve as the team's general utility option, a role that was up for grabs in camp...
LIKE WHAT YOU SEE?
GET THE DAILY NEWSLETTER: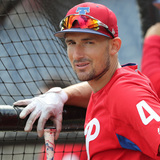 Phillies utilityman Ryan Flaherty plans to opt out of his minor league contract, Todd Zolecki of MLB.com tweets. The Phillies will have 48 hours to add Flaherty to their 25-man roster or let him go. Odds are that they'll grant him his release, per Zolecki. The 31-year-old Flaherty was a member of the Orioles from 2012-17, and Baltimore reportedly made an attempt to keep him before...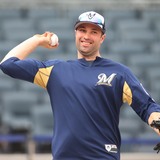 Neil Walker's one-year, $4MM deal with the Yankees seems like one of the better bargains achieved by a team in an unprecedentedly slow offseason for free agents, and Ken Davidoff of the New York Post looks back to last offseason when the infielder was discussing a longer-term pact with the Mets. At some point last winter, the Mets floated a three-year extension for Walker that would...
The Ryan Flaherty era in Baltimore really has come to an end. Or maybe it's just been put on hold. The Phillies have signed Flaherty to a minor league deal, as first reported by ESPN.com. He'll go to spring training in Clearwater, Fla., and attempt to win a utility job. ... Read More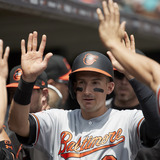 The Phillies and free-agent infielder Ryan Flaherty have agreed to terms, tweetsESPN's Jerry Crasnick. Presumably, it's a minor league deal for the CAA client, based on Crasnick's note that Flaherty will "compete for a job in Spring Training." He'll join fellow veterans Adam Rosales and Pedro Florimon in competing for a utility infield spot with the Phils.Baltimore was said to have...
Ryan Flaherty says it was a good momentum builder to sweep the defending champions.
Ryan Flaherty has become a liability for the Baltimore Orioles this season. On every Little League baseball team in America, there is the same kid. You know this kid. Everyone knows this kid. He tries hard, he really does. And occasionally, he'll make a good thing happen, like leaning into a pitch to get on base or not committing a throwing error to first base on a routine grounder...
Your browser does not support iframes. Typically I'm not impressed by ballplayers catching fly balls and home runs with their hats. These guys are major leaguers for a reason. They should have the hand-eye coordination needed to pull off a catch like that, but I'm giving credit to Orioles reliever Luis Ayala because this home run was absolutely stung by Ryan Flaherty. As you can...
MORE STORIES >>
Phillies News

Delivered to your inbox

You'll also receive Yardbarker's daily Top 10, featuring the best sports stories from around the web. Customize your newsletter to get articles on your favorite sports and teams. And the best part? It's free!