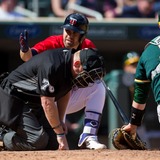 Mike Muchlinski didn't exactly have the most pleasant Thursday afternoon.Muchlinski was umpiring home plate in the ninth inning of the Oakland Athletics-Minnesota Twins game when A's catcher Stephen Vogt, who was setting up outside, got fooled by a Santiago Casilla pitch and it hit Muchlinski right in the groin before Vogt could get a glove up. That can't have felt good.Brian Murphy...
San Francisco Giants closer Santiago Casilla has blown three saves already this season, and manager Bruce Bochy was not about to give him a chance to blow a fourth on Thursday night. When Casilla got himself into another 9th-inning jam, Bochy pulled him. You can imagine how the right-hander felt about it. With the bases loaded and the Giants leading 4-2, Bochy turned to left-handed...
Like most other relief pitchers, Santiago Casilla has had very few at-bats during his career. On Thursday night, the San Francisco Giants righthander experienced the fifth plate appearance of his career and first since 2012. The Giants probably wish they replaced him with a pinch hitter. With San Francisco leading 5-1, Casilla chopped a ground […]
The Giants and right-handed reliever Santiago Casilla agreed to a three-year, $15 million deal on Monday, according to a source. The deal, which also contains a vesting option for a fourth year according to the source, buys out Casilla's final year of arbitration and two free-agent years. According to the source, if Casilla, 32, fails to reach certain thresholds, the vesting option...
THINK OUTSIDE THE BOX
Santiago Casilla is a relief pitcher. A relief pitcher for the Giants who prior to Sunday, never batted in MLB. That fact was pretty evident when he stepped to the plate in the top of the 9th inning against the Marlins in their series finale. To say he wanted no part of the plate does [...]
MORE STORIES >>
Athletics News

Delivered to your inbox

You'll also receive Yardbarker's daily Top 10, featuring the best sports stories from around the web. Customize your newsletter to get articles on your favorite sports and teams. And the best part? It's free!