Are you overshadowed by a rock-star colleague? Maybe you're great at your job, but this person occupies a similar role and is amazing at theirs. This super-you exceeds expectations on every project, perpetually radiates serenity, and never burns popcorn in the office microwave. In actual talent level you're not far behind this person, but in management's eyes you don't measure up...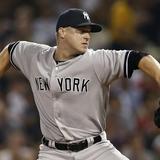 Today, Shawn Kelley, the Yankee bullpen lug nut known for mixing overpowering performances with brutal whippings, was dealt to the San Diego Padres - (yes, Virginia, there is a San Diego Padres) - for a middling, 22-year-old, Double A, RH relief pitching prospect named - (cue the Scarface soundtrack) - Johnny Barbato. This is one of those Cashman clunkers that makes no sense, unless...
The Padres acquired yet another player today, as the new General Manager continues to trade away the prospects the past General Manager acquired for win-now assets. You could call Shawn Kelley just a reliever, but that doesn't make him sound special. He is a little special, though, and he could absolutely close. A word from […]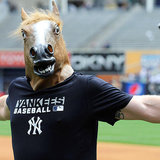 With time winding down on the season and the New York Yankees' hopes of making the postseason dwindling, relief pitcher Shawn Kelley may have inadvertently stumbled upon the team's good luck charm while perusing Amazon. Kelley last week debuted a particularly disturbing-looking horse head mask during pregame stretches and since then, the Yankees have not dropped a game. Since last...
M's make headlines It's been a crazy week for the Mariners, and things reached an apex Wednesday. Here's the big headlines from Seattle's exciting day. Seattle finalizes deal with King Felix After some minor bumps in the road, the Seattle Mariners have finalized a contract extension with ace pitcher Felix Hernandez. It was originally reported early last week that the Mariners had...
A short while ago via the Seattle Mariners twitter feed we learned that the team has announced RHP Shawn Kelley has been optioned to AAA Tacoma. This officially puts the M's roster at 27 players; we all know to well of course that they need to be at 25 by 2 pm Wed. Looks like Seattle Mariners Executive Vice President & General Manager Jack Zduriencik wasn't happy with the...
At 27 years of age and in his third season in the Majors, Shawn Kelley doesn't fall into the rookie category. But when it comes to making late-season impressions, the right-handed reliever has taken advantage of his September callup more than anyone in an organization that is bent on giving youth a chance.
Mariners reliever Shawn Kelley, who had hoped to be ready to come off the 60-day disabled list by June 1, instead will be shut down for the next month after problems cropped up again in his surgically repaired right elbow.
Shawn Kelley is tired of waiting, but he'll have to do it for a little bit longer.
MORE STORIES >>
Nationals News

Delivered to your inbox

You'll also receive Yardbarker's daily Top 10, featuring the best sports stories from around the web. Customize your newsletter to get articles on your favorite sports and teams. And the best part? It's free!