The baseball oddity of a three-Garcia outfield no longer exists on the South Side after the White Sox made another round of roster cuts at spring training that included the release of Willy Garcia.
Willy Garcia is released, six pitchers head to minor-league camp Late this morning, the Chicago White Sox executed a pitcher dump on their minor league camp: Alec Hansen was an obvious candidate for a mere look-see in major league camp, getting into just one game and 1 2⁄3 innings, giving up three earned runs. Still, it's interesting that a similarly-tracked pitcher like Dylan Cease...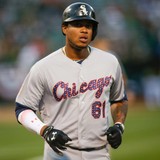 The White Sox announced their second series of roster cuts this spring today, which included the release of outfielder Willy Garcia. The move opens up a second 40-man roster spot for the ChiSox, who previously had 39 players on the 40-man.Chicago acquired Garcia, 25, off waivers from the Pirates last January, and he went on to make his MLB debut with the team in 2017 (at times appearing...
  Pittsburgh Pirates prospect Willy Garcia hit a two-run homer and the Dominican Republic beat Cuba 6-1 in the Caribbean Series on Tuesday. Cuba (0-2) returned to the Caribbean Series in 2014 after a 53-year absence, going 1-3 last year in Venezuela. Garcia homered in the sixth inning off reliever Jonder Martinez in the tournament opener for the Dominican Republic. The 22-year-old...
MORE STORIES >>
White Sox News

Delivered to your inbox

You'll also receive Yardbarker's daily Top 10, featuring the best sports stories from around the web. Customize your newsletter to get articles on your favorite sports and teams. And the best part? It's free!