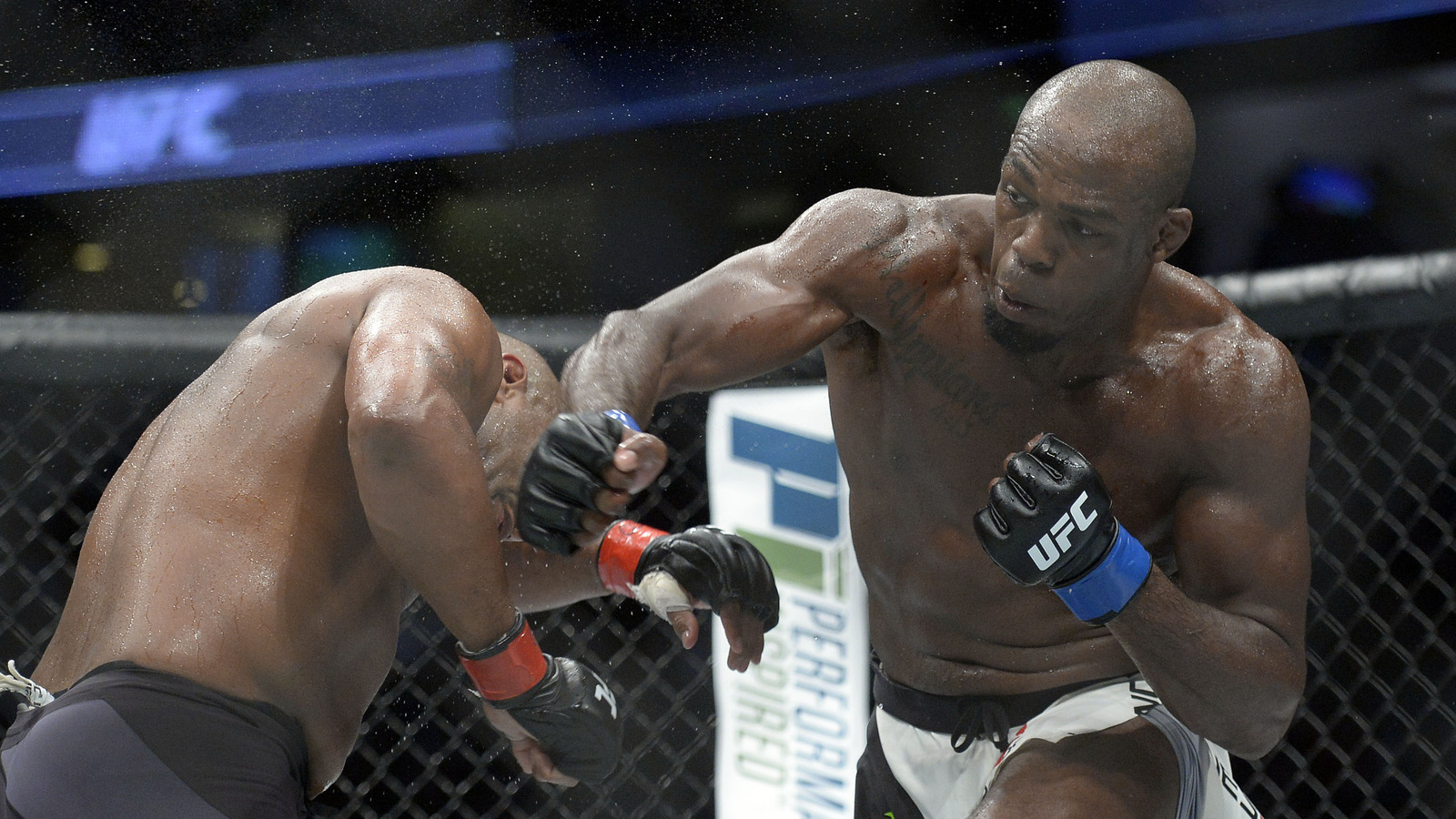 Jon Jones is thinking big for his next UFC opponent.
Gary A. Vasquez-USA TODAY Sports
Jon Jones reclaimed the UFC light heavyweight title Saturday night by knocking out Daniel Cormier in the third round, and he wasted no time trying to lay the groundwork for his next fight. Jones wants it to be a big one. How big? Brock Lesnar big.
Following his win over Cormier at UFC 214, Jones turned his attention toward Lesnar.
"Brock Lesnar, if you want to know what it feels like to get your ass kicked by a guy that weighs 40 pounds less than you, come meet me in the octagon," Jones said, via Simon Samano of MMAFighting.com.
Lesnar, who was eligible to have his suspension lifted earlier this month, issued a warning to Jones in response.
"Be careful what you wish for, young man," the WWE star told The Associated Press.
While speaking with reporters later, Jones said he is serious about wanting to fight Lesnar.
"We're serious about it, and it would be great for the MMA world," he said. "It would bring more of the general public to mixed martial arts, and that's what we need. We need to expand our sport, so why not be the guy to take part in that?"
Since Lesnar retired from the UFC earlier in the year, he would still have to serve six more months of his suspension before being reinstated. There were some recent reports indicating he had put the wheels in motion to resume his MMA career, but the latest doesn't sound promising.
Jones fought at 205 pounds against Cormier, which is the very top of the light heavyweight division. He'd have no problem getting past the 206-pound minimum to fight in the heavyweight division, though Lesnar would still have a serious size advantage.
While the fight would be one of the most anticipated in UFC history, there are probably too many obstacles to overcome. But if Conor McGregor and Floyd Mayweather Jr. have taught us anything, it's to never say never.
MORE FROM YARDBARKER:
QUIZ: Name the UFC fighters with the most title bout wins
Twenty UFC fighters have won or defended a championship title bout four or more times. How many of them can you name?
Clue: Number of titles/weight class(es)
Note: Includes male and female fighters
Heavyweight=HW, Light Heavyweight=LHW, Middleweight=MW, Welterweight=WW, Lightweight=LW, Featherweight=FEW, Bantamweight=BW, Flyweight=FLW, Women's Bantamweight=WBW, WSW=Women's Strawweight
MORE FROM YARDBARKER
MMA News

Delivered to your inbox

You'll also receive Yardbarker's daily Top 10, featuring the best sports stories from around the web. Customize your newsletter to get articles on your favorite sports and teams. And the best part? It's free!