Former UFC heavyweight champion Junior dos Santos (pictured) faces a white hot Ben Rothwell this Sunday at UFC Fight Night 86. Dos Santos has alternated between wins and losses over his past six outings, with most of those brutal wars seeming to take years off the 32-year-old's career. Dos Santos' chin might not be the same and he has perhaps slowed a step or two, but his heart...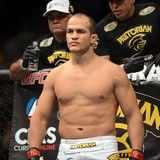 When Junior Dos Santos set foot back in the Octagon Saturday night to face Stipe Miocic it was for a fight that fans had been waiting way too long for. Not because of some huge beef between the two that had to be settled, but because the last time Dos Santos had fought was October 2013 when he lost for the second time to Cain Velasquez.These two guys had been previously scheduled...
Junior Dos Santos and Stipe Miocic really went to war tonight in the main event of UFC On FOX 13 over 25 minutes of Octagon action fought almost entirely on the feet, and while it was very closely contested it was JDS who eventually emerged with the unanimous decision victory. Round One: The main event of the evening is underway. The two men cautiously approach each other. Dos Santos...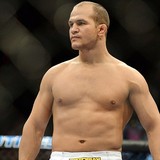 Junior dos Santos (pictured) hasn't been seen since getting annihilated by reigning heavyweight champion Cain Velasquez 14 months ago, but that beating and potential ring rust aren't fazing the Gambling Gods. The powers that be have pegged JDS a heavy 4-1 odds-on favorite to beat Stipe Miocic this Saturday at UFC on FOX 13. Miocic, meanwhile, checks in as a 3-1 longshot. US Airways...
Junior Dos Santos spent Saturday night into Sunday morning in a local Houston hospital being treated for cuts and bruises sustained during his fifth round loss to Cain Velasquez at UFC 166. Dos Santos' manager told UFC Tonight's Ariel Helwani that all told the Brazilian fighter received 11 total stitches after the fight -- seven above his eye, three in his ear and one in his lip...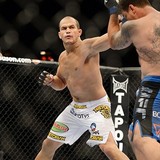 Junior dos Santos lost to Cain Velasquez at UFC 166 in Houston on Saturday after a fifth-round stoppage. According to a report, the Brazilian fighter doesn't remember most of the fight. Here's what Fighters Only wrote: Junior Dos Santos does not remember most of the UFC 166 fight with Cain Velasquez. Afterwards he was under […]
This Saturday night at UFC 166 in Houston, Texas, the biggest heavyweight UFC fight in history is taking place. No. 1-ranked former champ Junior Dos Santos takes on the current champion, Mexican-American Cain Velasquez to complete their epic trilogy. The first fight didn't last long. JDS landed a beautiful right hand that knocked down Velasquez early as he followed with a series...
On Saturday, UFC heavyweight Mark Hunt suffered a broken toe during the first round of his loss in a bout against Junior Dos Santos at UFC 160. In order to properly document the injury, Hunt posted a disgusting photo om Monday to his Facebook page providing ample evidence just how messed up his toe was [...]The post UFC heavyweight Mark Hunt posts disgusting image of fractured toe...
MORE STORIES >>
MMA News

Delivered to your inbox

You'll also receive Yardbarker's daily Top 10, featuring the best sports stories from around the web. Customize your newsletter to get articles on your favorite sports and teams. And the best part? It's free!