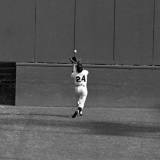 On this date 63 years ago, in the eighth inning of the first game of the 1954 World Series, Cleveland Indians first baseman Vic Wertz swatted a baseball to the deepest part of the infamously cavernous Polo Grounds. It was there that Willie Mays, just 23 at the time, somehow ran the ball down and hauled it in over his shoulder to make one of the greatest, if not, THE greatest defensive...
PITTSBURGH (AP) The coaching shuffle with the Miami Marlins rolls on. A week after firing Mike Redmond and replacing him with Dan Jennings, the Marlins reassigned third base coach Brett Butler on Tuesday and replaced him with assistant hitting coach Lenny Harris. Butler will now work in the dugout and serve as the outfield and base-running coach. Jennings called any concerns over...
The Indians trade pitcher Len Barker to the Braves for Rick Behenna, cash, and two players to be named later. The two turn out to be outfielder Brett Butler and third baseman Brook Jacoby.
Name: Brett Morgan Butler     Position: Center Field       Tribe Time: 1984-1987           Number: 2               ...
1995 SCORE SELECT BRETT BUTLER It's easy to forget that Brett Butler played for the Mets. As far as life mysteries goes, it ranks right up there with what I'm doing with a complete set of 1995 Score Select cards. Perhaps it was won as a door prize at an auction I went to or maybe someone sent them to me by mistake and didn't want to pay for the return postage. My strong preference...
MORE STORIES >>
NASCAR News

Delivered to your inbox

You'll also receive Yardbarker's daily Top 10, featuring the best sports stories from around the web. Customize your newsletter to get articles on your favorite sports and teams. And the best part? It's free!