Butler underwent surgery for a torn meniscus in late February
Butler underwent surgery on his right knee last month after suffering a meniscal injury in a Feb. 23 game against the Rockets.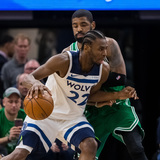 Despite reports of whispers this week that Andrew Wiggins is unhappy as the Timberwolves' third option, the Minnesota guard and head coach Tom Thibodeau rejected the reports, Jerry Zgoda of the Star Tribune writes.Wiggins, 23, is in his fourth season with the Wolves, but his numbers are down from the past two seasons. The former first overall pick is averaging 17.9 PPG and 4.1 RPG...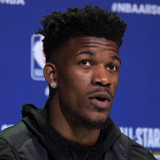 Jimmy Butler has some time on his hands now that he is rehabbing his knee injury, and he is putting it to good use.The Minnesota Timberwolves star zinged Carmelo Anthony on Instagram with a funny comment Wednesday night.Anthony, who led Syracuse to the 2003 national championship, congratulated his alma mater for beating Arizona State (James Harden's alma mater) in a play-in game...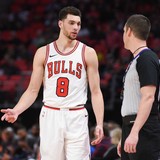 Zach LaVine has been slept on ever since his ACL tear and subsequent trade to Chicago, and he knows it.The Bulls guard was recently left off an ESPN list ranking the top 25 players in the NBA under 25 years old. LaVine, who just turned 23, took an opportunity to respond to the snub earlier this week."You guys [the media] don't think I'm better…Top 25 players under 25? If I'm not...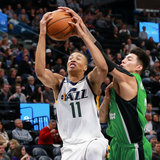 With Dante Exum just about ready to make his 2017/18 debut, Tony Jones of The Salt Lake Tribune takes a look at what the Jazz should expect from the former No. 5 pick down the stretch. While Exum's role will likely hinge on how he plays in his first couple games back, he has looked good in practice, according to head coach Quin Snyder (link via Eric Woodyard of The Deseret News)...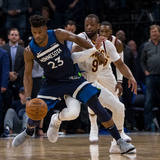 Dwyane Wade shaded Jimmy Butler with a funny Instagram comment posted on Saturday.Butler is recovering from surgery to repair a torn meniscus on his right knee that he underwent in late February. He received an initial 4-6 week timetable and is hoping to return for the Minnesota Timberwolves before the end of the regular season.On Saturday, Butler posted a photo on Instagram showing...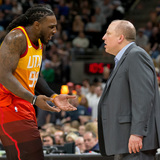 The Sacramento Kings may have lost to the Utah Jazz on the hardwood on Saturday night, but they at least managed to beat them on the Internet.After a sequence in the first quarter where Kings big man Skal Labissiere blocked Jazz forward Jae Crowder at the rim, the Kings posted this perfect tweet that trolled Crowder. Sound familiar? That's because it was a direct spoof of the spat...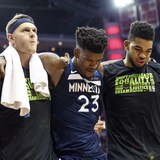 Timberwolves All-Star Jimmy Butler underwent successful surgery on his torn right meniscus, the team's PR department tweets. No timetable for Butler's recovery is available and he will be sidelined indefinitely.Shams Charania of Yahoo Sports tweeted that Butler may be sidelined 4 to 6 weeks after the surgery. The hope is for Butler to be healthy in time for the postseason.We reported...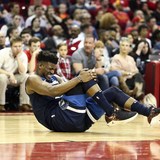 On Saturday, an MRI would reveal a torn meniscus for Jimmy Butler. On Sunday, he would undergo successful surgery on his knee. Now he's going to be out for a while. But we don't know for how long just yet. Still, it's better than suffering a torn ACL, right?"NEWS: Jimmy Butler underwent successful meniscus surgery this morning on his right knee. The operation was performed by Team...
MORE STORIES >>
Timberwolves News

Delivered to your inbox

You'll also receive Yardbarker's daily Top 10, featuring the best sports stories from around the web. Customize your newsletter to get articles on your favorite sports and teams. And the best part? It's free!