Jamie McMurray, driver of the No.1 McDonalds Chevrolet, had a pretty decent car to start the race, though ended up finishing deep in the running order as a result of serving a penalty under green.  He was in the top-10 for most of the beginning laps but on Lap 31, McMurray was called to pit road for an unapproved adjustment. The video replay showed that one of his crew members had...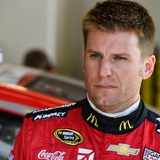 Jamie McMurray led the first of Friday afternoon's two rounds of NASCAR Sprint Cup Series practice at Talladega Superspeedway in advance of Sunday's GEICO 500 (FOX, 12:30 p.m. ET).McMurray, who wheels the No. 1 Chip Ganassi-owned Chevrolet, had a best lap of 199.737 miles per hour around the mammoth Alabama speedway. And McMurray will be a threat to win on Sunday."If your car is...
Dale Earnhardt Jr.'s 2015 championship hopes will continue for at least three more weeks, as the Hendrick Motorsports driver was able to advance into the Contender Round of the Chase Sunday at Dover International Speedway. Finishing third in the AAA 400, Earnhardt Jr. tied Jamie McMurray in the Chase standings, but earned the spot in the Contender Round by finishing one position...
Credit: Rusty Jarrett/HHP Posted By: Brian Eberly – Follow at @beberly18 September 17, 2015 In his 13th full-time Sprint Cup Series season, Jamie McMurray finds himself in the NASCAR Chase for the Sprint Cup for the first time in his career. McMurray and the Chip Ganassi Racing team have recorded two top-five and seven top-10 results during the first 26 races of 2015 to earn their...
Jamie McMurray has worked with multiple crew chiefs throughout his NASCAR Sprint Cup career -- sometimes to great success and sometimes not. So it's safe to say that McMurray, who made his first top series NASCAR start in late 2002, knows a good crew chief when he sees one. And he believes he's found such a guy in new pit boss Matt McCall. Unlike most crew chiefs who possess layers...
When the green flag waves to start the Goody's Headache Relief Shot 500 on Sunday at Martinsville Speedway (1:30 p.m. ET on ESPN), it won't be a Chase for the NASCAR Sprint Cup driver who leads the field to the start/finish line. Touring the .526-mile short track in 18.954 seconds (99.905 mph) in his No. 1 Ganassi Racing Chevrolet, Jamie McMurray upstaged the championship contenders...
While the focus is on the Chase for the Sprint Cup, there have been drivers who have been trying to play spoiler. One of those is Jamie McMurray as he has ran up front throughout the Chase so far. His good runs came to a top as he would top the qualifying chart on Friday afternoon at Martinsville Speedway, scoring the Goody's Headache Relief Shot 500 pole. McMurray's 1th career pole...
Like fast cars, fast airplanes are a vital part of Jamie McMurray's life. Like most NASCAR Sprint Cup drivers, McMurray depends on private air travel to get back and forth to races, sponsor appearances and test sessions. McMurray spent a few hours Tuesday touring the Cessna Citation Service Center in Greensboro, NC, talking about airplanes and racing as part of a media event touting...
LOUDON, N.H.– The Chip Ganassi Racing teammates, Kyle Larson and Jamie McMurray were eliminated from championship contention two weeks ago in Richmond, but you wouldn't be able to tell based off of their incredible performance since the Chase for the Sprint Cup has begun. Last week in Chicago, the duo led a total of 52 laps, and each finished inside the top-10. Larson was in contention...
BRISTOL, TENN. - No matter who your loyalties reside with, you have to feel bad for Jamie McMurray, who led a race-high 148 laps (most laps led of any race in his career) en route to an eighth place finish. McMurray looked like a great bet to notch his first win of the season as he was the leader of the race with just 70 circuits remaining. McMurray had found a way to make the bottom...
MORE STORIES >>
NASCAR News

Delivered to your inbox

You'll also receive Yardbarker's daily Top 10, featuring the best sports stories from around the web. Customize your newsletter to get articles on your favorite sports and teams. And the best part? It's free!