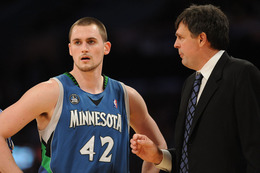 Utah Jazz (9-7) vs. Oklahoma City Thunder (12-4) 8 p.m. The Jazz just do. They are quiet and they are workmanlike, with little flash and glitz. Al Jefferson is the team's star and he is just the definition of being underrated. Paul Millsap does his work as a hybrid forward that straddles the definitiono f post-up and stretch-4. Why don't we talk about the Jazz more? This is a good team that made the postseason last year and has some very solid players. Perhaps the Thunder provide a clue why. The Jazz are in a small market without a superstar. For the casual fan, solid footwork and post moves from Al Jefferson is not enough to move the needle. There is also the little fact that the Jazz are not going to be among the West's elite. Unlike the Thunder. The Thunder have Kevin Durant and Russell Westbrook and an elite team. Elite talent, plus elite fans, plus a chance to win a championship, that is how you get the league to care about a small market. For tonight though, the Jazz get to face their division rival and get a chance to make an impact on the standings. Perhaps this unit can surprise everyone and make a run. Perhaps that is not likely. But someone has to challenge the Thunder in that division right? And with some size the Jazz will always be in the contest. And that is the one thing that remains about the Jazz as a franchise from the Jerry Sloan days. This team plays hard and plays together. With that, there always seems to be a chance for success. Other Storylines to Watch -The Jazz will be shorthanded when they go up against the Thunder tonight. Forward Marvin Williams will miss the game with a concussion he suffered earlier in the week. -The Thunder welcomed James Harden back to Oklahoma City by shutting him down and by running away with a victory over the Rockets. That was the last time Oklahoma City took the floor. With no emotion for this one, the Thunder get back to the grind for this divisional battle. Tonight's Other Games Phoenix Suns (7-9) vs. Toronto Raptors (3-13) 7 p.m. The Suns will be pulling out the stops for a home game next Thursday guaranteeing a fun time for the game against the Mavericks. The first thing Phoenix has to do though is, well, not lose by 40 points. Phoenix lost to Detroit by 40-plus points Wednesday in one of the more embarassing losses for the franchise. The team has to rally and finish this East Coast trip strong. Philadelphia 76ers (9-6) vs. Charlotte Bobcats (7-7) 7 p.m. As if not playing and trying to get back on the floor were not bad enough, Andrew Bynum is being sued by two neighbors in Los Angeles for his behavior as a homewoner. Actually Bynum struck first, suing the neighbors and is being countersued. That is just another distraction for the center as he tries to get himself right and get on the floor. Brooklyn Nets (10-4) vs. Orlando Magic (5-9) 7 p.m. The Nets are playing it safe with Brook Lopez. They have ruled him out of the next couple games, including tonight's matchup with the Magic, after he experienced pain in his foot. The good news is that he does not have an injury related to the stress fracture that caused him to miss almost the entirety of last season. Better safe than sorry with Lopez considering the way he is playing. Portland Trail Blazers (6-9) vs. Boston Celtics (8-7) 7:30 p.m. The Celtics have an open roster spot and Danny Ainge says the team is looking more for a point guard. That is probably unrelated to the two-game suspension Rajon Rondo will begin serving tonight. The concern with Rondo is that he crossed the line and plays with too much emotion, not balancing that edge you have to have as a player like Rondo. The Celtics are not too concerned with that but you never know how much it could cost his team. Washington Wizards (1-12) vs. New York Knicks (10-4) 7:30 p.m./NBATV Amar'e Stoudemire appears closer and closer to returning. He was practicing in front of the media Thursday and is reportedly targeting a return around Christmas. That would be a nice boost for the Knicks. Particularly if Stoudemire accepts a role off the bench, giving New York an All-Star to bring off the bench and avoiding the problems that arose when he and Carmelo Anthony shared the floor. Cleveland Cavaliers (3-12) vs. Atlanta Hawks (9-4) 7:30 p.m. Tristan Thompson has made quite a turnaround this season from his rookie year last year. Thompson has displayed an improved jumper and improved court sense. He looks like a different player. The reason might be tutelage from Cavalier great Zydrunas Ilgauskas, who worked with Thompson on avoiding getting his shot blocked. Detroit Pistons (5-11) vs. Memphis Grizzlies (11-2) 8 p.m. The Grizzlies will not be resting their players before tomorrow's matchup with the Spurs. Instead they should be focused on this big matchup since the Pistons defeated the Suns by 40 points in their last outing. That should raise the antennae just a little bit despite the record. Milwaukee Bucks (7-6) vs. Minnesota Timberwolves (6-8) 8 p.m. Ricky Rubio will return to practice this week, but there is still no timetable for his return. he is getting close. And Minnesota could use some good news on the injury front. Andrei Kirilenko missed Wednesday's game against the Clippers with back spasms. And Kevin Love will not play tonight reportedly. Indiana Pacers (7-8) vs. Sacramento Kings (4-10) 10 p.m. Isaiah Thomas took the starting point guard job from Tyreke Evans last year, moving the talented guard to shooting guard by his sheer force of his play. This year though Thomas has struggled some, averaging only 8.8 points and 2.1 assists per game. But a good game against Minnesota has him confident that he is finding his footing again and is ready to contribute, even off the bench, for Sacramento. Denver Nuggets (8-8) vs. Los Angeles Lakers (7-8) 10:30 p.m./ESPN One of the big transformations in Pau Gasol's game in the last few years, particularly this year, is the increase in mid-range jumpers to his game. Gasol has always been capable of hitting that shot, but he has rarely had to take it. This year, Gasol is hoisting up 5.5 shots per game from 16-23 feet. Gasol is an incredibly gifted post player, having him that far away from the basket could be a reason for L.A.'s problems so far. [follow]
PLAYERS:
Al Jefferson
,
Paul Millsap
,
Kevin Durant
,
Russell Westbrook
,
Jerry Sloan
,
Marvin Williams
,
James Harden
,
Andrew Bynum
,
Brook Lopez
,
Danny Ainge
,
Rajon Rondo
,
Carmelo Anthony
,
Tristan Thompson
,
Zydrunas Ilgauskas
,
Ricky Rubio
,
Andrei Kirilenko
,
Kevin Love
,
Isaiah Thomas
,
Tyreke Evans
,
Pau Gasol
TEAMS:
Utah Jazz
,
Oklahoma City Thunder
,
Houston Rockets
,
Phoenix Suns
,
Toronto Raptors
,
Charlotte Hornets
,
Philadelphia 76ers
,
Brooklyn Nets
,
Orlando Magic
,
Portland Trail Blazers
,
Boston Celtics
,
Washington Wizards
,
New York Knicks
,
Cleveland Cavaliers
,
Atlanta Hawks
,
Miami Heat
,
Detroit Pistons
,
Memphis Grizzlies
,
Milwaukee Bucks
,
Minnesota Timberwolves
,
Indiana Pacers
,
Sacramento Kings
,
Denver Nuggets
,
Los Angeles Lakers
MORE FROM YARDBARKER
NBA News

Delivered to your inbox

You'll also receive Yardbarker's daily Top 10, featuring the best sports stories from around the web. Customize your newsletter to get articles on your favorite sports and teams. And the best part? It's free!