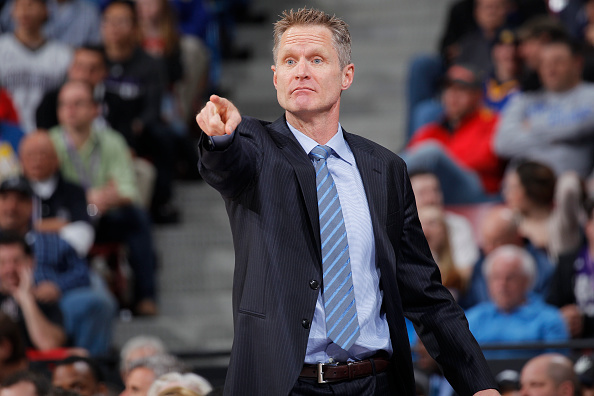 How did Steve Kerr feel about Knicks fans booing him?
Rocky Widner/NBAE via Getty Images
By Larry Brown
Steve Kerr was booed on Saturday when he was introduced at Madison Square Garden for the Western Conference team's All-Star Game practice, but he laughed it off.
Kerr played against the Knicks when he was a member of the Chicago Bulls during the '90s, so that rivalry lingers, but the fans were mostly likely upset that Kerr turned down the Knicks head coaching job to take the Warriors gig (he supposedly backed out of a verbal agreement).
Kerr was asked after practice about the boos.
"Was it good or bad?" Kerr asked sarcastically according to the New York Post. "Not so good? That's too bad. I'm devastated."
Despite his sarcasm, Kerr expressed fondness for being at MSG.
"I love being at the Garden,'' said Kerr. "As a player it was always one of the highlights of the year to come in here and play because of the history and feel of the building."
Kerr no doubt made the right coaching call; his Warriors have the best record in the NBA at 42-9, while the Knicks have the worst in the league at 10-43.
MORE FROM YARDBARKER
Knicks News

Delivered to your inbox

You'll also receive Yardbarker's daily Top 10, featuring the best sports stories from around the web. Customize your newsletter to get articles on your favorite sports and teams. And the best part? It's free!