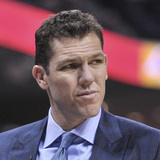 Isaiah Thomas and Julius Randle caught some headlines for a mid-game argument, but perhaps surprising to some, Los Angeles Lakers head coach Luke Walton thought highly of the verbal spat.According to ESPN's Ohm Youngmusik, Walton said he was happy to see the anger because it meant the players are passionate."I didn't see what it was about; I like it though. I told them afterward...
Isaiah Thomas started in his first game since joining the Lakers on Wednesday night, but even that wasn't enough to stop him from getting into it with a teammate during the second half of the Western Conference matchup with the Warriors. Thomas got into a heated exchange with Julius Randle during a timeout, which had to be broken up by Brook Lopez. The seven-footer stepped in between...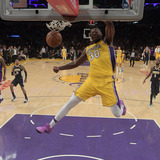 Julius Randle was "upset and angry" earlier this season when he didn't receive an extension offer from the Lakers, Ohm Youngmisuk of ESPN.com relays. The franchise wanted to keep its cap sheet clean, even if Randle was willing to give a hometown discount. While the team's rumored plan to pursue proven superstars this summer initially irked the big man, he's taking it much better...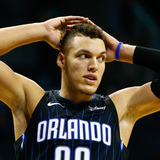 As the NBA was entering an era of fluidity and position-less basketball, the 2014 draft introduced three players that might bring back some version of the power forward position.Julius Randle, Aaron Gordon, and Jabari Parker came into the league as the evolution of that position, until Draymond Green and the Warriors interrupted that evolution. Green's defensive versatility is by...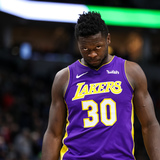 Lakers fans let Jamal Murray know exactly how they felt about him during Tuesday night's game, and even one of Murray's fellow Kentucky Wildcats is not coming to his defense after the Denver Nuggets guard has become publicly enemy No. 1 in Los Angeles.After Murray was mercilessly booed and showered with unflattering chants on Tuesday, Lakers big man Julius Randle was critical of...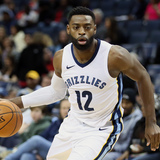 Forecasting an NBA player's payday when he's still a year away from reaching free agency can be a fool's errand. For instance, even if many NBA fans and experts were skeptical about Isaiah Thomas' chances at a 2018 maximum-salary deal when he made his "Brink's trunk" comments back in 2017, it would've been hard to predict his value falling off as far as it has.On the flip side, there...
Hollywood Hoops is a weekly podcast presented by Highfive wherein Eric Pincus (Bleacher Report, Basketball Insiders) and Josh Martin (Lonzo Wire) talk all things basketball in Los Angeles. Catch the latest episode every Wednesday 7-8 p.m. ET on DASH Radio's Nothin But Net channel, and download the show on AlmightyBaller.com, CLNSMedia.com and wherever you get your podcasts! ---...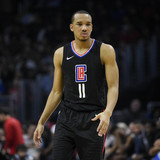 Avery Bradley, part of the return the Clippers got in the Blake Griffin trade, isn't sure if he'll play again this season, relays Broderick Turner of The Los Angeles Times. Bradley discussed the sports hernia injury that has sidelined him for the past four games, saying surgery before the end of the season is a possibility."We're just … day by day and trying to strengthen up all...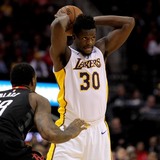 At 19-30, the Los Angeles Lakers are going nowhere fast this season. Their focus is now developing youngsters and putting themselves in the best situation to target high-profile free agents next summer.One of the names bandied about in a potential trade leading up to next week's deadline is former first-round pick Julius Randle. The idea for president Magic Johnson and Co. would...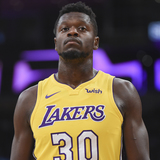 After D'Angelo Russell was sent packing last summer, another member of the L.A. Lakers' young core could soon be following suit.Before the Lakers played the Boston Celtics on Wednesday, ESPN's Adrian Wojnarowski said that fourth-year big Julius Randle, who will be a restricted free agent this offseason, is "very unlikely" to remain with the team long-term. Randle, 22, has been limited...
MORE STORIES >>
Lakers News

Delivered to your inbox

You'll also receive Yardbarker's daily Top 10, featuring the best sports stories from around the web. Customize your newsletter to get articles on your favorite sports and teams. And the best part? It's free!