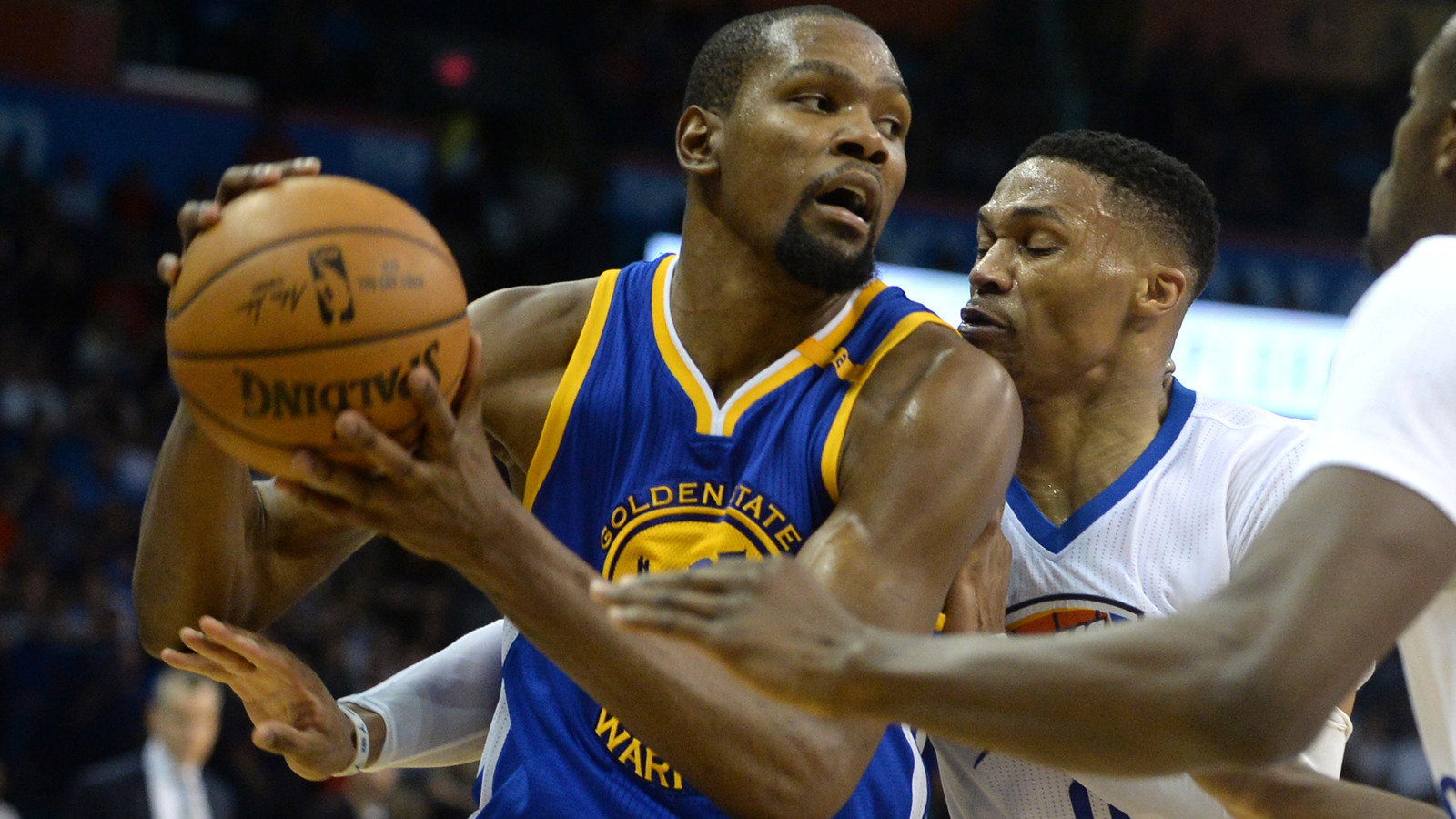 Mark D. Smith-USA TODAY Sports
Russell Westbrook and Kevin Durant got into it briefly and were called for technical fouls during the third quarter of Wednesday's Oklahoma City Thunder-Golden State Warriors game.
Westbrook and Durant were jawing at one another and even got face-to-face — literally — with their foreheads touching. They were separated:
The incident — which was never any threat of actually developing into a physical fight — was well received by the entourage for each player.
Russell Westbrook and Kevin Durant get double technicals after some jawing. Chest-to-chest. Durant's agent, Rich Kleiman, was up clapping and Durant walked over to give him a five. Westbrook's dad is sitting three seats down from Kleiman. Fun scene.

— Erik Horne (@ErikHorneOK) November 23, 2017
Westbrook was asked after his Thunder's 108-91 win about getting into it with his former teammate.
"Competing. I'm going to go out and compete every night. Coming at your neck every single night, and I'm gonna let him know that," Westbrook told ESPN's Cassidy Hubbarth.
He was also asked whether the Thunder and Warriors officially have a rivalry.
"I don't know if it's a rivalry or not. But obviously it's going to be an overhyped game because of who they have and who we have," Westbrook told Hubbarth.
Westbrook's 34 points were a season-high. He's hoping the big win will be a turning point and help the team get on track after previous struggles to start the season. As for Durant, well he was booed by the OKC fans during intros and when he touched the ball.
MORE FROM YARDBARKER:
QUIZ: Name every Warriors arena in franchise history
The Warriors franchise has called eight different arenas home throughout their NBA history. Can you name them all?
NOTE: They have played multiple times at two arenas and also played at multiple arenas from 1964-66.
MORE FROM YARDBARKER
NBA News

Delivered to your inbox

You'll also receive Yardbarker's daily Top 10, featuring the best sports stories from around the web. Customize your newsletter to get articles on your favorite sports and teams. And the best part? It's free!