We've updated our Privacy Policy.
By continuing to use this site, you are agreeing to the new Privacy Policy.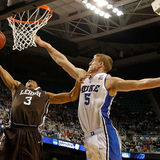 Once again, the Duke Blue Devils are the favorites to win the NCAA tournament, according to Las Vegas.College basketball and betting odds are funny that way, because it should be an honor that some of the smartest people in forecasting the future think Duke will bring home the gold. On the other hand, knowing that Duke's the favorite makes it even sweeter when they flame out way...
Regardless of the type of greatness he may achieve from now until retirement, this is the moment that is going to haunt Amar'e Stoudemire for the remainder of his career. The infamous fire extinguisher incident will be remembered by any and all who were sports fans after the turn of the century. From the stories we heard about how gruesome the injury was, it sounds like Amar'e doesn...
Aloha... Yep, im back on the yard, this time from Hawaii. Training camp is goin extremely well for the first three days. My stamina is suspect lol but the team is looking good. Im happy to play with Austin Croshere. I always wanted to play on his team at Crossroads. Two roadrunners in the league and on the same team! Stack jack and Matt B are captains. Im proud of my boys. They...
MORE STORIES >>
Pacers News

Delivered to your inbox

You'll also receive Yardbarker's daily Top 10, featuring the best sports stories from around the web. Customize your newsletter to get articles on your favorite sports and teams. And the best part? It's free!