Bogdan Bogdanovic arrived in Las Vegas to watch his team play the Bucks and the Kings finally pulled out a victory. Check out what he had to say. What was your biggest takeaway from this interview? Join the conversation! ► Subscribe to our YouTube Channel: http://www.youtube.com/c/CowbellkingdomTV ►
The Sacramento Kings have reportedly signed Bogdan Bogdanovic to a 3 year deal worth $36 million dollars. But the news didn't end there, they also did not extend the qualifying offer to Ben McLemore, which now ends his tenure with the Kings and makes him an unrestricted free agent. Are you guys excited to watch Bogdan play? Give us your prediction on how many points he will average...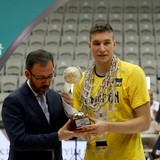 Coming off a successful draft that saw them add De'Aaron Fox and Justin Jackson in the first round, the Sacramento Kings are reportedly bringing in yet another reinforcement. Multiple reports are suggesting that Sacramento will sign EuroLeague star Bogdan Bogdanovic to a three-year, $36 million contract. The 24-year-old Serbian guard was an original first-round pick of the Phoenix...
Leo Beas breaks down Bogdan Bogdanovic and the pros and cons of Rudy Gay opting in. We also bring back the HOLY COW moments. Did you enjoy them? We want you to share your HOLY COW moments! Visit our Online Store: https://shop.spreadshirt.com/CowbellKingdom/ Visit Don Weir's Reno Dodge dealership and ask for the CK Special. They will match your downpayment up to $1000! Take advantage...
In the first segment, we give you a mini video breakdown of Bogdan Bogdanovic's recent performances in the preliminary rounds for Serbia. What are your thoughts thus far Kings fans? In the final segment, Leo Beas gives you the latest way of saving money when attending Kings games at the new Golden 1 Center. Will this make transit more attractive? The transit agency will offer ...
The Phoenix Suns have four of the top 34 picks in this years NBA Draft. Whenever teams have either a lot of picks or enough players already on their roster, they often turn to a strategy referred to as the "Draft and Stash". "Draft and Stash" refers to the process of drafting a player...
Bogdan Bogdanovic has started to earn a reputation as a clutch player, but his performance in the Euroleague Championship did not reflect that status. Bogdan had a very limited impact on the game, as his Fenerbahce Istanbul club lost 101-96 in overtime to CSKA Moscow. Fenerbahce almost...
Bogdan Bogdanovic continues to win, this time scoring 9 points in the overtime period of his Fenerbahce Istanbul squad's 88-77 win over Laboral Kutxa Vitoria Gasteiz in the Euroleague playoffs. The victory puts Fenerbahce into the finals. Early it looked like a blowout, as Fenerbahce...
The Phoenix Suns are done playing meaningful basketball, but one future Sun is still playing: Bogdan Bogdanovic for Fenerbahce Istanbul in the Eurocup playoffs. Behind 17 points from the 23-year-old Serbian Bogdanovic, all scored in the second half, Fenerbahce completed a three game...
Bogdan Bogdanovic is supposedly not coming to the NBA for two more years. But, wait, who was that with Jeff Hornacek and assistant general manger Pat Connolly? Why, none other than Bogdanovic himself! So what does this all mean? Are the Suns secretly planning on bringing in Bogdanovic early? Have they already bought him out of his Euroleague contract without telling anyone? So many...
MORE STORIES >>
Suns News

Delivered to your inbox

You'll also receive Yardbarker's daily Top 10, featuring the best sports stories from around the web. Customize your newsletter to get articles on your favorite sports and teams. And the best part? It's free!