We've updated our Privacy Policy.
By continuing to use this site, you are agreeing to the new Privacy Policy.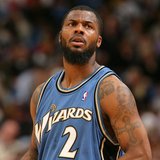 DeShawn Stevenson, who was already known for having an Abraham Lincoln neck tattoo, became an even bigger urban legend when he shared a picture on Instagram that revealed he has an ATM in his kitchen. The Nets guard confirmed to TMZ that he does in fact have an ATM in his home, and he explained all the fees and charges associated with it. TMZ says Stevenson paid $3,500 for the ATM...
CASH MONEY
Brooklyn Nets guard DeShawn Stevenson generated a bunch of buzz on the interwebs earlier this week when he uploaded a photo of himself on Instagram posing next to an ATM machine he had installed in his kitchen. And I don't need to tell any of you out there obsessed with having to have the latest [...]
Yes, that is DeShawn Stevenson posting for a picture from what appears to be the kitchen inside his home. While he is impressed with his "swag out" style, what captured nearly everyone's attention was what appeared to be an ATM off to the side. If that really is an ATM in Stevenson's kitchen, then Floyd Mayweather is jealous he didn't think of it first. Picture Credit: DeShawn Stevenson...
MORE STORIES >>
NBA News

Delivered to your inbox

You'll also receive Yardbarker's daily Top 10, featuring the best sports stories from around the web. Customize your newsletter to get articles on your favorite sports and teams. And the best part? It's free!