We've updated our Privacy Policy.
By continuing to use this site, you are agreeing to the new Privacy Policy.
Glenn Robinson III missed most of the season after his ankle surgery, but after returning it's hard to know his future with the Indiana Pacers. It was supposed to be a breakout season for Glenn Robinson III. After seeing glimpses of the starting shooting guard job last season, Robinson...
February 23, 2018 - Pacers players Victor Oladipo, Glenn Robinson III, Thad Young, and Domantas Sabonis discussed Indiana's 116-93 win over the Atlanta Hawks on Friday night at Bankers Life Fieldhouse.
February 21, 2018 - After missing the entire season to date with left ankle surgery, the Pacers are expecting Glenn Robinson III to return to the lineup on Friday night against the Hawks. Robinson III spoke about his rehab and Victor Oladipo and Pacers head coach Nate McMillan explained what Robinson III can bring to the lineup.
LIKE WHAT YOU SEE?
GET THE DAILY NEWSLETTER:
Feb. 6, 2018 - The Pacers revealed their plan for Glenn Robinson III to make his season debut after the upcoming All-Star Break. Robinson has been rehabbing from left ankle surgery and played in two rehab games last week with the Fort Wayne Mad Ants.
The Indiana Pacers fan base got some welcome news Thursday evening when the team recalled Glenn Robinson III from the Fort Wayne Mad Ants after a very brief stint with the team. Despite poor shooting from Victor Oladipo, Cory Joseph, Thaddeus Young and Bojan Bogdanovic, the team has had a strong month of January. They have gone 10-5 since the calendar turned over, and they will love...
Kevin Durant is your reigning NBA Finals MVP and might be the best pure scorer in NBA history. He also gets mad online occasionally. Yes, KD caused a small kerfuffle on Monday when it was revealed (possibly) that the 28-year-old superstar was using burner accounts on both Twitter and Instagram to clap back at a few trolls and haters. It's a controversy of the 'non-controversy' variety...
July 28, 2017 - Pacers players Myles Turner, Glenn Robinson III, Lance Stephenson, T.J. Leaf, and Ike Anigbogu unveil new uniforms to fans at the River West StreetFest.
Pacers guard Glenn Robinson III is not a fan of Cleveland, it seems.GR3 returned to action for the first time in nearly a month on Monday night, as he's been battling a calf strain.He seemed excited to return, but not thrilled about being in Cleveland. Check out this Snap he posted, in which he ripped the city. Yeah, because Indiana is so beautiful this time of year and all. Furthermore...
Glenn Robinson III was the most unlikely person to win the NBA Dunk Contest, but that didn't stop him from doing the deed.Robinson beat Derrick Jones Jr. in the finals, and did so by dunking over teammate Paul George, the Pacers mascot and a dancer. And it was a reverse slam, even. Jones threw down a sick dunk of his own in the round, earning a "50" by taking a lob pass off the side...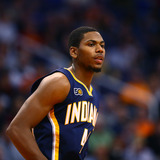 The NBA Slam Dunk Contest is fully embracing the new generation.According to Adrian Wojnarowski of The Vertical on Wednesday, Indiana Pacers swingman Glenn Robinson III, the son of retired former All-Star forward Glenn "Big Dog" Robinson, will compete in this year's competition. The 23-year-old is averaging 6.0 points and 3.7 rebounds in 22.5 minutes per game for the Pacers this...
MORE STORIES >>
NBA News

Delivered to your inbox

You'll also receive Yardbarker's daily Top 10, featuring the best sports stories from around the web. Customize your newsletter to get articles on your favorite sports and teams. And the best part? It's free!