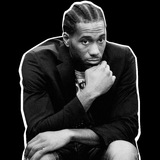 The San Antonio Spurs' record currently sits at 35-24, good for third best in the Western Conference and sixth best league-wide. That they've managed to pull this off despite getting just nine games from their star player, Kawhi Leonard, is an accomplishment unto itself, even by the Spurs' lofty standards. But it appears as if this may end up being a lost season for the two-time...
The opening four months of the NBA season featured a couple of breakout teams, a few notable trades, too many injuries and a little bit of drama. Finally, the All-Star break will provide the NBA world a chance to breathe.Every team has a notable topic, but what really matters moving forward? Those key storylines will define the post-All-Star portion of the campaign.Cleveland trying...
Sixers big man Joel Embiid had the game of his life on Wednesday night, and showed what he can do when fully healthy. Embiid scored a career-high 46 (!) points on an incredibly-efficient 14-of-20 shooting performance. He also hauled in 15 rebounds and dished out seven assists. Embiid was the total package in Wednesday's 115-109 win over the Lakers. He also treated us to a few highlight...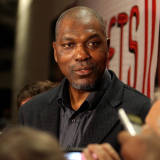 Former Houston Rockets great Hakeem Olajuwon is reportedly being pursued by groups interested in purchasing the team and has some interest in becoming a partial owner."Many groups now have called me and want me involved," Olajuwon said Tuesday, per ESPN.com's Mark Woods. "With two of the groups, I'm doing my background check to see if that is a possibility. Just an association would...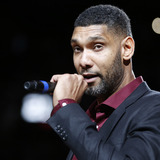 Hakeem Olajuwon and Tim Duncan are largely interchangeable in most rankings of the greatest big men to ever play the game, but one former player who was teammates with both of them certainly doesn't think so.Seven-time NBA champion Robert Horry appeared on ESPN's "The Jump" on Monday and said that Olajuwon was "20 times better" than Duncan."I played with both," said Horry. "I've...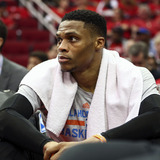 Houston Rockets general manager Daryl Morey just can't stop taking potshots at Russell Westbrook.On Wednesday, prominent basketball blog Nylon Calculus released its annual Anti-Awards and one of the promiment features was "The Matt Bullard Award," which "recognizes" rebounding futility among big men. Morey caught wind of the award and tweeted at its namesake, Bullard, himself a former...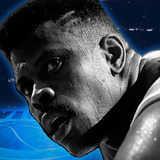 Charles Oakley is pretty much The People's Enforcer right now when it comes to fans of the New York Knicks. His present assignment, if you will, is defending the anger of the fan base while being the protagonist in one of the most galvanizing, yet embarrassing episodes in the 70-year history of the franchise. The #FreeOakley campaign didn't take long to form, but when team owner...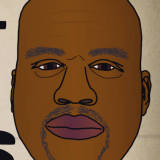 From Shaq wanting to be in The Terminator series to the origins of his awful free-throw shooting to Wilt Chamberlain preferring Gheorghe Mureșan over Shaq, we take a look back at some of the more random Shaqtoids from the Big Fella's storied career.
In addition to being one of the greatest basketball players in NBA history, Houston Rockets and NBA legend Hakeem Olajuwon was prolific in another area — eating Chicken McNuggets. Indeed, Greg Rajan of the Houston Chronicle shared a humorous anecdote from Olajuwon while filming a McDonald's commercial. Great Hakeem Olajuwon story from early in his #Rockets career. pic.twitter.com...
One of the NBA's greatest players of all time is condemning Donald Trump in light of the Republican presidential candidate's comments about Muslims. Hakeem Olajuwon, a former NBA MVP and two-time champion, is a devout Muslim, and he could not believe Trump's stance on the religious group. "That kind of statement is not worthy of a president. I don't think it was too wise a statement...
MORE STORIES >>
NBA News

Delivered to your inbox

You'll also receive Yardbarker's daily Top 10, featuring the best sports stories from around the web. Customize your newsletter to get articles on your favorite sports and teams. And the best part? It's free!