Look, we get it. Ian Mahinmi is overpaid. His contract is bad in a vacuum, and it's even worse in the context of Washington's roster construction. If he was getting paid fair market value, Washington would have had money to spend on other resources, like guard depth, or signing Mike Scott to a longer deal that could have kept them from their current predicament where they face overpaying...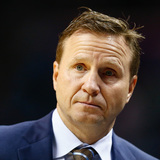 For a team that's been mundanely above-average for a handful of seasons now, the Washington Wizards are finally generating some headlines. Unfortunately for the Wizards, it's for all the wrong reasons. Because of their internal strife, an interesting debate about whether Washington's future should include both members of their star backcourt has emerged.  Before making a decision...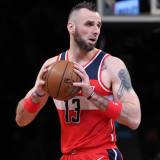 The Wizards haven't been involved in many trade rumors so far this year, but they're still a team worth monitoring closely in the coming weeks. Washington completes a trade-deadline deal virtually every season — in 2017, the club added Bojan Bogdanovic, and two years ago it was Markieff Morris arriving in D.C. at the deadline.In an Insider-only piece for ESPN.com, Bobby Marks took...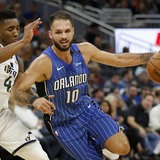 The NBA trade deadline is just over three weeks away, and there's no shortage of players around the league who could change teams. Over the next week, we'll be taking a closer look at some of those top trade candidates, breaking them down by division.While our focus will be primarily on teams expected to be sellers at the deadline, our lists may also include some players on contenders...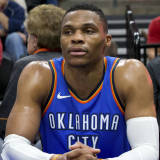 "With great power comes great responsibility," a fictional arachnid man's uncle once famously said. Personally, I would revise that adage to say, "With great expectations come great responsibility." Many an NBA team has lived up to said expectations so far this season, and many others have flopped worse than Marcus Smart. Here's looking at those who fall into the latter category...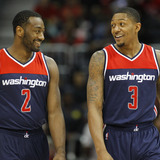 As another NBA chapter nears, it's time for our season previews. Let's see what John Wall has in store for the Wizards this time…Expected Conference Ranking: 4thBest Move of the Offseason: They got Tim Frazier basically for free? He's a good backup point guard making virtually no money. New Orleans is not so overwhelmingly talented that they can afford to give away bad basketball...
If the Washington Wizards want to keep Otto Porter moving forward, it's going to cost them a lot of money.Porter agreed to a four-year, $106 million max deal with the Brooklyn Nets, according to The Vertical's Shams Charania.Porter is a restricted free agent, which means the Wizards will have a chance to match the offer. As of now, they're planning to do so. The Wizards already have...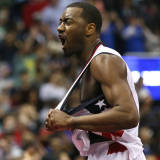 The second round has ended, and while four teams are heading to Finals glory and/or humiliating sweeps, four teams are entering an off-season of regret and soul-searching. Second round losers, Where did it all go wrong?Washington WizardsGreat expectationsThe young Wizards stormed back into the playoffs after dipping down to .500 in 2015-16. After starting 2-8, they went 47-25 the...
Another weekend of NBA basketball, another Cleveland Cavaliers series win, with the Golden State Warriors not far behind them. In a way, these playoffs have been a Cinderella story — but only the first part, when all she does is sweep. Let's honor the victors, shame the defeated, and let the heroes of this weekend get their shine. Because many of them might not make it through the...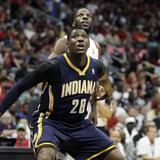 WASHINGTON (AP) Wizards center Ian Mahinmi will undergo treatment on his knees and is expected to miss six weeks. The team announced the treatment Tuesday after Mahinmi consulted with Dr. James Andrews and Wizards head physician Wiemi Douoguih. Mahinmi will undergo platelet-rich plasma treatment on both knees. He had surgery to repair a partially torn medial meniscus in his left...
MORE STORIES >>
Wizards News

Delivered to your inbox

You'll also receive Yardbarker's daily Top 10, featuring the best sports stories from around the web. Customize your newsletter to get articles on your favorite sports and teams. And the best part? It's free!