After three years as an on-again off-again piece in the Oklahoma City Thunder's rotation, Jeremy Lamb has a new team, a new contract and a new level of play. On November 2, the Charlotte Hornets made an announcement that they had signed recent acquisition Jeremy Lamb to a contract extension. The extension locked up Lamb for three years and gave him a healthy bump in pay. The ever...
On the first of the month, Jeremy Lamb and the Charlotte Hornets used the extra hour of sleep to come to terms on a contract extension, with the swingman agreeing to a deal for three years and $21 million before the November 2nd deadline. In a land of skyrocketing payrolls and players like Harrison Barnes turning down contracts worth more than three times as much, was this move wise...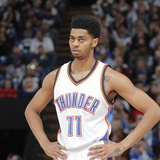 By Vincent Frank The Matt Barnes era in Charlotte lasted all of one week. According to Rick Bonnell of the Charlotte Observer, the team has traded Barnes in a deal that includes former first-round pick Jeremy Lamb heading from the Oklahoma City Thunder to the Hornets. Though, Bonnell went on to indicate that Barnes will not end up in New Orleans as a part of the deal. It's possible...
In the past two years, the Oklahoma City Thunder have lost their sixth man in James Harden and Kevin Martin, respectively. When you lose someone, you look to someone else to step up. This is the mindset that the Oklahoma City Thunder have on their 3rd year guard out of Connecticut, Jeremy Lamb. In reality, no one should expect any player to come off and produce to the volume that...
FIRST ENDORSEMENT DEAL
Apparently, it is something called #tbt (Throw Back Thursday) on social media — these kids and their highfalutin hashtags and whatnot — so Oklahoma City Thunder swingman Jeremy Lamb uploaded the above photo of himself from way back when. As you can see, as a boy, Lamb did a bit of modeling — presumably when [...]The post Thunder's Jeremy Lamb posts photo of himself as a Walmart ad...
MORE STORIES >>
Hornets News

Delivered to your inbox

You'll also receive Yardbarker's daily Top 10, featuring the best sports stories from around the web. Customize your newsletter to get articles on your favorite sports and teams. And the best part? It's free!