We've updated our Privacy Policy.
By continuing to use this site, you are agreeing to the new Privacy Policy.
Jose Calderon joins the starting lineup. Tristan Thompson and Rodney Hood are both out for the Cavs' Wednesday game against the Raptors, according to interim coach Larry Drew. Both were listed as questionable at the team's shootaround, and Drew said both players were "close" to returning. Thompson is dealing with ankle injury, while Hood has a back issue. Additionally, Drew said...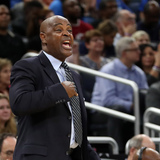 For the third time this season, an undisclosed illness has kept Tyronn Lue from coaching, writes Joe Vardon of Cleveland.com. Lue remained in the locker room after halftime of Saturday's win over the Bulls as chief assistant Larry Drew ran the team. LeBron James called Lue's condition one more distraction in a season filled with them."I mean he's the captain of the ship, so absolutely...
The Cavs will close out their six-game road trip with a matchup against the Chicago Bulls on Saturday night, but they'll be doing so without several players, including Kyle Korver, who has been excused from the team to deal with a family matter. According to a report from Joe Vardon of Cleveland.com, the former Creighton Blue Jay left the team on Friday. Cavs head coach Tyronn Lue...
LIKE WHAT YOU SEE?
GET THE DAILY NEWSLETTER: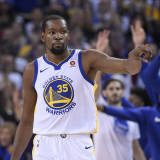 Former NBA'er Baron Davis played for the Warriors from 2005-08, so it was a bit surprising when he took a shot at one of the team's stars during their Christmas Day game against the Cavs.Davis took to Twitter to weigh in about Durant's shove on Jose Calderon in the first quarter of the game. Durant somehow avoided picking up a technical foul on the play, which is important, because...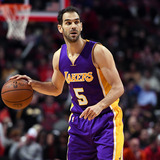 Thursday was a pretty good day for Jose Calderon, who made more money in two hours than some people make in a decade.Calderon was signed by the Warriors, but was waived shortly after when the team signed Matt Barnes to deal with the Kevin Durant injury.Still, Calderon got a jersey out of it, and a $415K check. Not bad for a day's (not even) work. Meanwhile, the rest of us have to get back to work.
Jose Calderon was a member of the Golden State Warriors for less than two hours on Wednesday. He will collect north of $400,000 for his brief stint with a team he will never suit up for.It's an interesting story.Golden State committed to signing Calderon after the Los Angeles Lakers waived him earlier in the week. But once Calderon cleared waivers, the Warriors found themselves in...
It's back to the drawing board for veteran point guard Jose Calderon, and a certain Eastern Conference team is keeping close tabs on him.According to a report by Marc Stein of ESPN Wednesday, the Atlanta Hawks are searching for backcourt depth, and Calderon is a prime target for them. The 35-year-old Calderon was officially bought out by the Los Angeles Lakers earlier this week....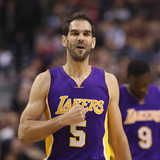 The Golden State Warriors did not make any trades before the deadline on Thursday, but that does not mean they won't be improving their roster.The Warriors informed guard Briante Weber of his release on Saturday night following the expiration of his second 10-day contract. The team will have an open roster spot they are expected to fill by signing Jose Calderon.Both the San Jose...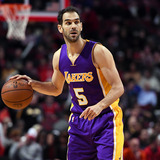 At 35 years old and in his 12th season in the league, Jose Calderon may finally get his chance to compete for an NBA championship.ESPN's Marc Stein reported on Saturday that the Los Angeles Lakers are exploring their buyout options with Calderon. Stein also adds that the Golden State Warriors and the Houston Rockets would be interested if the Spanish point guard can indeed secure...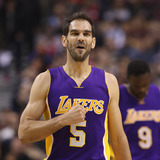 The Cleveland Cavaliers continue to pursue upgrades on the trade market.According to ESPN's Marc Stein, the Cavaliers are eyeing a number of potential upgrades, including Los Angeles Lakers point guard Jose Calderon, Dallas Mavericks center Andrew Bogut, and Mavs point guard Deron Williams.The problem is, as ever, Cleveland's limited resources. Pulling off a trade will be difficult...
MORE STORIES >>
Cavaliers News

Delivered to your inbox

You'll also receive Yardbarker's daily Top 10, featuring the best sports stories from around the web. Customize your newsletter to get articles on your favorite sports and teams. And the best part? It's free!