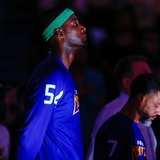 As the first high-school player to ever be drafted No. 1 overall, Kwame Brown entered the NBA with some serious pressure on his broad shoulders. And though his career did last 12 years, it wasn't filled with highlights, playoff victories or championships. Instead, he's always going to be remembered as a guy who didn't live up to the hype.For what it's worth, Brown averaged 6.6 points...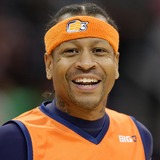 Last year, the NBA started a hotline where players can call to talk about officiating, argue about fines and, if you're James Harden, fall to the ground in pain whenever the phone vibrates. Following suit, the BIG3 has also created a phone number for its veteran 3-on-3 legends to blow off steam about the officials.Yardbarker has obtained exclusive communications from the BIG3 office...
Kwame Brown has had the misfortune of being labeled a "bust" for much of his life.The No. 1 pick in the 2001 draft actually carved out a nice NBA career. He played for 12 seasons, and in his third, he averaged 10.9 points and 7.4 rebounds per game. It's true that he never became a superstar, but Brown stepped into some tough circumstances.For example: he had to play with the notoriously...
Stop laughing. According to a report by Emiliano Carchia of Sportando on Monday, former No. 1 overall pick Kwame Brown, one of the most notorious disappointments in league history, has signed with the agency Interperformances in the hopes of making an NBA comeback. Brown is now 34 years old and last played in the Association in 2012-13, averaging 1.9 points per game and 3.4 rebounds...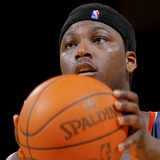 Kwame Brown is trying to return to the NBA. Interperformances announced Monday it had signed the 34-year-old center and will represent him during his NBA comeback. Via the agency's website: Interperformances is proud to announce that the NBA star Kwame Brown decided to sign with our agency. The #1 overall pick of the 2001 draft is ready for a new life. His comeback can be the...
Free agent center Kwame Brown has agreed to terms on a one-year, $7 million contract with the Golden State Warriors. Agent Mark Bartelstein says the offer in Golden State was ''too good to pass up.'' The loss of Brown leaves the Bobcats with a hole at center. Gana Diop, who is coming off a torn Achilles tendon, is the only center on the Bobcats roster. Bartelstein says Brown is...
MORE STORIES >>
NBA News

Delivered to your inbox

You'll also receive Yardbarker's daily Top 10, featuring the best sports stories from around the web. Customize your newsletter to get articles on your favorite sports and teams. And the best part? It's free!