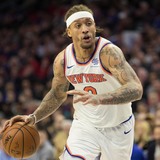 Michael Beasley has carried an off-the-court reputation that outweighs his on-court NBA career but he seems to have found a niche with the Knicks. ESPN's Ian Begley profiled the eccentric former second overall pick, whose personality and performance have become a favorite with his teammates.Beasley wanted to prove himself so badly this offseason, he left $10M in guaranteed money...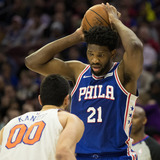 Robert Covington threw down a one-handed monster slam over Michael Beasley in the third quarter of Monday's game, which fired up fans at Wells Fargo Center.Not only that, it also pumped up teammate Joel Embiid — so much so that the Sixers big man got in Beasley's face to rub it in afterward. Embiid yelled at Beasley and also pointed at him (as if the Knicks guard didn't know that...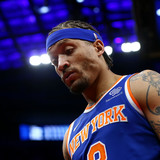 Michael Beasley raised some eyebrows when he compared himself to the one and only LeBron James, among others, back in training camp. But there is one NBA superstar — to whom Beasley also compared himself — who is staunchly defending the New York Knicks forward for making said comments: Kevin Durant. It warrants mentioning that Durant and Beasley go way back, as the two both hail...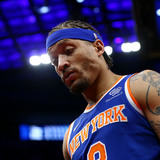 Michael Beasley has a bit of a bone to pick with the team that drafted him.In an interview with the New York Post's Marc Berman that ran Thursday, the veteran forward took shots at the Miami Heat and his ex-coach Erik Spoelstra."I feel I could've gotten more out of that organization," said Beasley. "I feel Spo could have believed in me a lot more than he did. It's in the past. [There...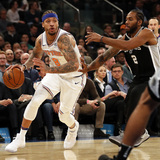 Given his history, it wasn't a huge surprise that Knicks guard Michael Beasley was involved in an odd type of play that doesn't usually happen to other NBA players. Although this time, it had almost nothing to do with anything he did.Instead, it was the rim that played the role of master troll in Tuesday night's game, when Beasley pulled up to attempt a contested jumper. The ball...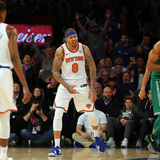 Michael Beasley isn't the best basketball player in the world, but you wouldn't know that from his confidence.After scoring a season-high 32 points in the New York Knicks' 102-93 victory over the Boston Celtics, Beasley responded to a question about when he started feeling the hot hand. Al Iannazzone of Newsday shared Beasley's memorable answer."January 9, 1989."Go ahead and take...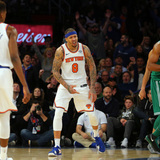 Knicks guard Michael Beasley caught fire in the second half of Thursday's game against the Celtics, and turned in one of the best shooting performances of his NBA career.Beasley finished the game with 32 points — 28 of which came in the second half — and hauled in 12 rebounds. He turned in an incredibly efficient performance, making 13 of 20 shots he attempted, and helping the Knicks...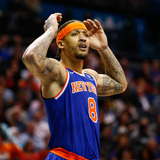 Don't ever let anyone tell you that Michael Beasley is not a fan favorite.The former No. 2 pick received MVP chants from the New York Knicks fans in attendance for Thursday night's game against the Boston Celtics at Madison Square Garden. Take a look: In a game where Kristaps Porzingis was benched amid an 0-for-11 shooting night, it was Beasley who stepped in and took over. Beasley...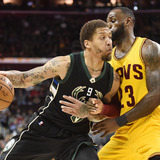 Michael Beasley has some high hopes for the coming season in New York.On Tuesday, Beasley called Carmelo Anthony a mentor and a best friend and said that he is looking forward to playing with the 10-time All-Star forward, per Al Iannazzone of Newsday. Beasley also went on to say that he believes the Knicks can be a playoff team in the 5-to-6-seed range. Beasley, who agreed to a one...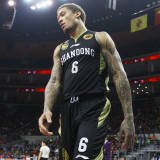 As if that was even possible, the Houston Rockets locker room somehow just managed to get more explosive. Former No. 2 overall pick Michael Beasley is headed to Houston to sign a rest-of-the-year deal with the Rockets according to Marc Stein of ESPN on Wednesday. The deal is also said to include a team option for next season. Sources say Michael Beasley is en route to Houston...
MORE STORIES >>
Knicks News

Delivered to your inbox

You'll also receive Yardbarker's daily Top 10, featuring the best sports stories from around the web. Customize your newsletter to get articles on your favorite sports and teams. And the best part? It's free!