Former Atlanta Hawks forward Mike Scott got some great news that will certainly help his quest to return to the NBA. According to a report from Adrian Wojnarowski of The Vertical, felony drug charges stemming from a July, 2015 arrest have been dismissed. "Banks County (Ga.) Superior Judge Currie Mingledorff II granted Scott's motion to suppress evidence against the forward and his...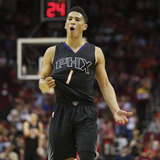 One of the greatest trash talkers in the history of the NBA will be calling it quits in the next week when Kobe Bryant and the Los Angeles Lakers complete their regular season schedule. Don't expect Phoenix Suns rookie Devin Booker to be taking over the mantle of the best trash talker around the Association any time soon. There are some who have taken offense to Booker's chirping...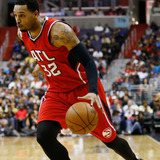 By Darryn Albert It looks like Atlanta Hawks forward Mike Scott is in some serious hot water. According to a report published by the The Atlanta Journal-Constitution's Chris Vivlamore on Wednesday, Scott is looking at a maximum of 25 years in prison on two separate felony drug charges after being arrested at a traffic stop last month. Scott and his brother Antonn were pulled over...
Details have started to emerge in the arrest of Atlanta Hawks player Mike Scott on drug charges for alleged possession of marijuana and MDMA.According to Chris Vivlamore of the Atlanta Journal-Constitution, who reported that he had obtained a copy of the police report from Scott's arrest, Scott admitted to possession of the drugs, claiming that his brother, who was reportedly driving...
People have brain farts all the time. Ideally they would happen in the comfort of one's home where no one else is witness to it, but sadly they usually occur in public or at work where plenty of people will feel the need to ask you stupid questions like "WTF?" and "Are you an idiot?" and my personal favorite "What the hell where you thinking?"Like Mike Scott as this ball bounces...
MORE STORIES >>
Wizards News

Delivered to your inbox

You'll also receive Yardbarker's daily Top 10, featuring the best sports stories from around the web. Customize your newsletter to get articles on your favorite sports and teams. And the best part? It's free!