We've updated our Privacy Policy.
By continuing to use this site, you are agreeing to the new Privacy Policy.
The two great former Boston Celtics' point-guards are at it again! Rajon Rondo and Isaiah Thomas had another incident in last night's New Orleans Pelicans vs. Los Angeles Lakers game. Again, the entire episode was instigated by Rondo! He saw that Thomas was d'ing him up, and decided to go hard at him toward the basket. I love the ruthless and very public hate the he has for Isaiah...
Will we see Rajon Rondo vs Isaiah Thomas, Part II? 2017-18 NBA Regular Season vs 42-30 (21-15 Home) 31-39 (13-23 Away) March 22, 2017, 7:00 PM Central Smoothie King Center - New Orleans, LA FSNO WRNO 99.5 FM Projected Starters Rajon Rondo PG Lonzo Ball Jrue Holiday SG Kentavious Caldwell-Pope E'Twaun Moore SF Kyle Kuzma Anthony Davis PF Julius Randle Emeka Okafor C Brook Lopez...
NEW ORLEANS (AP) — Anthony Davis capped a 33-point performance with two clutch free throws and a game-sealing steal in the final seconds, Rajon Rondo had 24 points and 10 assists, and the New Orleans Pelicans erased an 11-point, fourth-quarter deficit to beat the Los Angeles Lakers, 128-125 on Thursday night. Rondo scored 12 of his points in the fourth quarter, when the Pelicans...
LIKE WHAT YOU SEE?
GET THE DAILY NEWSLETTER: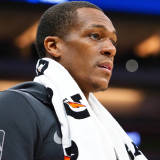 Rajon Rondo probably isn't going to be picking up a copy of Ray Allen's new book anytime soon. But, he wouldn't mind some royalties from "From The Outside: My Journey Through Life and the Game I Love". That's because his name appears often throughout the book. But, these mentions don't paint the most positive of pictures.Rondo doesn't mind too much, though. In fact, he believes Allen...
Ray Allen is coming out with a book next month that nearly absolves himself of any sort of blame in his ongoing rift with his former Celtics teammates. Can you imagine what the CSL guys had to say? Well, Jon "Doc Brown" Duke and Justin "Marty McFly" Poulin jumped back into the Delorean to talk about the 2008 Celtics and Ray Allen's inability to accept nearly any blame in this high...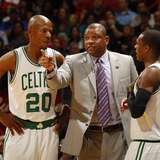 Ray Allen's new autobiography included some unflattering anecdotes about Rajon Rondo, and the point guard is firing back.In his upcoming book "From The Outside: My Journey Through Life and the Game I Love," Allen alleged that the Boston Celtics were ready to trade Rondo to the New Orleans Hornets for Chris Paul, but that coach Doc Rivers didn't want to foist Rondo on his close friend...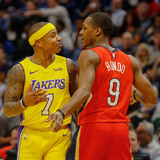 Isaiah Thomas and Rajon Rondo were ejected for getting into it during Wednesday night's game between the Los Angeles Lakers and New Orleans Pelicans, and it sounds like the groundwork for the scrum was laid last month.If you remember, Rondo was outspoken in saying he does not believe Thomas should get a tribute video from the Celtics when he returns to Boston as a visiting player...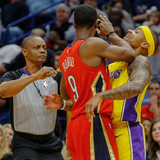 Isaiah Thomas and Rajon Rondo were ejected from Wednesday's game after getting tangled up off the ball in the first quarter of the game.The two point guards were fighting for position while the Lakers were attempting to inbound the ball, and a bit of physical play got the officials to stop the game. Rondo began arguing his case, and both players were ejected. The two also had a brief...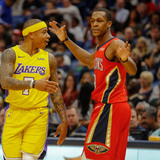 Rajon Rondo and Isaiah Thomas were ejected from Wednesday's Los Angeles Lakers-New Orleans Pelicans game after getting tangled up.The two got physical as the Lakers were getting set to inbound the ball in the first quarter and ended up getting tossed from the game: (@AdamJosephSport) February 15, 2018 Rondo had four points and five assists in eight minutes, while Thomas had three...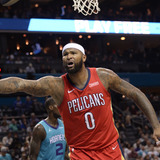 DeMarcus Cousins is continuing to be a strong leader for the New Orleans Pelicans despite suffering a devastating injury.Cousins suffered a torn Achilles' tendon during Friday night's game, which will require season-ending surgery. The injury is a crushing blow for the Pelicans, who had been on a roll and were starting to move up the standings.Even though he is injured, Cousins is...
MORE STORIES >>
Pelicans News

Delivered to your inbox

You'll also receive Yardbarker's daily Top 10, featuring the best sports stories from around the web. Customize your newsletter to get articles on your favorite sports and teams. And the best part? It's free!