Ray Allen is coming out with a book next month that nearly absolves himself of any sort of blame in his ongoing rift with his former Celtics teammates. Can you imagine what the CSL guys had to say? Well, Jon "Doc Brown" Duke and Justin "Marty McFly" Poulin jumped back into the Delorean to talk about the 2008 Celtics and Ray Allen's inability to accept nearly any blame in this high...
Drama continues amongst former members of the Boston Celtics. We've previously seen many of the guys from the 2008 title team beefing with Ray Allen, including not inviting him to their 10-year celebration, and now Allen has apparently shot back in a new book that particularly complains about Rajon Rondo. The latest episode of As The Former Celtics Turn revolves around this new Allen...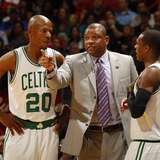 Ray Allen's new autobiography included some unflattering anecdotes about Rajon Rondo, and the point guard is firing back.In his upcoming book "From The Outside: My Journey Through Life and the Game I Love," Allen alleged that the Boston Celtics were ready to trade Rondo to the New Orleans Hornets for Chris Paul, but that coach Doc Rivers didn't want to foist Rondo on his close friend...
Rajon Rondo had some strong thoughts about the excerpts from Ray Allen's new book.
Rondo says he's moved on, so he's wondering why his name keeps surfacing.
If there's ever been a time when Rajon Rondo and Ray Allen were friends, that positive relationship has probably come to a close recently. That was made evident by Rondo when he was asked about his reaction to the excerpts that referred to him from Allen's book "From The Outside: My Journey Through Life and the Game I Love", which will be released soon. RELATED: John Calipari kept...
Rajon Rondo, who is brought up negatively in Ray Allen's book, says his former teammate just wants attention.
Rajon Rondo went after Ray Allen for the excerpts that Allen wrote about him in his upcoming book
And will we see the birthday boy, Solomon Hill?!? The NBA Western Conference standings are currently tighter than that parking spot you tried — and failed — to squeeze into on Mardi Gras morning. Unfortunately, the Pelicans are falling fast within those standings. Currently 8th, the Pelicans have lost four of their last five games and now face a stretch of four games in five five...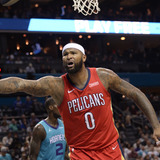 DeMarcus Cousins is continuing to be a strong leader for the New Orleans Pelicans despite suffering a devastating injury.Cousins suffered a torn Achilles' tendon during Friday night's game, which will require season-ending surgery. The injury is a crushing blow for the Pelicans, who had been on a roll and were starting to move up the standings.Even though he is injured, Cousins is...
MORE STORIES >>
Pelicans News

Delivered to your inbox

You'll also receive Yardbarker's daily Top 10, featuring the best sports stories from around the web. Customize your newsletter to get articles on your favorite sports and teams. And the best part? It's free!