As the games move to Texas, we're starting to get a real clear picture of what the playoffs are going to look like. Trilogy clinched the first playoff berth in the league's history while 3 Headed Monsters and Power could officially join them with wins in Dallas. The Ghost Ballers are sitting in postseason purgatory with a 3-2 record and a meeting with the nearly unstoppable Trilogy...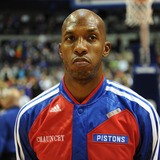 The Cleveland Cavaliers are the defending NBA champions and have the best record in the Eastern Conference yet again, but that doesn't mean all is rosy in Cleveland. LeBron James has repeatedly discussed his desire for management to add playmakers to the roster, this despite the fact the Cavs have the highest payroll in the NBA.Welcome back to the Yardbarker roundtable, where we...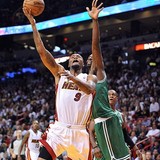 ESPN's infamous NBA Rank is back.  ESPN gets a large group of basketball writers to rate each player in the NBA.  They average out the ratings and create a list ranking each player in the league.  The first name that caught my eye: #462 Lamar "Mr. Kardashian" Odom. Four hundred sixty two?  Really?  I'm not arguing that he should be higher because he really isn't deserving of it ...
Rashard Lewis has decided to join the Miami Heat, becoming yet another shooting option for the reigning NBA champions. Agent Tony Dutt said the free agent forward and the Heat agreed to terms on Tuesday, and Lewis is expected to sign his contract Wednesday in Miami. Lewis' decision comes just four days after Ray Allen agreed to accept an offer from Miami. Allen and Lewis were Seattle...
Rashard Lewis has been gone from Orlando for nearly a year, but the memories that he has from his 3½ seasons with the Magic will stay with him for a lifetime – and many have already been commemorated with the banners that hang inside of the Amway Center. Lewis was back in the arena that he helped get built on Wednesday, wearing a Wizards T-shirt and warm-ups during shootaround....
Rashard Lewis says his big-money contract is nothing to be ashamed of. It became fashionable to pick on players like Lewis during the NBA lockout. His six-year, $118 million deal was cited as an example of spending run amok in the league. Such contracts led the owners and players' union to offer each team a one-time amnesty clause once basketball resumed. Lewis expected to be an...
MORE STORIES >>
NBA News

Delivered to your inbox

You'll also receive Yardbarker's daily Top 10, featuring the best sports stories from around the web. Customize your newsletter to get articles on your favorite sports and teams. And the best part? It's free!