Cleveland Cavaliers shooting guard Rodney Hood has been dealing with a lower back strain. According to a report from Joe Vardon of cleveland.com, the former No. 23 overall pick in the 2014 Draft will go through shootaround before the team officially decides on his status for Tuesday night's road game against the Pheonix Suns. "Do you have an update on Rodney for tonight?" Vardon...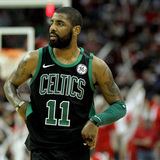 After leaving Sunday's game against Indiana with knee soreness, Celtics star Kyrie Irving suggested that an extended rest period could follow, writes ESPN's Chris Forsberg. Irving sat out last Monday's game vs. Chicago due to knee pain, but it sounds like he'll miss more than one game this time around."I think [rest] will probably be the best thing, just instead of kind of hoping...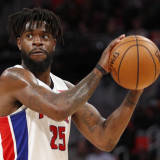 Pistons' starting swingman Reggie Bullock suffered minor injuries after being involved in a two-car motor vehicle accident this morning on his way to practice, reports Rod Beard of The Detroit News. He wasn't seriously injured but was taken to the hospital for treatment.Bullock, who was on his way to the Pistons' practice facility in Auburn Hills, was also apparently the victim of...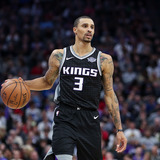 Cleveland wasn't finished after making a jaw-dropping deal before Thursday's trade deadline.As ESPN's Adrian Wojnarowski first reported, the Cavaliers acquired George Hill and Rodney Hood in a three-team trade with the Sacramento Kings and Utah Jazz. As part of the deal, Cleveland sent Derrick Rose and Jae Crowder to Utah, while Sacramento landed Iman Shumpert and Joe Johnson. The...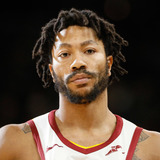 The Cleveland Cavaliers are not standing pat during the NBA trade deadline. Fresh off news of the Isaiah Thomas blockbuster, the Cavaliers have reportedly acquired sharpshooting guard Rodney Hood from the Jazz and guard George Hill from the Sacramento Kings in a three team deal.Here's how the deal itself breaks down.In addition to Cleveland acquiring Hood and Hill, it sends Jae Crowder...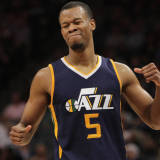 The Thunder, Bulls, and Pistons are among the teams showing interest in Jazz guard Rodney Hood as Thursday's trade deadline nears, according to Tony Jones of The Salt Lake Tribune. League sources tell Jones that the Nuggets and Magic have also displayed "at least a passing interest" in Hood.The Jazz have reportedly been exploring the trade market for Hood for at least the last few...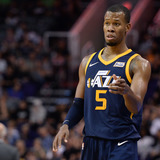 The NBA has fined Rodney Hood $35,000 for slapping a phone out of the hand of a fan after he was ejected from Wednesday night's game.The Utah Jazz swingman got ejected after an emotional explosion over a play in which he thought the refs should have awarded him a foul. He didn't get it and blew up, prompting an ejection from the game. Then on his way out, a fan appeared to be videotaping...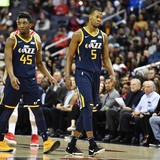 Jazz guard Rodney Hood saw his actions go viral on Wednesday after he slapped a phone out of a fan's hand upon walking off the court during a game against the Wizards at Capital One Arena.Hood was ejected from the game after receiving his second technical foul for arguing with referee Tony Brothers, and didn't appear to want to be seen making his way to the locker room. The fan held...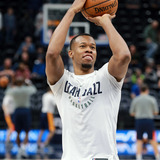 Utah Jazz guard Rodney Hood didn't want footage of his ejection going viral on Wednesday night, so he tried to take matters into his own hands to prevent that from happening.Hood was ejected from Wednesday's game against the Wizards after picking up his second technical foul, and he really wasn't interested in having a fan record video of him walking off the court. So, Hood elected...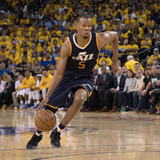 The Utah Jazz aren't hanging their heads over Gordon Hayward's departure.Speaking with the media on Wednesday, Jazz GM Dennis Lindsey said the team believes Rodney Hood can be a primary scorer, per Andy Larsen of KSL. The 24-year-old Hood averaged 12.7 points per game in 2016-17, his third season in the NBA. He was the team's fourth-leading scorer behind Hayward, George Hill, and...
MORE STORIES >>
Cavaliers News

Delivered to your inbox

You'll also receive Yardbarker's daily Top 10, featuring the best sports stories from around the web. Customize your newsletter to get articles on your favorite sports and teams. And the best part? It's free!