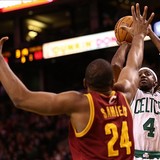 Former Cardinal Samardo Samuels was one of the more recent Cardinals to spend time in the NBA.  When he came to Louisville from New Jersey, by way of Jamaica, he was ranked as one of the top high school prospects to ever commit to Louisville. Samardo spent two solid seasons here, but never really lived up to the hype that the No.2 rated player in the class brings.  Samardo left after...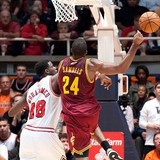 Former Louisville forward Samardo Samuels will be taking his talents to Italy next season. Samuels has reportedly signed with Emporio Armani Milano of Italy's top level professional league. The deal is for two years. Since leaving Louisville in 2010, the Jamaica native has been well traveled. He went undrafted in 2010, but played well enough in the summer league for the Chicago Bulls...
Former Louisville big man Samardo Samuels was waived by the Cleveland Cavaliers over the weekend. Samuels is in his third season with the Cavs after signing as an undrafted free agent in 2010. In three seasons in the NBA, Samuels has averaged 5.9 points and 3.4 rebounds. This was expected to be a breakout year for the Jamaican native after losing weight and getting in much better...
TRAVELING VIOLATION
The Cavaliers were without one of their usual players when they faced the Raptors in Toronto Wednesday night. Center Samardo Samuels didn't make the trip with the club to Canada because he lost his passport. The Cavs have been working with him to get new documentation the past few weeks, but matters have also been complicated because Samuels is from Jamaica. The Cavs ended up...
I will be the first to admin that I was one of the Samaro Samuels's biggest doubters when he decided to forgo his final two years of eligibilty and enter the NBA draft last season. However, I am also man enought to admit when I am wrong. After going undrafted last year, Samardo was able to land on the Chicago Bulls summer league roster. He put up good enough numbers in the summer...
MORE STORIES >>
Cavaliers News

Delivered to your inbox

You'll also receive Yardbarker's daily Top 10, featuring the best sports stories from around the web. Customize your newsletter to get articles on your favorite sports and teams. And the best part? It's free!