We've updated our Privacy Policy.
By continuing to use this site, you are agreeing to the new Privacy Policy.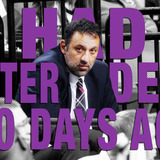 This past month will either go down as the worse month of Vlade Divac's tenure as general manager of the Sacramento Kings, or we will look at it as some kind of turning point. After repeatedly saying his team was not interested in trading DeMarcus Cousins, the Kings traded their superstar in the most Kings way possible, with trade rumors picking up during All-Star weekend, and after...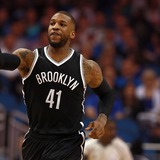 Thomas Robinson isn't a household name because the NBA hasn't allowed him to become one. Robinson, the No. 5 pick in the 2012 NBA draft, has played for five different teams, been waived, traded a trio of times and for his career averages 13.6 minutes per game. An elite athlete at 6'10" and 237 pounds who has never really been able to put it all together at once, few teams have...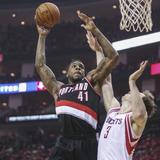 ​ A few months ago, I wrote that I believed former lottery pick Thomas Robinson still had the talent to recover from his label as a bust—if only he is signed into the right team situation, which had yet to occur in his NBA career. Mere weeks after I wrote the article, Robinson was traded. He went from his somewhat stable home in Portland over to the Denver Nuggets—mostly as a...
LIKE WHAT YOU SEE?
GET THE DAILY NEWSLETTER: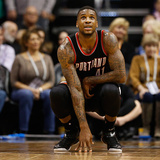 By Miles Wray I feel bad for Thomas Robinson. I really do. It seems like the NBA is as open and fair a competition as you could ever devise to find out who the best basketball players are in the world. If you can't cut it in the NBA, it seems like you should have nobody to blame for yourself. I think that's the case—for the most part. Sometimes, though, a player's personal development...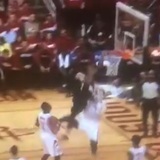 Portland and Houston kicked off their opening round series Sunday night in Houston. For Portland's Thomas Robinson it was a homecoming of sorts. He was with Houston for a short time last season playing in just 19 games. So if the opportunity to throw down a massive play--like a posterizing kind of dunk--you know he was going to take it.If only he had made it....It would have made...
Welcome to Rip City, TRob The Portland Trail Blazers have acquired power forward Thomas Robinson from the Houston Rockets in a move that should have fans extremely excited. On the eve of the Association's moratorium, the two teams agreed upon a deal that sent future second-round picks and the rights to European prospects to Houston. Why would the Rockets give up Thomas Robinson for...
MORE STORIES >>
Lakers News

Delivered to your inbox

You'll also receive Yardbarker's daily Top 10, featuring the best sports stories from around the web. Customize your newsletter to get articles on your favorite sports and teams. And the best part? It's free!