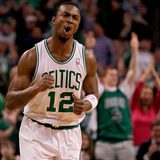 Von Wafer last played in the NBA in 2012. However, he hasn't given up on playing in the league and wants one more opportunity to show he can contribute. Wafer was drafted in the second round of the 2005 draft by the Lakers. From there, he went on to spend time with the Clippers, Nuggets, Blazers, Rockets, Celtics, and Magic. Wafer has also played in leagues in Greece, Italy, China...
Von Wafer has decided to sign in Italy, but does have the opt-out close to return to the states if the lockout is lifted.  Von's never played for a team 2 consecutive seasons and his agent Terrance Doyle (any relation to Bill Doyle?) says he'd like to return to Boston:"Von would love to be back [with Boston]," Doyle said of the 6-foot-5 swingman who has played for seven teams since...
This is the fourth showing of a season ending feature here at CLNS Radio grading the Celtics individual performances throughout the 2010-2011 season. Stay tuned every day to see who's making the Honor Roll and who's not. Von Wafer Games Played: 58 Minutes Played: 9.5 Points Per Game: 3.2 Breaking it Down: Stats: C+ Impact: C- Value: B- Back Into The League Von Wafer joined the Celtics...
Watch Von Wafer's reaction after the miss. Does it look like someone who just missed a dunk or thinks it went down? Before people get on Von also remember that Delonte also missed a dunk earlier in the game and allegedly the two fought after the game whose missed dunk was better. Then ESPN Boston's Chris Forsberg and Wafer got into a twitter battle.
Chris Forsberg has some practice notes from today:  reserve guard Von Wafer, who has missed the last 10 games after straining his right calf in a win over Golden State on Feb. 4, engaged in his most heightened basketball activities since the injury. Wafer participated fully in the practice, including the scrimmage sessions, then returned to the court after for additional shooting...
  During the final minute of the C's drubbing of Utah on Friday, Von Wafer had a highlight-reel putback dunk. Luke Harangody missed a three-pointer, and Von came down the lane and slammed it back through with one hand. When Von was brought in this summer, most C's fans, including myself, knew him for his outside shooting, specifically from deep. But what people don't know is that...
Most of my articles come from an idea in my head that struggles/demands to get out. Usually that process goes pretty quickly—projectile vomiting and flushing a toilet come to mind as analogies and while neither calls up a pleasant picture, they are probably more apropos than I would like to admit. Occasionally, however, there is a topic that gestates. Running around and around...
The incident was first reported on hoopsworld.com, which stated that Ainge is considering releasing West, who is missing the first 10 games on an NBA suspension (gun charges) and is on a non-guaranteed contract. "That's just not true," said Ainge. "I have no idea where that came from." Actually, the Celts do have an idea, with sources saying they believe the entire report...
ONE BAD MOFO
Hoopsworld's Alex Kennedy has the scoop on an alleged lockerroom fight between Delonte West and Von Wafer: After another intense three-on-three game in practice today, Delonte West and Von Wafer got into a fist fight in the locker room. Punches were thrown and the players had to be separated. The Celtics are considering releasing West, who is on a non-guaranteed contract. Sources...
MORE STORIES >>
Magic News

Delivered to your inbox

You'll also receive Yardbarker's daily Top 10, featuring the best sports stories from around the web. Customize your newsletter to get articles on your favorite sports and teams. And the best part? It's free!