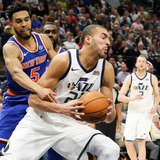 Health concerns regarding Rudy Gobert will remain with the Jazz for the rest of the season, writes Brad Rock of The Deseret News. Gobert, who has missed 26 games this season, returned to the lineup with 23 points, 14 rebounds and three blocks Friday against the Knicks and followed that with 16 points, seven rebounds and three blocks Saturday against the Clippers. Gobert, who is playing...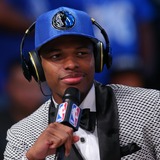 Denver Nuggets forward Wilson Chandler thinks the New York Knicks' decision to draft Frank Ntilikina as their point guard of the future over Dennis Smith Jr. may ultimately come back to haunt them.Chandler, himself a former Knick, said in a tweet on Sunday that the Knicks shouldn't have passed on Smith. The Knicks used the No. 8 overall pick in this year's draft to select Ntilikina...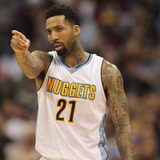 Losing Kevin Durant and Serge Ibaka in the same summer will definitely do a number on your forward depth, but the Oklahoma City Thunder may be looking to address that deficiency as the trade deadline nears.Sam Amico of Amico Hoops received a question Monday about the Thunder's mindset ahead of the February 23 deadline. He replied that they are supposedly interested in Wilson Chandler...
One of the longest-tenured Denver Nuggets may be packing his bags.According to a report by Sam Amick of USA TODAY Sports on Thursday, Nuggets forward Wilson Chandler has grown frustrated with the "inconsistency" of his role and wants to be traded.The 29-year-old has been a valuable piece for Denver this season and is at or near career-highs with averages of 15.4 points, 6.8 rebounds...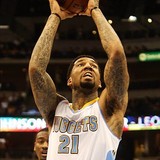 According to Adrian Wojnarowski of Yahoo!Sports.com, the Denver Nuggets have reached an agreement on a contract extension with Wilson Chandler for four years, $46 million. Denver's Wilson Chandler agreed to a four-year, $46M extension, league source tells Yahoo Sports. — Adrian Wojnarowski (@WojYahooNBA) July 12, 2015 This move comes as somewhat of a surprise considering Chandler...
It is no secret that the Denver Nuggets are on the front lines of trade rumors this year, having reportedly been shopping players like Wilson Chandler and Arron Afflalo around, but all that talk means nothing if no team makes an offer or accepts one the Nuggets are asking for. After getting two first round picks for Timofey Mozgov in early January, the Nuggets front office is looking...
There are many different routes that the Denver Nuggets can go this off-season, and a main one would be to shore up the small forward position, something they haven't been sure about since Carmelo Anthony left in 2011. The current small forwards on the roster are Danilo Gallinari, Wilson Chandler, Quincy Miller, and Anthony Randolph. Miller and Randolph are in no place to start,...
The Denver Nuggets have brought back Wilson Chandler, agreeing to a five-year deal worth nearly $37 million with the versatile forward. Chandler played overseas for Zhejiang Guangsha of the Chinese Basketball Association during the lockout, averaging nearly 27 points and 12 rebounds in 32 games. Once the NBA season started back up, Chandler was ineligible to return until his team...
MORE STORIES >>
Nuggets News

Delivered to your inbox

You'll also receive Yardbarker's daily Top 10, featuring the best sports stories from around the web. Customize your newsletter to get articles on your favorite sports and teams. And the best part? It's free!