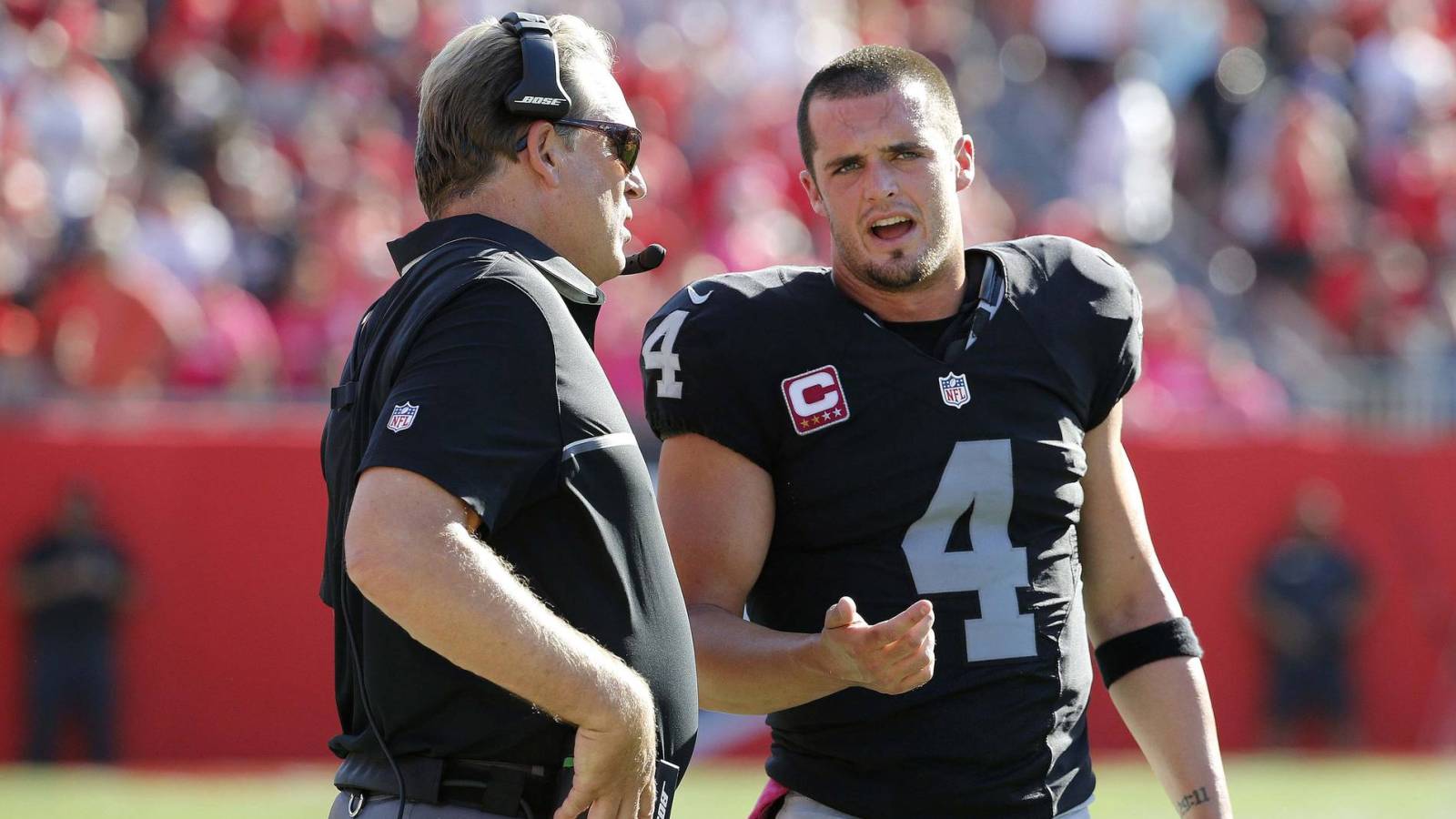 Can Jack Del Rio and Derek Carr lead the Raiders to an AFC West title in 2017?
Kim Klement-USA TODAY Sports
Over the next few weeks as part of our NFL preview series, we'll be taking a good look at each division in the league. We started with the AFC East, then moved on to the AFC North and AFC South. Here's a look at the AFC West. 
The AFC West has a very good chance at being the best all-around division in football this season. It had a pair of 12-win teams last year in Oakland and Kansas City. And, every team from top to bottom has plenty of reason to hope for a playoff berth. So who will come out on top in 2017?
1. Oakland Raiders
The soon-to-be Las Vegas Raiders have a large majority of their roster coming back after a breakout season. That makes them a legitimate contender in the AFC. That has a lot to do with fourth-year starter Derek Carr, who just became the highest paid player in the NFL and is fully healthy after breaking his fibula in December.
Receivers Amari Cooper and Michael Crabtree will continue to see heavy workloads, which will likely be balanced with a physical running game. Marshawn Lynch is now in the fold. And although he may not be as efficient as he was in his prime, he's still an upgrade over Latavius Murray. Murray rushed for less than 800 yards and still scored 12 touchdowns last year. Expect Beast Mode to at least match those numbers, especially behind a stellar offensive line.
The Raiders defense may not be a dominant unit, but they sure do create havoc. The Raiders forced 30 turnovers in 2016, good for second-most in football behind Kansas City (33). Most of their starters are back as well. And if any of their six rookie defensive players can contribute, the unit could make another stride to becoming elite. And oh, by the way, Khalil Mack is really good at football.
Hungry after a playoff loss, the Raiders have the motivation to take the division title. Plus, enough talent to back it up.
2. Kansas City Chiefs
The Chiefs roster never looks as good on paper as it performs on the field. Say what you want about Alex Smith and company, but Kansas City's success under Andy Reid can't be denied. They've gone 43-11 since he became head coach in 2013, good for a 79.6 winning percentage. Division opponents can't seem to figure them out, either—the Chiefs went 6-0 against the AFC West last season and 5-1 in 2015.
So, why should we be concerned? First off, Jeremy Maclin is a big loss on offense. A big burden will be on the shoulders of 2016 breakout Tyreek Hill and tight end Travis Kelce in the passing game. If one of them were to get hurt, it would make things extra tough on Smith, who now has rookie Patrick Mahomes looming behind him. Even with these concerns, Smith still won 11 games without throwing a touchdown to a wide receiver in 2015.
If the offense struggles, Kansas City's defense can carry them. The likes of Justin Houston, Tamba Hali and Dee Ford provide one of the most feared pass rushes in football. Derrick Johnson is still a menace at linebacker. Plus, the secondary features two of the best ball hawks in the conference in Eric Berry and Marcus Peters.
The Chiefs have proved they can endure injuries and other doubts before. As long as Reid is coaching, don't expect them to be any worse than 9-7.
3. San Diego Chargers
San Diego seems to be every expert's favorite sleeper team this season. Their offense has ranked top 10 in points per game in each of the past two years, while the defense finally looks poised to match that level of performance. Joey Bosa proved to be a dominant force as a rookie and is ready to put together his first full NFL season. If players like Melvin Ingram, Jatavis Brown and Jason Verrett can match Bosa's intensity, San Diego can be a very balanced team capable of competing with anyone.
Drafting Mike Williams at No. 7 overall showed the Chargers are serious about giving Phillip Rivers the weapons he needs. Along with Tyrell Williams, Hunter Henry, Antonio Gates and a healthy Keenan Allen, the options for the 35-year-old veteran quarterback are plentiful. The issue, of course, is health. There is already speculation Mike Williams could miss his entire rookie season. There's also no guarantee that Allen can avoid injury after playing just nine games the past two years.
Melvin Gordon's ascendance gives San Diego's offense yet another dimension to keep defenses on their heels. Keeping Danny Woodhead around would have made things easier for him, but Gordon proved he can handle a big workload last year. The offensive line, featuring a new left tackle in Russell Okung, will determine whether the offense can be elite this year.
In a weaker division, the Chargers could be the favorite to finish first. Compared to Oakland and Kansas City, however, San Diego isn't quite there yet.
4. Denver Broncos
The Broncos won the Super Bowl just two seasons ago and have a lot of their core from that team still intact. However, due to stiff competition in the division, they could take another step back after missing the playoffs in 2016.
The concerns begin at the quarterback position, which is once again a battle between Trevor Siemian and former first-round pick Paxton Lynch. Reports after Denver's second preseason game peg Siemian as the favorite, but that doesn't necessarily mean he's the answer as a signal-caller. The Northwestern product threw only 18 touchdowns and severely limited Denver's ability to stay competitive in high-scoring games last season. A spotty offensive line with a rookie left tackle doesn't make things any easier.
Denver desperately needs its defense to dominate if they want to be in the playoff race. The unit has ranked No. 1 in DVOA each of the past two seasons. Additionally, all four starters are returning in the secondary. With Wade Phillips gone, it'll be intriguing to see whether new head coach Vance Joseph can keep his defense playing at the same level we've seen in the past few years. With the talent on the roster, it shouldn't be an issue. But the effects that Joseph may have remain to be seen.
The loss of depth and early injury concerns across the defensive line are enough to lower the projected win total for Denver. Don't expect double-digit losses, but fourth place is a realistic possibility.
MORE FROM YARDBARKER:
QUIZ: Name every head coach in the history of the Oakland Raiders
Dating back to their founding in 1960, the Oakland Raiders have had 22 coaches in NFL franchise history. This list includes two Hall of Fame coaches, one Hall of Fame player and two Super Bowl winners. How many of the leaders of the Raiders can you name?
Clue: Years Active
Note: Two coaches have had two stints with the team.
MORE FROM YARDBARKER
NFL News

Delivered to your inbox

You'll also receive Yardbarker's daily Top 10, featuring the best sports stories from around the web. Customize your newsletter to get articles on your favorite sports and teams. And the best part? It's free!