Originally posted on
Sportsnaut
| Last updated 1/9/15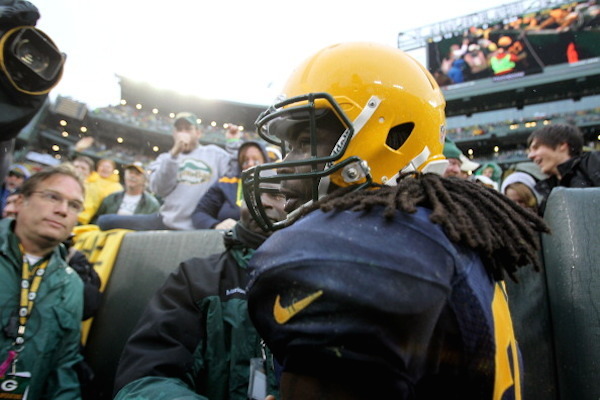 Packers running back Eddie Lacy (following a " Lambeau Leap" during the 2013 season), says doing the patented move is harder than it looks.
Mike McGinnis/Getty Images
By Rachel Wold
The "Lambeau Leap" has been a customary touchdown celebration by the Green Bay Packers since being invented by LeRoy Butler in 1993. However, some players, including running back Eddie Lacy, say that the celebration, which remains a near requirement, is difficult to perform (via NFL.com).
"It's really, really hard. You've got a long drive, you exerted a lot of energy getting there and once you get there, unless you are one of those guys that can jump out of a gym, it's going to be difficult."
With the no-huddle and fast-paced offense the Packers have employed in 2014, receivers are doing more running prior to catching the actual football. What Lacy says makes sense, especially after exerting so much energy prior to the "Leap."
Tight end Brandon Bostick agrees.
"The first thing you are thinking about is finding your teammates, then you want to do the leap if you have the energy, but sometimes, most people don't have the energy now."
Other players either forget or avoid skipping the leap altogether. Jordy Nelson and Richard Rodgers are two such examples. Quarterback Aaron Rodgers made fun of them on a radio show recently, saying Nelson and Rodgers "might have been a little worried" about falling short.
MORE FROM YARDBARKER
Packers News

Delivered to your inbox

You'll also receive Yardbarker's daily Top 10, featuring the best sports stories from around the web. Customize your newsletter to get articles on your favorite sports and teams. And the best part? It's free!