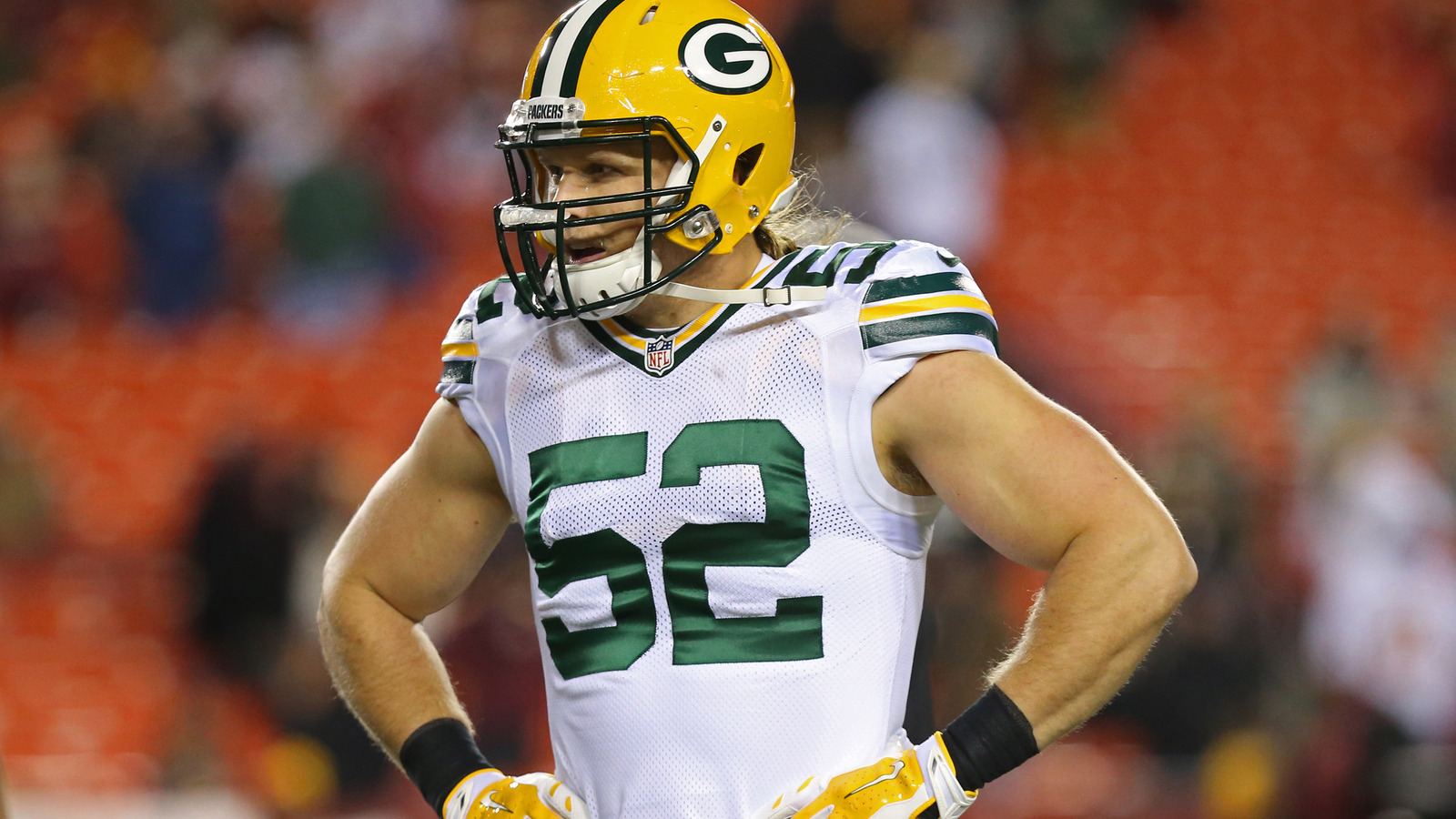 Is Packers linebacker Clay Matthews at the stage in his career where he's now being overrated?
Geoff Burke-USA TODAY Sports
Let's face it: conventional wisdom is usually wrong. The NFL is no exception to that and there is no shortage of overvalued players in the league. Every team has a few.
From Green Bay Packers outside linebacker Clay Matthews and Cleveland Browns cornerback Joe Haden to Los Angeles Chargers running back Melvin Gordon, the league is filled with players who simply get more than their due. Whether due to age, unnoticed decline or simply not being good as people believe, the popular perception of these players is far above what they've done recently.
Here is the most-overrated player on every NFL team.
Dallas Cowboys: La'el Collins, offensive tackle
Collins is much like another player who appears later on this list, Indianapolis Colts running back Christine Michael, insofar as he gets a ton of credit for physical ability which he has yet to translate into results. Despite his incredible ability, Collins failed to win a starting job out of camp last season. And when he played regularly in 2015, struggled. Assuming he finally gets to start this year, hedge your bets.
Philadelphia Eagles: LeGarrette Blount, running back
Say it with me: touchdowns are a better indicator of chances than value. Blount led the league with 18 of them last season, in large part because the New England Patriots fed him in the red zone. When it comes to short yardage, Blount is certainly solid. But after averaging 3.9 yards per carry in his age-30 season, it's time to pump the breaks on the hype train.
New York Giants: Brandon Marshall, wide receiver
Much of Marshall's decline last season can be attributed to the New York Jets' quarterback situation, but his production was still nearly cut in half. Maybe age — Marshall hit 33 this offseason — has as much to do with it as Ryan Fitzpatrick. The wideout can still be serviceable for the Giants, but don't expect him to be a superstar.
Washington Redskins: Kirk Cousins, quarterback 
Cousins is a solid player who's done a great job executing a scheme. That being said, he's done so with one of the most underrated receiving corps in football and a great coaching staff to help him out. Credit him for cutting down on interceptions over the past two years, but Cousins has ultimately been propped up in a big way by his supporting cast.
Green Bay Packers: Clay Matthews, linebacker
When asked to name Green Bay's best defensive player, many will still go to Matthews, but the numbers speak for themselves. Last season, he had a career-low five sacks and a terrible 46.1 PFF grade. He's also 31 years old this year, so it's tough to see that getting better. Time to take Matthews out of that "best Packers defensive player" conversation and give the crown to Mike Daniels.
Minnesota Vikings: Anthony Barr, linebacker
The shine from Barr's admittedly great 2015 season allowed him to play badly for most of 2016 without much blowback. However, the linebacker's PFF grade dropped from 91.4 in '15 to 39.3 last season. He registered only two sacks and had abysmal advanced numbers in pass defense, with a 35 percent success rate, per Football Outsiders' Almanac. Despite that, he was still voted to a second straight Pro Bowl.
Chicago Bears: Mitch Trubisky, quarterback 
Most fans seem to realize that the Trubisky trade and pick was a disaster, yet he still earns this title by virtue of being overrated by Chicago's front office. The North Carolina product has arm talent, but exhibited raw tendencies. He stared down his first read and struggled against pressure. Considering the Tar Heels played almost solely out of the shotgun, Trubisky will have to adjust to an NFL offense. He started only one year and, when tested in "Bear weather," in a monsoon against Virginia Tech, turned into Kellen Clemens. He wasn't the best quarterback in the draft and certainly wasn't worth drafting so early.
Detroit Lions: Kerry Hyder, EDGE
Hyder turned heads with an out-of-nowhere 8.0 sacks in 2016, but out-of-nowhere years like that are usually hard to follow up on. Given that Hyder's run defense ability is lacking — he ranked 85th among edge rushers in run stop percentage, per FOA — and he's had one year of success after being signed as an undrafted free agent, it's a little too early to start calling him a star. There have been too many one-year wonders for us to make that mistake again.
Atlanta Falcons: Dontari Poe, defensive tackle
It's fun to root for the big guy, especially when the Chiefs used him in offensive packages to score touchdowns as a running back last season. However, Poe wasn't quite as good a defensive lineman as people may think. He had a ranked 66th at the position with a 68 percent run stop rate and gave up 3.0 average rush yards per tackle, according to FOA. Poe has to improve in that area before his real performance catches up with the popular perception.
Carolina Panthers: Curtis Samuel, wide receiver
The rookie did well in Urban Meyer's scheme as an H-back with the Ohio State Buckeyes, but doesn't come into the league with a clear position and has flaws as both a running back and wide receiver. As a running back, he was impressive with space in the open field, but didn't run well in traffic. As a wide receiver, his hands are going to be an issue and his route tree was limited in college. That may leave Samuel in no-man's land at the start of his career with the Panthers.
New Orleans Saints: Adrian Peterson, running back
Adrian Peterson played just three games last season and did not play them well, averaging 1.9 yards per carry. He's 32 years old, coming off the second major injury of his career, and has played just 20 games total in three years. More than that, he cannot run out of the shotgun formation and has never been able to do so effectively. Asking Peterson to be more than an ancillary piece this season is expecting too much.
Tampa Bay Buccaneers: Jacquizz Rodgers, running back
Rodgers falls under the same one-year wonder rule as Hyder, only the running back didn't even have an entire year of playing well. He was the starter for just five games and played 10 total last season. Rodgers played well, averaging 4.3 yards per carry, but his career average is still 3.8 yards per carry and the history doesn't give you the benefit of the doubt. If you're thinking he could be a fantasy football steal, or will break out this season, think again.
San Francisco 49ers: Daniel Kilgore, center
Most fans — especially those who don't root for the 49ers — may not even know who Kilgore is, yet he still makes the list. Why? San Francisco cut center Jeremy Zuttah, a Pro Bowler just last season. It did so in favor of Kilgore, a 29-year old who has only been a starter for one season. On its face, regardless of how the two fared in training camp, this is absurd. Kilgore may be killing it on the practice field, but cutting a Pro Bowler in favor of him is a big thing to do based on only a few weeks of practice.
Los Angeles Rams: Robert Quinn, EDGE
After consecutive Pro Bowl seasons in 2013 and 2014, Quinn has fallen victim to the injury bug in the two seasons since. It's not his fault and it's unfair that he's on this list, but it's hard to assume that Quinn will be a star pass rusher for Los Angeles when he hasn't been able to stay on the field for two years. Fans should take a wait-and-see approach with Quinn, who could go right back to being his 2014 self or fall off a post-injury cliff. It's simply impossible to know.
Seattle Seahawks: Eddie Lacy, running back
It feels odd to say that the running back all of Twitter has made fun of for two years due to his weight and passion for Chinese food is overrated, but he is just that. Seattle's running back hierarchy should be clear at this point. It should include Thomas Rawls at the top, but that doesn't seem to be the case. Lacy may win the job out of camp. Rawls is certainly an injury risk, but we shouldn't forget that he was able to take over for Marshawn Lynch and do as well as Beast Mode despite a bad offensive line two years ago. The starting job shouldn't be in question, yet it is.
Arizona Cardinals: Mike Iupati, guard
Let's be clear: Mike Iupati is a solid player and won't give the Cardinals any problems at left guard this season. However, he's far from the All-Pro caliber guy he was for years with the 49ers. Iupati tied his career-low in approximate value last season and had his worst ever PFF grade at 74.8. As he hits 30, it's clear that the decline has already started. Iupati isn't a liability, but don't expect to see him on many highlight reels this season.
New England Patriots: Jimmy Garoppolo, quarterback
Garoppolo was very impressive when filling in for Tom Brady at the start of last season. Based on how New England's coaching staff and front office has valued him, Garoppolo has likely been very impressive in practice and could be considered an heir to Brady. That being said, declaring him a future star based on less than two games (he got injured midway through Week 2), is ridiculous. The NFL tends to overreact, but this took it to a whole new level. Let's see Garoppolo do it for at least a month's worth of games before calling him anything, let alone a rising star.
New York Jets: ArDarius Stewart, wide receiver
This won't come as welcome news to Jets fans who just lost Quincy Enunwa — their only capable receiver — for the season. But Stewart, their rookie third-round pick of out Alabama, isn't a star in-waiting. The wideout needs to improve in terms of route running — he had a tendency to meander at the line of scrimmage in college that won't fly in the NFL. While he has speed and a good catch radius, Stewart had hands issues and didn't see much press coverage in the SEC. It will take a while for him to adjust to the physical style played by many NFL cornerbacks and it won't help that the Jets are putting Josh McCown under center.
Buffalo Bills: Jerry Hughes, EDGE
Hughes has seen a drop in production over the past two years, notching 11.0 sacks over 32 games. That's only one more sack than Hughes had in all of the 2014 season, yet this decline has yet to be noted by many. Hughes is also a terrible run defender whose 61 percent stop rate was 90th among EDGE rushers, per FOA. It's probably time to stop thinking of Hughes, who is approaching 30, as a big threat off the edge in Buffalo.
Miami Dolphins: Jarvis Landry, wide receiver
Landry gets a lot of love from many in the fantasy football community, but as a real-life player, he doesn't live up to the hype. Though he has great ability after the catch, Landry still struggles to run routes downfield. Miami tends to force feed him the football in lieu of better players, such as Devante Parker, yet Landry was outside the top-40 receivers in efficiency last season, as measured by DVOA. That's not to say Landry isn't a good player, but he's far from the superstar many think him to be.
Pittsburgh Steelers: Eli Rogers, wide receiver
The competition for Pittsburgh's second wide receiver spot seems to be mainly between Martavis Bryant and rookie JuJu Smith-Schuster. Assuming Bryant is fully reinstated, however, that battle should be between Rogers and Smith-Schuster. Rogers had a good rookie season, going for 594 yards on 48 receptions, but Bryant is a game-changing receiver who can make plays downfield and scare defenses. It's very hard to play a single-high safety when Bryant and Antonio Brown are on the field together because of the dual threat they represent. The same can't be said for Rogers.
Baltimore Ravens: Mike Wallace, wide receiver
Wallace is no longer thought of as a superstar, but he's still considered to be a No. 1 receiver by the Ravens, if not most people in general. However, Wallace was outside the top-50 receivers in efficiency last season, as measured by DVOA and hit age 31 on August 1. Had Baltimore not signed Jeremy Maclin, they would be in real trouble with Wallace leading their receiving corps this season.
Cincinnati Bengals: Jeremy Hill, running back
Like Blount, Hill is perceived to be much better than he actually is due to high touchdown totals. He led the league with 11 scores in 2015 and put up nine last year. That may be fine and good for your fantasy team, but Hill averaged an abysmal 3.7 yards per carry over that two-year span. Don't be shocked if he falls out of Cincinnati's running back rotation after the team drafted Joe Mixon this April.
Cleveland Browns: Joe Haden, cornerback 
Haden is a name people know on a team few watch. But he wasn't even the best cornerback on a team that went 1-15 last season, let alone one of the best in the league. The veteran gave up 9.2 adjusted yards per target, according to FOA, and posted a terrible 46.0 PFF grade. If you're thinking it was an anomaly, that 46.0 grade was an improvement over the 31.8 mark Haden had in the five games he played in 2015. If we're going to talk about a Cleveland corner, let's talk about Jamar Taylor or Jason McCourty, not Haden.
Indianapolis Colts: Christine Michael, running bck
Michael is on injured reserve this season, but as a member of the Colts, still qualifies for this list and makes it because every time he goes to a team, there's buzz. We love Christine Michael's ability. Christine Michael is kicking butt in practice. We think Christine Michael could be a franchise back. It never happens. He's been let go from Seattle three times along with Dallas and Green Bay, all in just four seasons. At some point, it should become clear that the physical ability doesn't translate to the field.
Tennessee Titans: Jack Conklin, offensive tackle
Conklin exceeded expectations in his rookie season, but numbers overstated his impact. He graded out as the fifth-best tackle in football on PFF, but that was largely due to the help Titans head coach Mike Mularkey gave him, chipping and double-teaming with regularity. Conklin will be a good player for a long time, but is a good example of why numbers aren't everything.
Jacksonville Jaguars: Tashaun Gipson, safety 
Gipson is generally considered to be among the better safeties in the league, but struggled last season, putting up a 68.8 PFF grade, which ranked 65th at the position. He also ranked 73rd at the position with a 28 percent success rate, per FOA. The Jaguars still have one of the better safety duos in football with Barry Church and Gipson, but the latter isn't quite as good as you may think.
Houston Texans: Lamar Miller, running back
Miller finally got the workhorse role so many people thought he was ready for and didn't do much with it. He averaged just 4.0 yards per carry and barely made it over 1,000 yards for the season. Miller also ranked 44th out of 53 running backs in efficiency, as measured by DVOA. Some people are still pounding the drum for Miller this season. Don't buy their spiel.
Los Angeles Chargers: Melvin Gordon, running back
Touchdowns are not a good measure of production. Is there a recurring theme with running backs on this list? Gordon had 10 scores last season, but averaged a paltry 3.9 yards per carry. Don't let a high volume of red-zone carries distract you from the simple fact that Gordon simply wasn't very good last season, despite a Pro Bowl appearance. The biggest difference between 2016 and his disappointing rookie year was red-zone opportunities.
Oakland Raiders: Marshawn Lynch, running back
Lynch hasn't played football in well over a year and missed the back half of the 2015 season with an injury. He's 31 years old and we shouldn't presume that Beast Mode will suddenly be back as he was right away. Lynch may be himself. This may also be an ill-fated comeback. Treating this as anything other than a question mark is presuming too much.
Kansas City Chiefs: Mitchell Schwartz, offensive tackle
Schwartz is a solid right tackle, but had a lot of slip-ups with few people taking notice last season. The 28-year old allowed eight sacks and blew 23 pass blocks in 2016, per FOA, numbers that aren't up to par for him. He isn't a bad player, but many see him as a top-10 right tackle in football. That clearly isn't the case.
Denver Broncos: Paxton Lynch, quarterback
Over a year later, any excitement surrounding Lynch at draft time still seems ridiculous. Any optimism surrounding him now is even more so. The 23-year old failed to win the starting job over Trevor Siemian — which isn't exactly a high bar — last season. And may lose it in camp this year. In the two games he started last year with Siemian hurt, Lynch was abysmal, averaging just six yards per attempt and putting up a 28.8 QBR. If the Broncos don't already regret picking him in the first round, it won't be long before they do.
QUIZ: Name the teams that have never won a Super Bowl
Twelve NFL teams have never won a Super Bowl in the history of their franchises. Can you name them all?
MORE FROM YARDBARKER
NFL News

Delivered to your inbox

You'll also receive Yardbarker's daily Top 10, featuring the best sports stories from around the web. Customize your newsletter to get articles on your favorite sports and teams. And the best part? It's free!