We've updated our Privacy Policy.
By continuing to use this site, you are agreeing to the new Privacy Policy.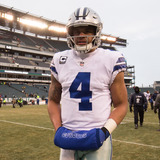 Pressure accompanies every player that competes at the highest level, but some NFL stars will enter the upcoming 2018 NFL season with almost crushing pressure to succeed.A certain duo in Dallas is among them, as are two quarterbacks who just set the new market with brand new mega-deals. A new duo of defenders make this list after their new team made bold moves to land them, too.Whether...
Rutgers quarterback Johnathan Lewis said his workout with the Giants' Eli Manning was a "once in a lifetime experience." Lewis is competing for the starting quarterback job on the Scarlet Knights with Tom Flacco, Gio Rescigno, Jalen Chatman, Rob Nittolo and Art Sitkowski. Watch video A special visitor to the Rutgers practice...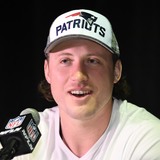 Offensive linemen have been getting paid big-time this week, and thanks to Nate Solder, they'll likely continue to command large deals.Solder signed a four-year, $62 million deal ($34.9 million guaranteed) with the Giants, making him the highest-paid offensive lineman in the NFL.The deal does make sense on paper, as the Giants had one of the worst offensive lines in football last...
LIKE WHAT YOU SEE?
GET THE DAILY NEWSLETTER: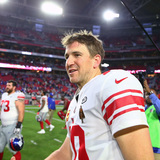 Imagine receiving a wedding invite from a complete stranger. What would your initial reaction be? Throw said invite in the trash or simply return to sender, right?New York Giants quarterback Eli Manning was put in this quandary when a fan of the team invited the future Hall of Famer to his wedding.Manning's response? A hand-written letter back to the fan politely declining the invite...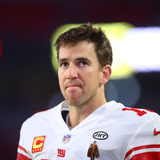 Eli Manning recently took the time to RSVP to an invitation to the wedding of a New York Giants fan. Unfortunately, for said fan, Manning sent his regrets that he would not be able to attend. The soon-to-be groom, however, got a pretty awesome keepsake out of the deal. The response from Manning, originally posted on reddit, includes the Giants signal-caller checking the box for ...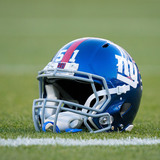 The New York Giants reportedly may not go quarterback with the No. 2 pick in the NFL Draft.After the NFL Combine, ESPN's Jordan Raanan says that the Giants are less likely to use the second overall pick on a quarterback. There are several reasons for this, including the fact that the crop of quarterbacks is not getting consistently rave reviews from scouts.Coach Pat Shurmur stated...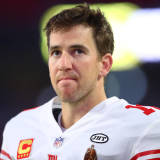 Doubling down on what he hinted at when he was hired, New York Giants general manager Dave Gettleman reportedly wants Eli Manning under center next year.ESPN's Chris Mortensen reports Gettleman and Manning had a meeting this past week that was "great" and during which Gettlemen affirmed he wants the veteran starting for the Giants next season. However, Gettleman reportedly isn't...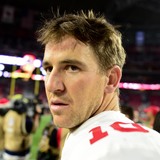 Just as they were 14 years ago, the Giants are in a position to select another potential franchise quarterback with their first-round pick. However, the new GM isn't ready to abandon the incumbent just yet.Dave Gettleman wants Eli Manning to stay with the Giants this coming season and be the 2018 starter, Chris Mortensen of ESPN.com reports. The two had a meeting Gettleman described...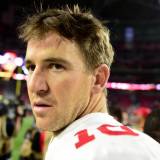 The New York Giants have the second overall pick in this year's NFL Draft, and they are in search of their next franchise quarterback. With both Josh Rosen and Sam Darnold deciding to turn pro, some have wondered if that makes it less likely that Eli Manning will be back with the team in 2018.In a Q&A with Steve Serby of the New York Post this week, new Giants general manager...
Eli Manning's future with the New York Giants remains up in the air, and some have wondered if he will follow the same career path as his older brother should he find himself looking for work this offseason.With the Denver Broncos in need of an upgrade at quarterback, there has been talk about John Elway potentially pursuing Eli Manning the same way he did with Peyton. If you're...
MORE STORIES >>
Giants News

Delivered to your inbox

You'll also receive Yardbarker's daily Top 10, featuring the best sports stories from around the web. Customize your newsletter to get articles on your favorite sports and teams. And the best part? It's free!