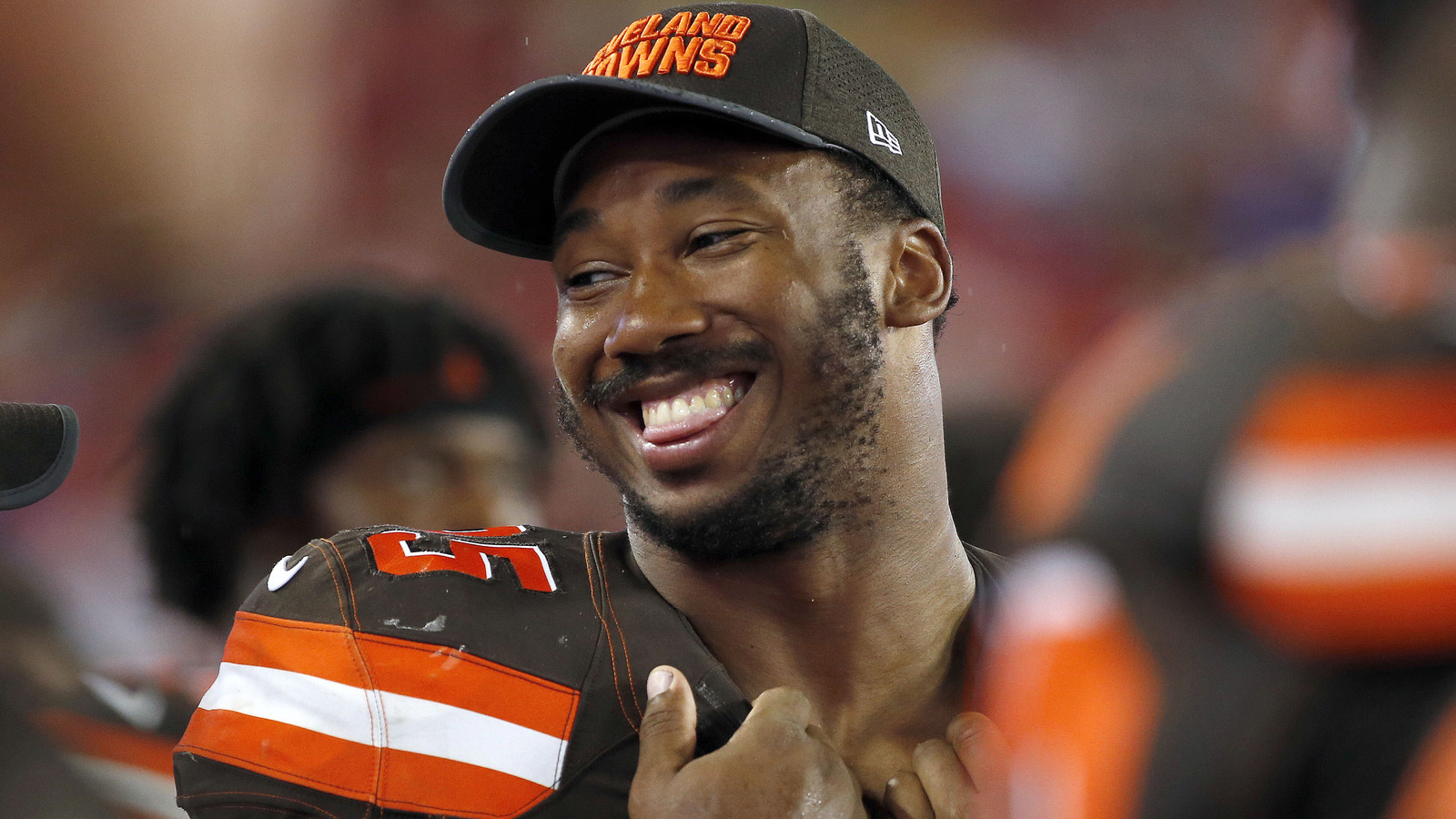 Aug 26, 2017; Tampa, FL, USA; Cleveland Browns defensive end Myles Garrett (95) smiles from the sidelines during the second half against the Tampa Bay Buccaneers at Raymond James Stadium. 
Kim Klement-USA TODAY Sports
Good news, Browns fans: Myles Garrett is getting closer to a return.
Garrett, the No. 1 pick in the NFL Draft, has yet to make his NFL debut because of a sprained ankle sustained in the days before Week 1. He is making progress and Hue Jackson says the DE is "close" to being back on the field for the team.
And while the Browns wouldn't rule Garrett out for Sunday's game, Jackson isn't ready to say Garrett will be able to play in Week 3.
"Now, I'm not going to say that," Jackson said Wednesday via Cleveland.com. "Let's just see where he is, but he's getting there. There's huge progress that's been made. Hopefully we'll see where he is."
Garrett has a high ankle sprain, which is usually a 4-6 week injury. He is viewed as a fast healer, which means his chances of playing in Week 4.
MORE FROM YARDBARKER:
QUIZ: Name every head coach in the history of the Cleveland Browns
In recent years, the Cleveland Browns have struggled to retain their head coaches for extended periods of time, much like their troubles with the quarterback position which explains the problematic state of the team. However, dating back to 1946, Cleveland has only had 19 head coaches in franchise history including one Hall of Fame player, one Hall of Fame coach, and at least one future Hall of Fame coach. How many of the leaders of the Browns can you name?
Clue: Years Active
MORE FROM YARDBARKER
Browns News

Delivered to your inbox

You'll also receive Yardbarker's daily Top 10, featuring the best sports stories from around the web. Customize your newsletter to get articles on your favorite sports and teams. And the best part? It's free!