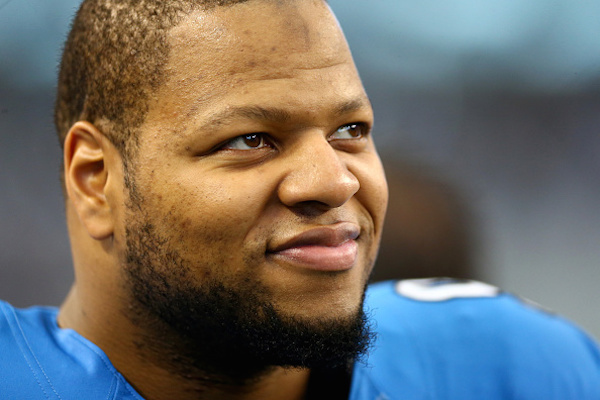 No one knows which team will win the Ndamukong Suh Sweepstakes, but whichever team does will be paying a king's ransom for the star.
Ronald Martinez/Getty Images
By Sam Quinn
Question of the day: When was the last time a truly undisputed top-five defensive player hit the open market? Darrelle Revis doesn't count; his value wasn't nearly as high last year as it had been in years past. Mario Williams and Elvis Dumervil were excellent pass-rushers, but both were better placed in the top-five at their position. Nnamdi Asomugha may have been in 2009, but by 2011 the signs of a breakdown were coming.
The answer, sadly, is Albert Haynesworth. Haynesworth got a $100 million contract … six years ago.
Second question of the day: When was the last time a truly undisputed top-five defensive tackle hit the open market? Actually, let's amend that. When was the last time a truly undisputed top-anything defensive tackle hit the market? Last year's top tackle was either Randy Starks or Linval Joseph. Two years ago Desmond Bryant was so coveted that he cashed in to the tune of nearly $7 million per year. Paul Soliai was once franchise-tagged at this position.
The answer, again, is Albert Haynesworth, who, again, signed a $100 million contract six years ago, when the salary cap was $123 million. Today, it's over $143 million.
Speaking of Haynesworth, there were a number of red flags that indicated his contract was going to be the disaster that it ended up becoming. He played in an average of only 12 games per year from 2003–07, due to a combination of conditioning issues and suspension, before finally getting in shape for his world-destroying 2008 season. There were more than a few rumblings that he was only playing for a contract, and his temper was dangerously short. He didn't learn to rush the passer, or put in the requisite effort, until his sixth season (2007), as until that point he'd never finished a season with more than three sacks. In fact, he didn't become a truly elite run-stuffer until '07 either. Haynesworth spent seven seasons in Tennessee, but entered free agency having only been an elite player for two of them.
The point of this exercise is to detail three historical truths of the free agency market:
Great defensive players are incredibly rare.
Great defensive tackles are even rarer.
Great defensive tackles who don't come with extraordinary risk simply don't exist.
And now, here are three things we know about Ndamukong Suh:
He is a great defensive player. J.J. Watt is the only lineman we can indisputably call better than him, and only Watt and Revis have a greater individual effect on defensive schemes. Maybe you're old school and love middle linebackers like Luke Kuechly, maybe you prefer Gerald McCoy's light-hearted personality, but there is absolutely no way to make a list of the five best defensive players in football that does not include Ndamukong Suh.
McCoy is the only defensive tackle in Suh's class and he's not nearly as versatile. The gap between those two and whoever's third (which, depending on your bend, is probably Dontari Poe as a 3-4 nose tackle or Aaron Donald as an interior rusher) is greater than that difference at any other position besides, again, J.J. Watt and other 3-4 ends. This is true at Suh's natural position as a 3-technique tackle (essentially, a pass-rushing defensive tackle who lines up outside of an opposing guard), and it would likely be true in a 3-4 as a 5-technique end (think Watt's position lining up over the left tackle). He is one of the five best run defenders and interior pass-rushers in football, adept at shooting gaps, shedding blockers, and is an automatic double-team on any down. In a pinch, he can take snaps at nose tackle as long as it's not a 3-4, and has enough of a motor and speed to chase down runners on the second level of the defense. As talented as McCoy is, he doesn't bring all of those things to the table.
There are virtually no risks involved with Suh. Yes, his temper is an issue, but at most you're likely only looking at the occasional fine or, worst-case scenario, one-game suspension. He is a young 28 having played only five years in the NFL, hasn't had a major injury since college and has never had any issues with conditioning, having finished in the top-four among all defensive tackles in total snaps in each of the last three seasons. Suh's incredible athleticism is matched, if not exceeded by his near-flawless technique, which combined with his worth ethic means he should age very well as opposed to, say, Warren Sapp. His worst season, 2012, was the only one in which he hasn't been named a first-team All-Pro. So far in his career, Suh's absolute floor is as second-team All-Pro.
There aren't even dumb Fedoras turning Suh's free agency into a testament to his impossible personality and Detroit's desire to purge its locker room of malcontents. It's just simple math. The Lions have only $19 million in cap space and are committed to paying Calvin Johnson and Matthew Stafford alone a combined $38 million. By virtue of being a top-two pick in a pre-lockout CBA season, his franchise tag value would have been $26 million, meaning Detroit would have needed to shed an extra $9 million or so in salary just to bring back Suh and sign absolutely nobody else, including their draft picks. That'd be a pretty significant problem for a team that doesn't currently have its starting left guard, center, running back, nose tackle, or left cornerback from last season under contract. There just wasn't a way for the Lions to make the money work.
There simply isn't a precedent for this. Players like Suh just don't hit the open market. He might be the best defensive player to become an unrestricted free agent since Reggie White in 1993, and there aren't any defensive contracts currently in football to serve as a launching point for Suh talks. Watt's six-year, $100 million extension came on the heels of a "down year," and was signed well before Watt hit the open market. The same goes for McCoy's seven-year, $98 million deal.
Suh is about to watch almost a dozen teams bid for his services blindly. They are going to do so in an offseason with more available money than ever. The cap is set at $143 million, and beyond that there are simply an enormous number of teams that are in a position to spend. Eleven teams have over $30 million available in cap space, and four of them (the Raiders, Jaguars, Browns, and Jets) have over $50 million and will likely have to pay a premium to sign anyone meaningful because of the state of their organizations. There are several contenders (Indianapolis, Seattle, Philadelphia) with quarterbacks only one year away from major contract extensions, meaning they will likely try to go all in with their last year of cap flexibility. Then there are the teams like Washington, Minnesota, and the Giants who have traditionally spent money in free agency and have clear needs on the defensive line.
We're about to see a bidding war that destroys every known rule of football bidding. In all likelihood, Suh is going to end up being paid like a top quarterback. The chance to add a player of his caliber without sacrificing anything other than the opportunity cost of his salary is too rare for that to be avoided. Expect Suh to command a contract around six years, $120 million. And expect him to be worth every penny.
MORE FROM YARDBARKER
Lions News

Delivered to your inbox

You'll also receive Yardbarker's daily Top 10, featuring the best sports stories from around the web. Customize your newsletter to get articles on your favorite sports and teams. And the best part? It's free!