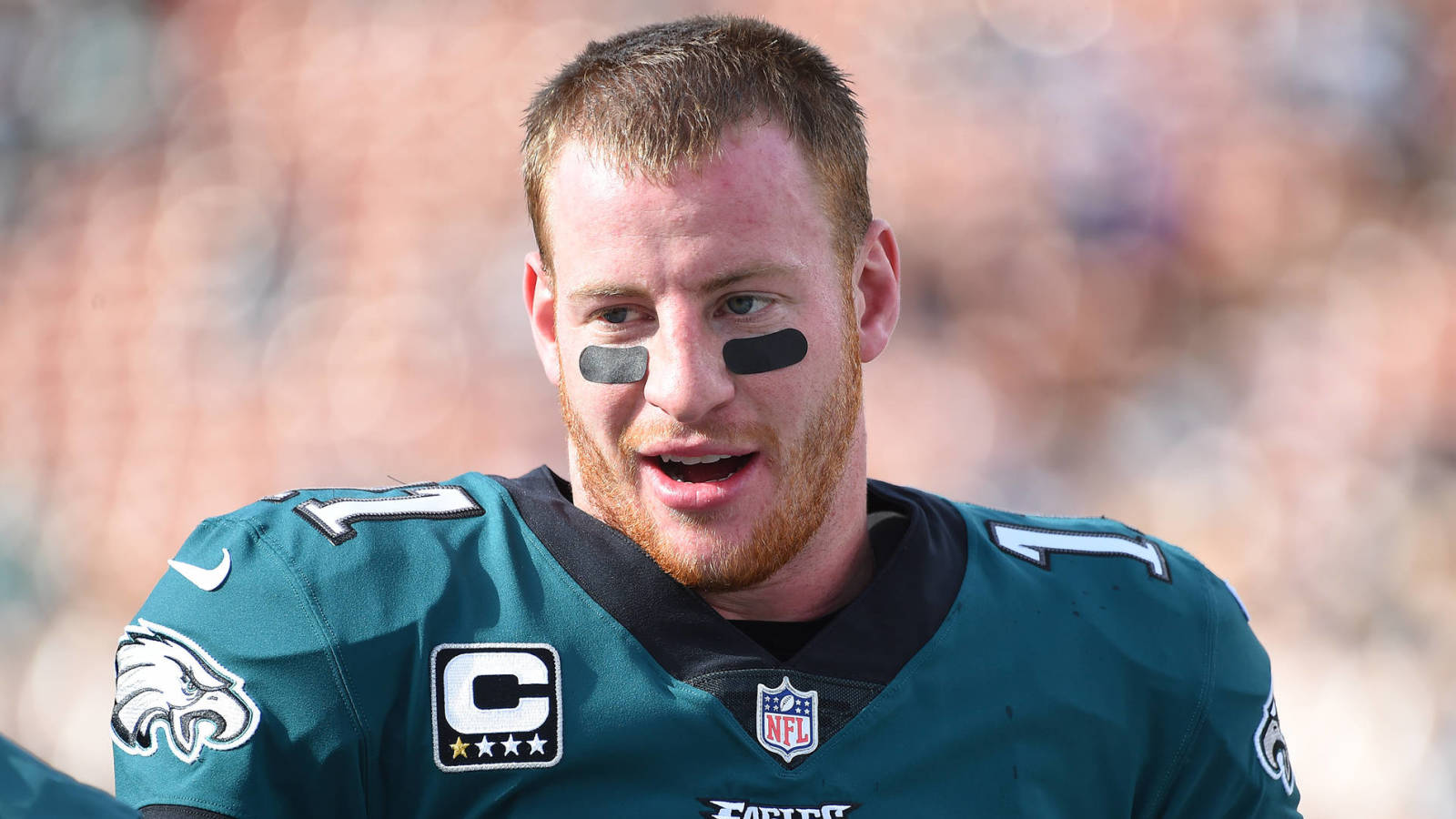 Jayne Kamin-Oncea-USA TODAY Sports
Every Monday, Jeff Risdon over at RealGM gives us his "ten cents" regarding the week's NFL happenings.
$.01—Sunday was a big day at the top of the NFC playoff race, and neither of the games featuring legit contenders squaring off disappointed. Carolina beat Minnesota 31-24 (more on that below) but the headline is the outstanding late-afternoon game in Los Angeles between the Rams and the Eagles. Philadelphia prevailed 43-35 thanks to a clutch late field goal and a meaningless TD on the final play to bump the margin, in front of a crowd that was cheering as loudly for them as the home team. The win clinched the NFC East and lifted the Eagles back up to the No. 1 seed. But that's just the secondary story from the Coliseum.
Carson Wentz left the game in the third quarter with a knee injury following a vicious collision in the end zone. Because it's 2017 and we cannot have nice things, the hard hit knocked the second-year phenom out…on a play wiped out by a penalty. Preliminary reports indicate it is a torn left ACL, though an MRI on Monday should give us more information. Whether it's a full tear or not, this is a crippling blow to the 11-2 Eagles. Wentz is a top 3 MVP candidate alongside Tom Brady and Russell Wilson and comfortably weathered the considerable pressure from Philly fans to deliver the franchise from prolonged "almost contender" status.
If Wentz is out, Nick Foles will be the man at the controls. He's done this before, guiding the Mike Vick-less Eagles to a playoff berth a few years back and playing well in the postseason loss. He's not Wentz, he's not a mobile runner or broken play passer, but if he limits mistakes and presents enough of a threat to keep defenses from loading up on the run, the Eagles can keep winning. It won't be as easy, however. It will also require mental toughness to overcome losing the franchise messiah at QB, and that is never an easy thing to gauge. Given their relatively inexperienced coach and lack of playoff pedigree, these are all tough variables to predict. If they can win a playoff game without Wentz, it shows the strength of the team around him. Even so, it's a tough break for one of the NFL's best teams in the injury-heavy season.
The Rams suffered some injuries of their own, notably losing DB Kayvon Webster to a torn Achilles on a play where the Eagles scored a TD. They squandered a chance to put some cushion on their NFC West lead in falling to 9-4. They had little success on defense against Wentz, and they gave up a strip sack of Jared Goff that proved to be a huge turning point late. Even more than the Eagles, the Rams feature a young roster with an inexperienced coach. They're all learning how to win together, and this is one of the inevitable growing pains along the way.
$.02— Back to the Panthers and their huge win over the Vikings. Carolina has leapt up from an underwhelming 4-3 start (not to mention trading away their No. 1 wide receiver in Kelvin Benjamin) to 9-4 with a chance to win the NFL's best division, the NFC South. Their defense has proven leakier than expected, but the offense is hitting a new gear with the speedier lineup.
That's not to say that the defense didn't contribute. Minnesota's first drive ended when Panthers CB Daryl Worley picked off Case Keenum. A few plays later Jonathan Stewart blasted through the line for a 60-yard touchdown, and the Panthers seized control of both the scoreboard and the momentum. They scored another TD on the next drive too after Minnesota had answered, proving they weren't off to a fluky start.
They didn't do much offensively the rest of the way, but the early surge held. Newton passed for just 137 yards, though he did run for 70. Stewart would plow into the end zone two more times, and a James Bradberry INT thwarted a promising late Vikings drive. Several dropped passes and attrition on the offensive line (losing Riley Reiff is a big blow) didn't help Minnesota, either.
A week after besting Atlanta, the Vikings dropped to 10-3. The 8-game winning streak is snapped, but there is no shame in losing at Carolina. I think some Vikings fans might lose sight of that. Neither of these teams has received the national respect their play over the last two months merits. This could very well have been a playoff preview, and if it was we are in for an outstanding NFC postseason.
$.03— Atlanta survived New Orleans on Thursday night, and survive is the optimal word. The Saints lost several key players to injuries throughout the game. Six Saints were ruled out for the rest of the game by the middle of the fourth quarter, and four others left for at least one drive during the hard-hitting contest as well.
After the game, New Orleans QB Drew Brees sounded off about the short week and increased injuries. So did Saints coach Sean Payton, and they're far from the first players or coaches to complain about the increased injury risk and lesser quality of play on limited rest. Seahawks receiver Doug Baldwin famously quipped it "should be illegal" when Seattle lost 4 players to IR after a Thursday Night game.
The injuries can, and do, happen on Sundays with full rest. They happen on Monday nights with extra rest, too. The point Brees and the players need to be selling is the diminished quality of play. Just about every week the social media focus isn't on the game, but rather how poorly played or unappealing the game itself is being played.
Perhaps Brees was being hard on himself for throwing a killer game-sealing interception in the end zone, a fantastic play by Falcons LB Deion Jones. Maybe he was trying to help out counterpart Matt Ryan, who ended three Falcons drives in a row with interceptions of his own. Ryan rebounded nicely in the clutch however, while Brees and the Saints had three straight quick outs before the final drive when they could have put some distance between themselves and the Falcons.
That distance between them could have also applied in the NFC South standings, but the Atlanta win tightened up the race. It also made it incredibly difficult for any of the teams who entered the weekend at 6-6 (Dallas, Detroit, Green Bay) to have any real chance of making the playoffs. The Falcons dominate conference tiebreakers with any of those teams, and have head-to-head wins over both Detroit and Green Bay.
$.04— The Cleveland Browns sacked de facto GM Sashi Brown on Thursday, ending his reign as the team's primary personnel picker before the end of his second season. Brown lost a battle of office politics with coach Hue Jackson, a move not many expected and certainly didn't expect in the season. Brown had two relatively strong draft classes to his credit, stocking the NFL's youngest roster with a load of impressive young talent, including Myles Garrett, Emmanuel Ogbah, Joe Schobert, Briean Boddy-Calhoun, David Njoku, Kevin Zeitler and more.
You'll note none of those guys play quarterback, and that's part of Brown's problem. The bigger one is that he traded away the draft picks which became Carson Wentz and Deshaun Watson. Those are unforgivable sins for too many in Cleveland, and rightly so; every bad DeShone Kizer play—and there are more than enough every week—serves as a brutal reminder of what could have been.
In steps John Dorsey, who was surprisingly fired by the Kansas City Chiefs this summer after he lost a power struggle of his own. Dorsey seems more willing and able to work with Jackson, and that's apparently going to be a key. Owner Jimmy Haslam committed to Jackson as his coach through 2018, as bizarre as that might seem for a coach with one win in two seasons. The feather in Dorsey's cap is building a winning team around Alex Smith and also drafting Patrick Mahomes last spring. Mahomes was Jackson's QB of choice (not Watson or Mitchell Trubisky, despite what the Cleveland media bigwigs were selling).
After Sunday's game, Dorsey might want to rethink Jackson's job security. Cleveland led 21-7 into the fourth quarter but collapsed thanks to passive defense and an unforgivably awful decision by Kizer which led to a late turnover. Brett Hundley showed his clutch gene and guided the Packers back to tie the game in the final minute, then win it in overtime in Cleveland. The Browns fall to 0-13 and blew the best chance for a win all season. There were several instances in this game where the talent discrepancy between the two teams was obvious, that the Browns had the better roster. But they couldn't win, and that reflects more on Jackson than anyone else, including the mistake-prone rookie quarterback.
$.05—Lost amidst this week's intermingling of sports and politics was a proposal with actual significance. The Supreme Court has agreed to hear the case of Christie vs. NCAA, in which New Jersey Governor Chris Christie sued to allow his state to legalize sports wagering.
The case is fairly complex but the long and the short of it is about the improper implementation of the 10th Amendment. New Jersey passed a law which created a conflict in the anti-commandeering provision. It's an interesting argument with political intrigue on both sides of the aisle, though for quite divergent reasons.
If the court rules with Christie, New Jersey will be allowed to offer legal wagering on sports. Right now Nevada is the only place in the United States where it's openly legal. Online wagering remains illegal too, though it's incredibly pervasive. Much like the marijuana legalization movement, the common sense here dictates that if something is so lucrative and widespread, the government will want a piece of the action.
Vices do carry some negative stigma and real danger, of course. Betting on sports has ruined many lives, many families. The risk is real. So is the money, however, and in America, money trumps everything and anything else. I'm hopeful this passes and becomes the first of many dominos which allow individual states to offer sports wagering if they so choose. In radio interviews I've heard with legal experts, it seems unlikely but not out of the question.
$.06—This cent harkens back to the Monday Night Football game from Week 13, specifically the horrific injury suffered by Steelers LB Ryan Shazier. It's too important to me not to talk about this.
Shazier dove head-first into Cincinnati Bengals wide receiver Josh Malone. His body crashed to the ground and he frantically reached with his right arm to his back. Shazier's legs would not move. He could not feel anything.
After several excruciating minutes, the linebacker was rushed to a hospital in an ambulance. Shazier underwent surgery to stabilize his back and is expected to be able to walk again. His season is over, and nobody would be surprised if his career is too.
This should have been a moment where the players realized that something was bigger than this heated rivalry between two of the NFL's most physical teams. They're also two of the fondest of taking the intensity too far. Many call them dirty, and I don't object to that term for some of the players, though it's too broad of a brush for me to paint the entire teams that way.
Instead, the extracurricular shenanigans came right back. Vontaze Burfict got laid out and concussed on a walloping block from JuJu Smith-Schuster. The block itself was clean and legal, but standing over the obviously injured Burfict and taunting him was not. The Bengals later retaliated with a cheap shot by George Iloka on Antonio Brown when the standout Steelers wideout scored a late TD to win the game.
Short memories are no excuse for an utter lack of broader awareness here, and it's precisely this sort of self-defeating machismo which is alienating fans. There was a very real chance that Shazier was going to be paralyzed. The players have to know that's going to be the story of the game. If they can't figure that out, you damn well better believe it's incumbent on their coaches to let them know that tonight is not the night for any envelope-pushing behavior. It's a huge black eye, one which reinforces the growing and politically motivated misconception that these players are thoughtless thugs. This hyped-up primetime game added so many logs to that fire that it's never burned brighter.
$.07—Baker Mayfield won the Heisman Trophy. The Oklahoma quarterback received nearly 10 times as many first-place votes as runner-up Bryce Love, the Stanford running back. Louisville QB Lamar Jackson was a distant third, followed by Penn State RB Saquon Barkley and San Diego State RB Rashaad Penny.
Mayfield deserved the Heisman. His incredible accuracy—Mayfield set an NCAA record in passing efficiency—is impressive, but he accomplishes it all with a swagger and panache not typically celebrated. It is reminiscent of Cam Newton's outward braggadocio, though packaged differently. Like Newton when he won, it helps that the team around him is really good, too.
As for the NFL prospects with Mayfield, I haven't made up my mind yet. The comparison which sticks in my mind is one I first heard from Dane Brugler of NFL Draft Scout: Jeff Garcia. That was early in the season, and I think Mayfield has a better intermediate-range arm and more patience in the pocket than Garcia did. But the free-wheeling style, the undersized pluck, the outward attitude, those are all similar to Garcia.
Mayfield made a handful of plays in the TCU game last week where I saw a future NFL star, and he has the outsized personality to wear the stardom in the way that Joe Namath or Brett Favre did. Yet I can also see where he can fail, especially if he winds up with a coach who doesn't appreciate his particular set of skills or how he uses them. He won't be for everyone. I've got a few months left to decide if he's for me. You do too… 
$.08—NFL Quickies
--The Titans are very much in the thick of the AFC playoff race. Their 2015 draft class has not been a big part of that, save the first pick. In fact, Marcus Mariota is the only player of their 9-man draft class still on the team after they dumped FB Jalston Fowler this week. Mariota got hurt in Sunday's listless loss to Arizona, which makes their playoff potential a lot less certain, too.
--Quite a visual here from Buffalo:
--Houston lost at home to San Francisco in yet another game where a Texans injury is the storyline. QB Tom Savage hit his head on the turf and appeared to convulse in what is known as "the fencer", an obvious sign of a concussion. Yet somehow he passed the first concussion exam and reentered the game before getting yanked after another series. He was subsequently ruled out with a concussion. For a team that had four players sitting out this game already with concussions and has suffered 27 (and counting) on the season, it's a terrible look. I wrote about it at Texans Wire, if you please…
--I didn't see one snap of the game, but Seattle QB Russell Wilson set the NFL single-season record for most TD passes in the 4th quarter with his 16th. It's the Seahawks' 13th game. The Seahawks lost in Jacksonville, however, as Wilson also threw 3 INTs before the fourth quarter.
--This is what Seattle did on the last play of the game, as the Jaguars took a knee in victory formation…
Instead of fining and/or suspending Michael Bennett and Sheldon Richardson of the Seahawks for their antics, suspend and fine Seattle coach Pete Carroll. Players will only do cheap, gutless, sissified acts like with complicity from the coach. Bennett deserves at least two games for blatantly attempting to injure. Carroll should get that, too. Get that bush league crap out of the league.
--Don't even think for a minute that players who are on teams with no playoff chances don't care about winning and losing. Watch Jets QB Josh McCown and the emotion hew shows as he talks about breaking his hand and being lost for the season.
--A bit of uplifting recommended reading on Patriots defensive lineman Lawrence Guy and how he's battled to overcome learning disabilities. Kudos to Mark Daniels of the Providence Journal for the story. 
$.09—College/Draft quickies
--Happy to say I voted for several award winners this year. I am not a Heisman voter but I do cast ballots for most other awards. Among those who won:
Biletnikoff Award: James Washington, WR, Oklahoma State
Doak Walker Award: Bryce Love, RB, Stanford
Rimington Award: Billy Price, C, Ohio State
Mackey Award: Mark Andrews, TE, Oklahoma
Ray Guy Award: Michael Dickson, P, Texas
Broyles Award: Tony Elliott, Clemson
--An update on the ongoing Tennessee saga: the Vols hired Alabama defensive coordinator Jeremy Pruitt. It's an interesting hire. Pruitt is young and has no head coaching experience, but he's done a great job tailoring his Crimson Tide defenses to the strengths of his best players. Good luck, coach, you're going to need it.
--I missed the Army/Navy game, unfortunately. Congrats to Army for winning when Navy missed a field goal. It's a fantastic tradition for this game to get its own showcase weekend. I'm sorry I missed it.
--Diving much deeper into scouting players who have accepted invites to Shrine Game and Senior Bowl over the last few days and in the coming weeks: One guy who stood out as being better than expected: Richmond QB Kyle Lauletta. He's got some great feet, a clean delivery and excellent pocket sense. I saw an anticipatory thrower who is quick to identify when and where the ball needs to be. He's a Senior Bowl guy, and I suspect you'll be hearing his name among the "draft risers" quite a bit next month once more folks get exposed to him. He's a better prospect than Mason Rudolph or Luke Falk, to name two.
--Lamar Jackson is a quarterback. He might not be great in the NFL, but the Louisville QB is most definitely not a wide receiver at the next level. Anyone trying to tell you that he cannot play QB is not worthy of your time. 
$.10— This is the time of year where NFL fans love to call for coaches to get fired. I'm guilty of this myself, as anyone who listens to my work on ESPN 96.1 in Grand Rapids or my appearances on various podcasts can attest. But I always try to remember the stories behind the firing line. Now is the right time to remind everyone that when a coach gets fired, the tentacles run deep.
Coaches have families. They have lives and interests outside of football. I know, I know, we don't care about that when they mismanage the clock in crunch time to cost the team a victory, or refuse to play the second-round rookie because of spiteful indignation that the GM picked that player against his wishes. There are head coaches who are legitimately bad at their jobs and shouldn't remain employed in that capacity. That is the reality of the coaching life, and the coaches know what life they've chosen.
Their kids, on the other hand…
I've relayed this story before but it bears repeating. I was friends with an assistant coach who held his job for four years, spanning a head coaching change. When head coach No. 2 got the axe, he did as well. On the day he was fired, his wife was 8 months pregnant with their third child. The oldest child was 3 and a special needs kid. His father had passed away less than a month earlier. He was widely regarded as a good coach and his players liked him and respected his teaching style, but that didn't matter when the owner listened to the fans and cleaned house.
I saw my friend about three weeks later at the Senior Bowl. Aside from being a showcase for the top collegiate seniors entering the draft, it's also a sort of clearinghouse for unemployed coaches desperate to latch on anywhere. He was one of those passing out business cards in the lobby of the Mobile convention center, trying to use his network to land a gig, even one well below his old status. I bought him a coffee and we talked a little about what he was going through. He was a former player who had no real job prospects outside of football. The liberal arts degree from a massive state university wasn't helping him much. He just kept talking about what he was going to do for his kids once the payment on his terminated contract ended.
He got hired again, thankfully. And he's still employed, thanks in part to changing agents and swallowing some pride to join an organization which did not treat him well when he played. I haven't spoken to him since the Shrine Game last January but I know he's not exactly thrilled with where he's at professionally.
There are stories like that with every coaching change. Your demands for bloodshed come with consequences far away from the football field. These are real people with others depending on them off the field. When you unload on the local sports radio hosts that the coach should not only be fired but also tied to a cinder block and thrown in the nearest major body of water, you're talking about someone's father, husband, son, friend. Try and remember that and don't make it so personal.
Having said that, Jim Caldwell really needs to go in Detroit…
NFL News

Delivered to your inbox

You'll also receive Yardbarker's daily Top 10, featuring the best sports stories from around the web. Customize your newsletter to get articles on your favorite sports and teams. And the best part? It's free!
PLAYERS:
Tom Brady
,
Drew Brees
,
Hue Jackson
,
Alex Smith
,
Brett Hundley
,
JuJu Smith-Schuster
,
Jeff Garcia
,
Joe Namath
,
Brett Favre
,
Marcus Mariota
,
Pete Carroll
,
Josh McCown
,
Lawrence Guy
,
Jim Caldwell
TEAMS:
New England Patriots
,
New Orleans Saints
,
Kansas City Chiefs
,
Green Bay Packers
,
Pittsburgh Steelers
,
Tennessee Titans
,
Seattle Seahawks
,
New York Jets
,
Detroit Lions
,
Philadelphia Eagles
,
Cleveland Browns
,
Cincinnati Bengals
,
Buffalo Bills
,
Indianapolis Colts
MORE FROM YARDBARKER
NFL News

Delivered to your inbox

You'll also receive Yardbarker's daily Top 10, featuring the best sports stories from around the web. Customize your newsletter to get articles on your favorite sports and teams. And the best part? It's free!