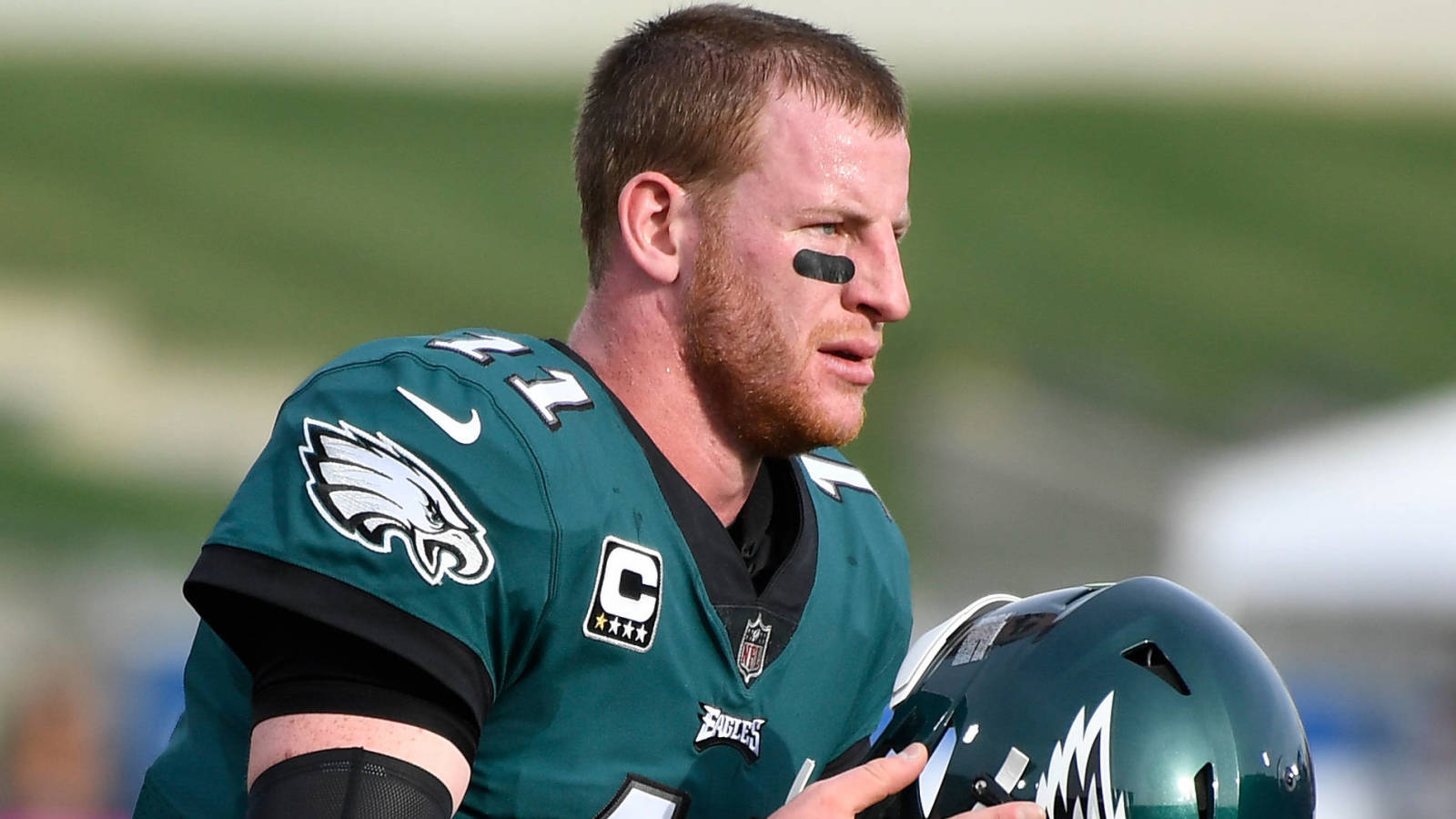 Robert Hanashiro-USA TODAY Sports
The NFL is equal parts amazing and awful. For everything wonderful thing worth celebrating, there's a terrible one to cancel it out. Especially, it seems, in a year like this one where we've had what feels like a record number of injuries.
We're taking a look at the saddest aspects of this current NFL season because it's becoming impossible to watch football without thinking of them.
Here are the 14 most depressing things about this football season.
Injuries, so many injuries
It feels like we say this every year, but 2017 has been just awful when it comes to injuries. Between Aaron Rodgers, Deshaun Watson, and now Carson Wentz, three of the league's most prolific quarterbacks have missed significant time, significantly hurting, or outright destroying their teams' playoff hopes. And that's not even counting the countless other stars who have gone down. Sports Illustrated devoted its cover to the phenomenon. It feels like nearly every fun player in the league has had his season ended by an ACL, Achilles, ankle, or some other type of tear and it's just awful.
Teams eschewing concussion protocol
If you want to know why football's long-term prospects are relatively bleak, look no further than the way the Seattle Seahawks and Houston Texans reacted when their quarterbacks seemed to suffer brain injuries this season. In Seattle's case, Russell Wilson went into and came out of the injury tent within seconds. He was back in the game within minutes, without being checked for a concussion, and went on to finish the game.
As for the Texans and Tom Savage, the team and the referees on the field let Savage stay in the game after he had what looked to be a seizure following a big hit. Savage was later removed from the game, but only after that egregious violation of concussion protocol. Football is already a violent game and that won't change. But the NFL has to be so much better on this issue if it wants to survive in the long term.
Jameis Winston's stunted development
This is Winston's third year in the league and it's hard to spot a difference between the player he is now and the player he was at Florida State in 2014. He's currently averaging just 6.41 adjusted net yards per attempt and, though his interceptions are down from last season, so are his touchdowns. All of the issues Winston had coming into the draft are still there.
In Year 3, it's getting harder and harder to find the upside. Winston (and head coach Dirk Koetter, who deserves a lot of blame in this) has failed to create a good passing game with a receiving corps that includes Mike Evans, DeSean Jackson, and O.J. Howard. If that isn't a red flag, it's hard to imagine what is.
 Eli Manning falling apart before our eyes
If you've watched the Giants closely, you probably predicted Eli Manning's decline as early last season when New York was 21st in passing DVOA. But this year he's fallen off a cliff. Manning is averaging 5.31 adjusted net yards per attempt, his lowest mark since the seven games he played as a rookie in 2004. Though he's received little by way of help from his teammates or coaching staff, Manning has piloted one of the league's worst offenses.
When Ben McAdoo benched him, fans went crazy and rightly so. No player with Manning's legacy should be treated like that. But it's hard to say the thinking behind McAdoo's move was wrong.
The Bills having no idea that Tyrod Taylor is good
This started late last season, ironically, before Brandon Beane and Sean McDermott were in place as the team's coach and GM. Buffalo let then-backups E.J. Manuel and Cardale Jones play the season's last game without much reason. This baffling trend continued into this year.
There has been an undercurrent of Taylor skepticism coming from the organization all year long. It culminated in the Bills starting Nathan Peterman in Los Angeles a few weeks ago and guess what? It went poorly. Peterman threw five interceptions and completed just six passes…in one half of play. Taylor was back under center for the second half, though the game was already out of hand. Starting Peterman could ultimately be what costs Buffalo a playoff spot. Let's hope McDermott and Beane understand now that Taylor is a viable long-term option.
The Ezekiel Elliott suspension insanity
What's really depressing about this is it became about something other than whether Ezekiel Elliott abused a woman. Nobody can credibly answer that question — Elliott was cleared of all charges, but the NFL decided he was guilty and needed to be suspended anyway. And instead of making it about whether or not Elliott actually did it, the league's case rested on the omnipotence of Roger Goodell's powers as commissioner.
The league inevitably won, but managed to do so through a completely unjust process that disregarded whether Elliott committed a crime or not. Until that part of the CBA is fixed, this will continue to be the standard for suspension cases like Elliott's.
Cleveland firing Sashi Brown
Whatever you think of Brown's strategy — tanking and placing a high value on draft picks in order to build a team that could eventually contend for a title — you can't deny that it was working. Cleveland is well on pace to secure the No. 1 pick a the chance at whatever quarterback it desires a year after doing the exact same thing. The Browns could even have two top-five picks in the draft because of prior trades. Beyond that, Cleveland has an unrivaled stockpile of future draft picks.
Things were going according to plan and owner Jimmy Haslam fired Brown anyway. Whether you like analytics, whether you like tanking, or whether you think Brown should have been fired for passing on Carson Wentz and Deshaun Watson, the plan he presumably laid out to Haslam when he was interviewing for the job was undeniably working. That's not to say it would have worked in the end or that it was the best possible plan. But Cleveland fired someone for doing what he said he was going to do. That alone makes the situation endlessly depressing.
The Colts trying as hard as possible to destroy Andrew Luck's career
Indy spent all offseason insisting that Luck would be back by Week 1. Well, it's Week 15 now, the team is 3-10, Luck hasn't taken a snap yet, and he likely won't. The Colts mishandled a shoulder injury all the way back in 2015 and it cost them two years of what should be Andrew Luck's prime. Even last year when he played, Luck was hampered by a godawful roster which Indianapolis has yet to improve.
When he comes back, the Colts will be staring down the barrel of a division that is likely to feature two 2018 Super Bowl contenders in the Jacksonville Jaguars and Houston Texans, along with a third team that could make a playoff run in the Tennessee Titans. By the time Indianapolis puts a decent roster around Luck, he'll be 30 years old. What the Colts have done to him will be remembered as one of the biggest tragedies in the history of football.
Marshawn Lynch's underwhelming return 
Every now and then, we get flashes of the old Beast Mode (like this), but Lynch has largely been your run of the mill tailback this year. He's averaging a pedestrian 4.2 yards per carry without much chance of hitting 1,000 total on the year. He's reached 100 yards in just one game all year — Week 13 against the Giants — and 51 of the 101 yards he had in that game were on one play.
You could say the same about pretty much every member of the Oakland Raiders' offense, but we simply expected more from Lynch. That expectation was probably unfounded to begin with, but that doesn't make it any less disappointing to see him struggle in silver and black.
The catch rule
At a certain point, this just has to change. It feels like every time there's a big play, we spend 10 minutes litigating the nuances of whether or not it's a catch and nobody even knows if the end result is the right call or not because nobody understands the rule — including the NFL.
The catch rule needs to be simplified, and we have the solution. The referee should look at the play and decide whether or not it's a catch by the same standard that would be used in any backyard in the country. We don't need to declare something an incompletion because the ball wobbles a little bit on the way down.
Excessive replay
The NFL is better about this than college football, but the league should take things as far as possible and ban official reviews. In theory, you only get two challenges a game because there should be a strategy to when a coach uses them. But if the officials step in and review everything themselves, there's no strategy. Instead, the viewers get to parse through slow-motion replays countless times every game when they should be watching football.
Automatically review touchdowns and turnovers, sure, but get rid of referee-initiated reviews other than that. Make coaches think about it when they toss the challenge flag. Doing so would not only increase the pace of play, but it would turn challenges into a strategic option, not a drag on the game.
Cincinnati being stuck in neutral
The Bengals are perpetually mediocre. Marvin Lewis has been the head coach since 2003 and Cincy has yet to win a playoff game under his tutelage. In fact, the Bengals haven't won a postseason contest since 1990, before the internet as we know it existed. Right now, they're 5-8, well on the way to a second straight season of below-.500 football. At some point, owner Mike Brown has to put his foot down and demand results. Cincinnati isn't getting better right now and that's been the case for almost 30 years. That should be depressing to any football fan, let alone someone who roots for the Bengals.
The Seahawks' offensive line trying to kill Russell Wilson
Things have gotten marginally better since Seattle added left tackle Duane Brown, but it's still a minor miracle Wilson hasn't suffered a serious injury playing behind this group. Seattle is 29th in pressure rate despite a quarterback who is better than anyone else in the league at evading pressure.
Wilson can seemingly never spend more than a couple seconds in the pocket without putting his life on the line. It takes all the energy out of their offense and ultimately, the offensive line is the biggest reason the Seahawks don't have a chance at the Super Bowl this year. Seattle's offensive line coach, Tom Cable, should thank his lucky stars that Wilson hasn't gotten hurt because of the offensive line he's built.
The Broncos' revolving door at quarterback
There might be nothing more depressing in football than watching a quarterback situation destroy a team's prospect. No franchise has fallen victim to its quarterback situation this season more than Denver. The Broncos went from Trevor Siemian to Brock Osweiler to Paxton Lynch, then back to Siemian again. They decided that the Northwestern product, who is currently averaging all of 4.48 adjusted yards per attempt, was their best option. And the worst part is that they were right.
Now that Siemian's season is over after an injury on Thursday night, an it's looking like Osweiler could once again get the call in Week 16.
Denver's defense isn't as good as it's been the last few years. But if the Broncos had a serviceable quarterback, there's no doubt they'd be in AFC West contention. Instead, they'll have to find their franchise signal-caller at next year's draft, or even in free agency. Given John Elway's track record, it's hard to be optimistic.
NFL News

Delivered to your inbox

You'll also receive Yardbarker's daily Top 10, featuring the best sports stories from around the web. Customize your newsletter to get articles on your favorite sports and teams. And the best part? It's free!
PLAYERS:
Aaron Rodgers
,
Dirk Koetter
,
Eli Manning
,
E.J. Manuel
,
Roger Goodell
,
Jimmy Haslam
,
Marshawn Lynch
,
Marvin Lewis
,
Mike Brown
,
Tom Cable
,
John Elway
TEAMS:
Green Bay Packers
,
New York Giants
,
Oakland Raiders
,
Cleveland Browns
,
Cincinnati Bengals
,
Jacksonville Jaguars
,
Denver Broncos
,
Seattle Seahawks
,
Houston Texans
,
Tennessee Titans
MORE FROM YARDBARKER
NFL News

Delivered to your inbox

You'll also receive Yardbarker's daily Top 10, featuring the best sports stories from around the web. Customize your newsletter to get articles on your favorite sports and teams. And the best part? It's free!