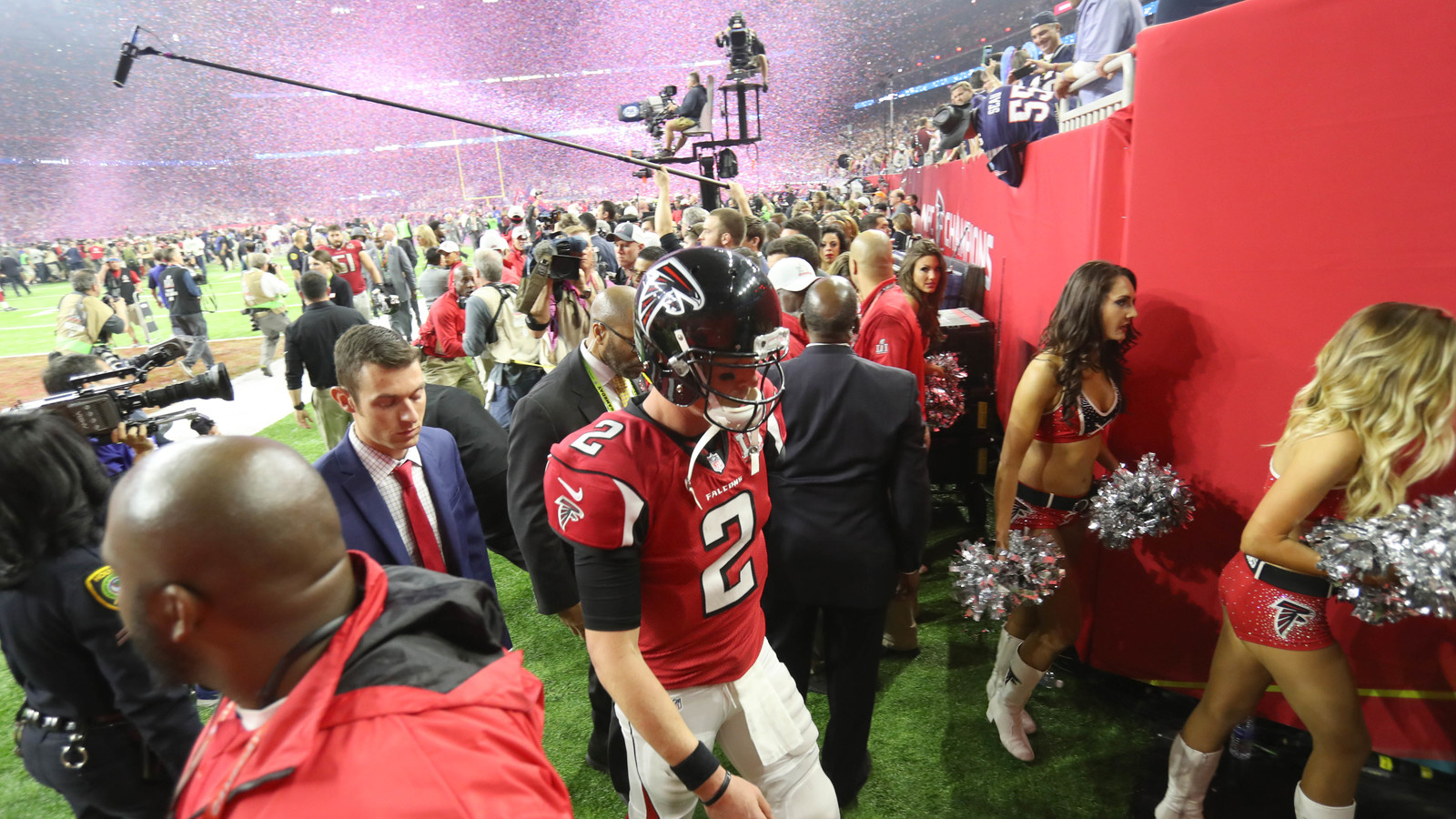 Matt Ryan will seek some redemption this Sunday for last season's Super Bowl collapse against New England.
Eric Seals-USA TODAY Sports
From the Oakland Raiders finding themselves in a must-win situation to the New England Patriots and Atlanta Falcons taking part in a Super Bowl rematch, there's a whole lot to look forward to this week around the NFL.
Between those two nationally televised games, two young quarterbacks will be making their first NFL starts. Meanwhile, struggling quarterbacks in what promises to be a wide-open NFC South will attempt to rebound.
These are among your top storylines for each Week 7 NFL game.
Kansas City Chiefs at Oakland Raiders: Season-defining game for home team 
Even before we've hit the midway part in the season, Oakland finds itself in a must-win situation. In the midst of a four-game losing streak and already three games behind Kansas City in the AFC West, this team simply can't afford to drop another game.
Considering it's a home outing, that's magnified even further. If the Raiders can't maintain home field in this one, their season is all but over. It starts at quarterback, where Derek Carr is coming off a two-interception performance and has thrown three touchdowns compared to four picks in the past three games. Should he struggle, the Raiders will be in major trouble.
Baltimore Ravens at Minnesota Vikings: Winning with injuries 
Despite seeing starting running back Dalvin Cook go down with a season-ending injury back in Week 4 and watching Sam Bradford continue to struggle with a knee injury of his own, the NFC North appears to be Minnesota's for the taking. Obviously, the injury to Aaron Rodgers plays a role here. But the Vikings have done what they've needed to in order to be viewed as favorites.
Minnesota heads into this Week 7 matchup with the struggling Ravens having won four of its first six games. Stop-gap starter Case Keenum has thrown five touchdowns compared to one pick on the season. Meanwhile, Jerick McKinnon is shining on the ground. Taking over the primary ball-carrier role, he's put up 245 total yards and three scores over the past two games.
With a defense that's yielding an average of 14.5 points over the past four games, the Vikes should dominate Baltimore on Sunday. If that happens, what looked to be a wide-open NFC North could trend in Minnesota's favor in a big way.
New Orleans Saints at Green Bay Packers: Brett Hundley's first NFL start
It's almost impossible to believe that Green Bay will now somehow contend for a title with Aaron Rodgers likely sidelined for the season. Rodgers had been pretty much the only thing keeping this team in Super Bowl contention over the past several seasons. He's done a tremendous job masking issues on both sides of the ball. With him sidelined, the Packers could turn into a hot mess.
The onus is now on Hundley — with all of 34 career regular season passes under his belt — to keep things afloat in Green Bay. The former UCLA standout struggled to the tune of three interceptions last week.
But he was working under a game plan designed for Rodgers. That was a less-than-ideal scenario, especially taking on a dominant Vikings defense on the road. His task won't get much easier this week. New Orleans is coming off a Week 6 win over Detroit that saw its defense score a ridiculous three touchdowns. But at least Hundley will have a full week of practice working with the starters. That's big for the youngster.
New York Jets at Miami Dolphins: Surprising teams look to remain relevant 
Miami heads into Week 7 on a two-game winning streak and only a half game behind New England in the AFC East. Its most-recent win came in surprise fashion on the road against the defending NFC champion Atlanta Falcons. Even with some fans in South Beach calling for his head prior to last week's game, Jay Cutler has turned around what was an abysmal early-season performance. Can he continue this at home against a surprising Jets defense Sunday?
For the Jets, they're coming off a narrow loss to New England. It's a week that saw New York open up a 14-0 lead before Rob Gronkowski and some questionable officiating took over the game. Despite this, Josh McCown and Co. have won three of their past four games. And for his part, McCown has now completed north of 70 percent of his passes on the season. In a game between two surprising teams, whoever comes out on top here stands to stay relevant in the AFC East heading into the season's midway point.
Carolina Panthers at Chicago Bears: Will the real Cam please step up? 
Cam Newton has been an incredibly inconsistent figure for the Panthers thus far this season. He started the season out in disastrous fashion, throwing two touchdowns compared to four interceptions in his first three starts. He then followed that up with two dazzling performances in a row against New England and Detroit.
Unfortunately, the bad Newton came out in droves last week against Philadelphia. He was about as inaccurate as we've seen from the former MVP, continually missing receivers high and wide. All said, Cam threw three picks in a 28-23 loss to Philadelphia. Now set to take on a surprising Bears defense that ranks eighth in the NFL against the pass, Newton must turn it around. At 4-2 on the season, Carolina remains in first place in the NFC South. But it promises to be a competitive division moving forward. Taking care of business against a weaker opponent is key.
Arizona Cardinals at Los Angeles Rams: Just how good are the Rams? 
At 4-2 on the season, Los Angeles remains in first place in the NFC West. Its two losses have come by a combined 13 points. Meanwhile, the Rams' four wins have come by an average of nearly two touchdowns. That's a sign of a really good team.
In reality, it starts on offense with Jared Goff at quarterback. Goff has been somewhat inconsistent this season, but he's improved leaps and bounds from a disastrous rookie campaign.
In the Rams' four wins, the former No. 1 pick has thrown seven touchdowns and zero interceptions for an absurd 113.1 passer rating. In the team's two losses, he's tallied one score and three picks for a 61.2 rating. Goff will have to be more consistent if Los Angeles hopes to win the NFC West. He has a good matchup Sunday against a Cardinals team that ranks in the bottom seven of the NFL in pass defense and has yielded 13 touchdowns through the air in six games.
Tampa Bay Buccaneers at Buffalo Bills: Jameis Winston's health
Winston will likely be a go Sunday after he suffered an AC sprain in his throwing shoulder last week. How he performs is completely up in the air. Even prior to suffering said injury, Winston had proven himself to be an erratic quarterback under center.
The one performance that stands out the most was a three-interception outing in a loss to the Minnesota Vikings back in Week 3. Outside of that, Winston has not thrown a pick in 124 pass attempts this season. Though, he's now set to take on another elite-level pass defense in that of the Bills on the road Sunday.
Buffalo has yielded two touchdowns compared to eight interceptions for a 66.5 passer rating on the season. With a difficult matchup here, Winston needs to come up big. If that doesn't happen, we're looking at a 2-4 start to the season for Tampa.
Jacksonville Jaguars at Indianapolis Colts: Contender or pretender?
Unfortunately, we're not looking at the Colts here. Sure Jacoby Brissett has been a good story, but this team is much closer to cellar-dweller status than playoff contention. The Jaguars are a completely different story. They enter Week 7 in a three-way tie for first place, having won games against Houston, Baltimore and Pittsburgh on the season.
The major story in Jacksonville is the health of rookie running back Leonard Fournette, who suffered an ankle injury in last week's loss to the Rams. Fournette has been cleared to practice and should be good to go.
But he can't be slowed down here if Jacksonville hopes to take advantage of a much less-talented team. After all, it's been proven time and again that the team's offense simply can't run through Blake Bortles. In the four games Bortles has thrown 30-plus passes, Jacksonville is 1-3. It's 2-0 in the games where he hasn't reached that plateau.
Tennessee Titans at Cleveland Browns: Browns' quarterback mess
DeShone Kizer was benched in each of his past two starts, only to give way to Kevin Hogan last week. Like clockwork, Hogan would throw three interceptions in a loss to Houston. Heading into Week 7, Kizer will get another opportunity to prove himself as a rookie signal caller. He's been named the team's starter against Tennessee. Meanwhile, Hogan will act as the No. 3 after suffering a minor injury last week.
What does this all mean? Well, Cleveland continues to be a black hole at the quarterback position. The team has now made seven quarterback changes since Hue Jackson took over as head coach last season. It's not a coincidence that the Browns boast a 1-21 record during that span. And with their quarterbacks having turned the ball over 16 times in six games, it doesn't promise to get any better this week.
Dallas Cowboys at San Francisco 49ers: C.J. Beathard's first NFL start
The C.J. Beathard era in San Francisco is officially underway. He replaced an ineffective Brian Hoyer late in the second half against Washington last week, almost leading his team back from a 17-0 deficit until another questionable penalty on the 49ers ended a potential game-winning drive.
At 0-6 on the season, San Francisco is one of only two remaining winless teams. Though, it has lost the past five games by a combined 13 points. It's in this that the team simply needs better play under center. That's why first-year head coach Kyle Shanahan was quick to name Beathard the starter moving forward after just over two quarters of action.
It starts Sunday against a struggling Cowboys team at home in Santa Clara. Beathard himself has a solid matchup, considering Dallas' defense has yielded 11 touchdowns compared to two interceptions for an opposing passer rating of 100-plus through six games. More than anything, San Francisco wants to see if it potentially has a quarterback of the future before hitting the offseason. That's where Beathard's play will be instrumental in the evaluation process.
Cincinnati Bengals at Pittsburgh Steelers: Antonio Brown's utter domination
The splits are extraordinary for Brown through six games. He leads the NFL in receptions (48) and receiving yards (700). The three-time All-Pro is also averaging what would be a career-best 14.6 yards per reception. And he continues to make the absolutely dazzling play.
With Pittsburgh at 4-2 on the season, it boasts a one-game lead in the AFC North. That's where Brown's continued excellence comes into play. He's been a major reason why the team's offense has turned it around despite regression from Ben Roethlisberger under center. Sunday against a hot Bengals team, it will be vital for Brown to continue bailing his quarterback out.
Seattle Seahawks at New York Giants: The trap game
Coming out of the bye, Seattle has had two weeks to prepare for the one-win Giants. Normally, that would signify a blowout in favor of the more-talented team. Though, there's definitely a few different factors that leads us to believe this could be the proverbial trap game.
First off, Seattle faces four consecutive playoff contenders following Sunday's game against New York. It makes a ton of sense for the team to have used some of its bye to prepare for those games.
Secondly, the Giants themselves are coming off a surprising road win against what was a 3-1 Broncos team. That game saw Jason Pierre-Paul absolutely dominate an overmatched right side of the Broncos' offensive line. Considering Seattle might boast the worst offensive line in the game, that has to be of concern. If they let up here, the Seahawks could very well come out of their bye with a disastrous loss, falling to .500 in the process.
Denver Broncos at Los Angeles Chargers: Anthony Lynn's biggest game to date
It looks like Los Angeles has turned the proverbial corner. After losing the first four games of the Lynn regime, three by a combined seven points, the Chargers have won two consecutive games by a combined six points. That's an absolutely big deal for a team that has struggled more than any other in closing out games over the past several seasons.
Now set to host Denver on Sunday, this should be considered the biggest game of Lynn's young tenure. A win here would tie Denver with three victories behind the pace-setting Chiefs in the AFC West. A loss would likely end any real playoff aspirations, potentially sending the Chargers to last place in the division once again.
Atlanta Falcons at New England Patriots: Super Bowl rematch
This isn't the Super Bowl rematch most had in mind. Both New England and Atlanta head into Week 7 with two losses and are in legitimate fights in their respective divisions. The strong points for both teams during last year's championship run have also taken somewhat of a step back.
For the Falcons, it starts at quarterback with reigning MVP Matt Ryan. Through five games, he has as many interceptions (six) a touchdowns. Ryan is also coming off a disastrous late-game performance last week against Buffalo — a performance that culminated in a game-ending interception with Atlanta driving for the potential win.
In New England, Tom Brady is still playing at an elite level. But it's the team's defense that has been a major letdown thus far. After finishing last season No. 1 in points allowed, the Pats rank 30th in that category this season. They also boast the worst pass defense in the league and have yielded a 104.4 quarterback rating. Something has to give here.
Washington Redskins at Philadelphia Eagles: Philly looks for commanding NFC East lead
Having already defeated the Redskins in D.C. to open up the season, Philadelphia could really take the NFC East by the throat this week. It currently boasts a 1.5-game lead over Washington heading into Week 7. Both Dallas and New York are under .500 on the season. A win here, completing a season sweep of Kirk Cousins and Co., would essentially give Philadelphia an insurmountable division lead.
Like has been the case all season, it starts with second-year quarterback Carson Wentz under center. Including last week's three-touchdown performance, he has thrown for 13 scores compared to three interceptions on the season. Wentz is also leading the league's sixth-best scoring offense. If he performs well, a team with the best record in the NFC will surely be seen as potential conference title contenders moving forward.
PLAYERS:
Aaron Rodgers
,
Jay Cutler
,
Josh McCown
,
Jameis Winston
,
Hue Jackson
,
Kyle Shanahan
,
Ben Roethlisberger
,
Tom Brady
,
Carson Wentz
TEAMS:
Green Bay Packers
,
Miami Dolphins
,
New York Jets
,
Tampa Bay Buccaneers
,
Pittsburgh Steelers
,
New England Patriots
,
Philadelphia Eagles
,
Oakland Raiders
,
Atlanta Falcons
,
Baltimore Ravens
,
Minnesota Vikings
,
Carolina Panthers
,
Chicago Bears
,
Arizona Cardinals
,
Buffalo Bills
,
Jacksonville Jaguars
,
Indianapolis Colts
,
Tennessee Titans
,
Cleveland Browns
,
Dallas Cowboys
,
Cincinnati Bengals
,
Seattle Seahawks
,
Denver Broncos
,
Washington Redskins
,
Kansas City Chiefs
,
New Orleans Saints
,
Los Angeles Rams
,
New York Giants
,
Los Angeles Chargers
MORE FROM YARDBARKER
NFL News

Delivered to your inbox

You'll also receive Yardbarker's daily Top 10, featuring the best sports stories from around the web. Customize your newsletter to get articles on your favorite sports and teams. And the best part? It's free!