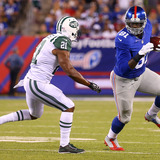 Former New York Giants tight end Adrien Robinson was arrested earlier in the week and charged with possession of marijuana — a lot of marijuana.According to The Daily Item, Robinson was pulled over by police for a routine traffic stop Monday on Interstate 80 in Pennsylvania when police discovered 25 pounds of marijuana in his car. That's right, pounds. The 28-year-old was charged...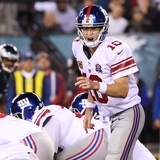 Eli Manning may say that he is not concerned about his contract status, but if he throws up another stinker of a season like last year the man may be a little disappointed with whatever the Giants offer him when the season ends. With Odell Beckham Jr. and Victor Cruz catching balls it shouldn't be hard for him to look good.Of course it wouldn't hurt if he was able to help Adrien...
The New York Giants began training camp a mere four days ago and got off to a shaky start. Several Giants were carted off the field for heat related injuries and Odell Beckham Jr. is nursing a sore hamstring on the sidelines. This wasn't the picture most of us were envisioning for the first week of camp but many Giants are rising to the occasion. Lets dive into Odell Beckham Jr....
Knowshon Moreno The way I see the New York Giants offseason ending is with the addition of a player through free agency. Actually, it doesn't have to be a singular player- there are couple they could potentially chose from to shake things up a bit. Running back Knowshon Moreno was drafted in 2009 by the Broncos and was considered the best running back that year. He played in 60 games...
MORE STORIES >>
Giants News

Delivered to your inbox

You'll also receive Yardbarker's daily Top 10, featuring the best sports stories from around the web. Customize your newsletter to get articles on your favorite sports and teams. And the best part? It's free!