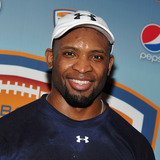 Former Green Bay Packers running back Ahman Green was arrested late Sunday night on suspicion of child abuse, and the alleged details of the incident are quite disturbing.According to a criminal complaint that was obtained by TMZ, Green's 15-year-old daughter says Ahman punched her in the face after an argument over doing the dishes. The young lady said she and her father had been...
Former NFL running back Ahman Green has been arrested in Wisconsin for suspicion of child abuse."The Brown County Sheriff's Office acknowledged Green was arrested at his home about 11:30 p.m. Sunday over a family matter, but it would not provide other details," per the Green Bay Press-Gazette.Per the report, the District Attorney's office is reviewing Green's case for possible charges...
Recently my wife and I attended the June 10, 2015 Green Bay Packers OTA at Clark Hinkle Field.  We arrived with about 90 minutes to spare.  Many, if not all Green Bay Packers fans have heard of Ray Nitschke and Don Hutson, who both have practice fields named after them. But who in the heck was this "Clark Hinkle," who also has a Packers practice field named after him? What did he...
The Green Bay Packers have been known primarily as a passing team for the greater part of the last decade. Led by Aaron Rodgers and Brett Favre, Green Bay's passing offense has been ranked in the top ten in the NFL in each of the last 11 seasons. But the same cannot be said of the Packers' rushing offense. Over that same timeframe, Green Bay has had a top-ten running game just three...
Paul Hornung is one of the most loved Packers of all-time The Green Bay Packers are typically known for their great quarterbacks they have had over the years. But they also have had their share of exceptional running backs. A good running game is always important in determining how far a team goes in a season. The three running backs on this list were vital to the Packers success...
No Huddle Radio kicks off the 2014 regular season as Jason, Kris and Thomas interview Packers Hall of Famer, Ahman Green about his recent induction into the Packers Hall of Fame, his career in Green Bay and his Ahman Green Foundation. Ahman comes to the show courtesy of Mayfield Sports Marketing, your best source for booking Packers player appearances. Your hosts then break down...
Talented young running back should contribute in 2012 Regardless of which players general manager Ted Thompson chooses in the upcoming draft, I doubt any of them will excite me as much as a young player already on the roster. I'm referring to Alex Green, the second-year running back whose rookie season was ended by a torn ACL in week 7. According to Mike McCarthy, rehabilitation...
MORE STORIES >>
Bengals News

Delivered to your inbox

You'll also receive Yardbarker's daily Top 10, featuring the best sports stories from around the web. Customize your newsletter to get articles on your favorite sports and teams. And the best part? It's free!