We've updated our Privacy Policy.
By continuing to use this site, you are agreeing to the new Privacy Policy.
With the ball at the one-yard line teams typically have one thought in mind--gotta get away from the goal line; need to create some breathing room. Some teams will take a gamble and try to bounce something outside or run a play action pass because the defense is going to load the box against the run. Some will just try to pound straight ahead no matter if the defense clearly knows...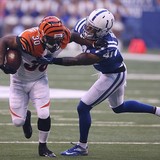 CINCINNATI (AP) The Bengals signed running back Cedric Peerman to a new contract on Thursday, keeping one of their top special teams players. Peerman became an unrestricted free agent after leading the Bengals' special teams in tackles last season. The sixth-year veteran has rushed for 334 yards on 64 carries with one touchdown during his career. He also has been one of Cincinnati...
Cincinnati Bengals running back Cedric Peerman did not see his day going the way it did Sunday. He knows that there is a risk of bring injured on any given play and that kick-offs can be especially prone to them (with all the bodies flying around). It's why the NFL has been tinkering with them so much in recent years.But can the league do anything about friendly fire knocking you...
LIKE WHAT YOU SEE?
GET THE DAILY NEWSLETTER:
When Cedric Peerman made the roster for the Cincinnati Bengals he had to be pretty excited. Yeah, it sucks to be behind Gio Bernard and Jeremy Hill, but he made the team and he'll contribute where he can--meaning special teams. Like most guys, he was likely happy to do so because that gave him a chance to play and prove his worth.Early in the first quarter of Sunday night's game...
MORE STORIES >>
Bengals News

Delivered to your inbox

You'll also receive Yardbarker's daily Top 10, featuring the best sports stories from around the web. Customize your newsletter to get articles on your favorite sports and teams. And the best part? It's free!