We've updated our Privacy Policy.
By continuing to use this site, you are agreeing to the new Privacy Policy.
Former Jets K Chandler Catanzaro, who has made 84.4% of his field goal tries and was one of the NFL's best kickoff men in 2017, has signed with Tampa Bay as an unrestricted free agent
First Brazilian-Born NFL Player Comes In After Chandler Catanzaro Signs with Tampa Bay
In a position that has held some uncertainty as of late, the Bucs hope they have found their kicker for the foreseeable future, as a report from Greg Auman of the Tampa Bay Times says the team will sign kicker Chandler Catanzaro. I'm hearing that Bucs are signing former Cardinals and Jets kicker Chandler Catanzaro. […] The post Report: Bucs To Sign K Catanzaro appeared first on Pewter Report.
LIKE WHAT YOU SEE?
GET THE DAILY NEWSLETTER:
The Buccaneers tried finding a kicker by trading up to draft one in the second round, and that didn't work. So signing one the first day of free agency has to be worth a shot. According to Greg Auman of the Tampa Bay Times, the Bucs are signing Jets free agent Chandler Catanzaro. Catanzaro hit [more]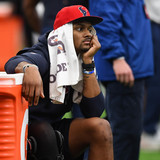 Given that he tore his ACL in early November, Texans quarterback Deshaun Watson is expected to be available for organized team activities, according to Ian Rapoport of NFL.com (video link). While losing a dynamic talent like Watson clearly cratered Houston's 2017 campaign, the fact that he went down relatively early in the season does have a silver lining, as he'll now be ready for...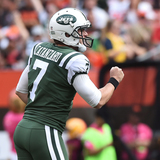 The New York Jets, with nothing to lose heading into Week 16, got started with some trickery against the Los Angeles Chargers Sunday.They opened the game with an onside kick. And it was successful! #JETSpic.twitter.com/5NVonq4aYc— NFL (@NFL) December 24, 2017 Per NFL Research, the Jets are just the second team this year to attempt an onside kick to open a game and the first team...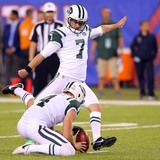 The New York Jets play in New Jersey, not New York. But a field goal attempt from Jets kicker Chandler Catanzaro may have landed well into the Empire State. It was Catanzaro's first missed kick of the year and wow, what a miss it was.Had it gone through the Jets would have gone up 3-0 on the Miami Dolphins for their first lead of the season. But alas, that will have to wait.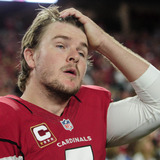 There is no excuse for missing a game-winning field goal from only 24 yards away, so Arizona Cardinals kicker Chandler Catanzaro didn't try and offer one. "I just missed it," Catanzaro said, via Josh Weinfuss of ESPN. "No excuse. Just came out of it a little too fast. Didn't stay in it. No excuse for those. The team played their tails off, but I have to move past it as fast as possible...
Maybe Brian Billick was wrong when he said kickers aren't football players.Chandler Catanzaro channeled his inner Cam Newton after kicking a last-second field goal to lift the Arizona Cardinals to a 34-31 victory over the Cincinnati Bengals on Sunday night.Though it was basically the same distance as an extra point, the 32-yarder by Catanzaro represented the first game-winning field...
Arizona Cardinals kicker Chandler Catanzaro doesn't seem to be fazed by the NFL moving the extra-point back to the 15-yard line instead of the 2.  Catanzaro told the Cardinals official website that he will embrace the challenge. "What it comes down to is that kicking is kicking," Catanzaro said. "It's me, the ball and my target. That doesn't change much. Nothing changes technique...
MORE STORIES >>
Buccaneers News

Delivered to your inbox

You'll also receive Yardbarker's daily Top 10, featuring the best sports stories from around the web. Customize your newsletter to get articles on your favorite sports and teams. And the best part? It's free!