We've updated our Privacy Policy.
By continuing to use this site, you are agreeing to the new Privacy Policy.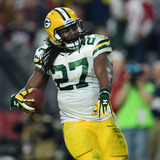 Eddie Lacy has really let himself go. The Green Bay Packers running back may be pushing 260 pounds, if one estimate is to be believed. Rob Reischel, writing for the Milwaukee Journal-Sentinel, estimated that Lacy is at least 25 pounds heavier than his listed weight of 234 pounds, saying that it's difficult to tell the difference between Lacy and 301-pound enter Corey Linsley from...
DETROIT (AP) Green Bay center Corey Linsley has left Packers' game Thursday night against Detroit with an ankle injury. Linsley walked off with some assistance in the second quarter. He was listed as questionable going into the game with an ankle injury but played in the first half. Green Bay guard T.J. Lang (shoulder) and tackle Bryan Bulaga (ankle) were inactive for the game...
There has hardly been a moment to pause and admire the job Corey Linsley has done at center since he got the starting job with the Packers last season. A fifth-round pick in last year's draft, Linsley started all 16 games as a rookie.Through four games this season, Linsley is still holding on to the starting job and doing just fine. In fact, he's bubbling with potential to be even...
LIKE WHAT YOU SEE?
GET THE DAILY NEWSLETTER:
Corey Linsley had one hell of a rookie season. But as good as he was a season ago, thus far in the first few days of the Green Bay Packers Training camp, he has looked even better. The 2014 fifth-round draft choice emerged as the team's starting center a year ago, after an injury to J.C. Tretter forced him into the lineup, and it appears he is making the leap that head coach Mike...
Ted Thompson has made a lot of great draft picks. But when it comes to the offensive line, Corey Linsley may be the best pick he's ever made. Linsley, a fifth-round selection out of Ohio State, was thrust into the starting lineup in Week One thanks to an injury to J.C. Tretter, who the Packers had groomed all off season to be their starter. It was thought that Linsley would have...
There was much consternation at the beginning of the season.  The Packers spent time and resources developing a plan to keep this team healthier.  If you ask Mike McCarthy that's a huge part of this team's success, especially in the regular season.  He claims to have only coached two teams of above average health in his career.  The 2007 Packers that went 12-4 and made it to the...
Injuries have hurt the Packers for years, but they've actually helped a bit this season. Because without them, Corey Linsley and Jamari Lattimore would likely still be on the bench. Instead, both are starting, and more importantly, both are playing very well. Linsley, an undersized fifth-round pick, is already better than Evan Dietrich-Smith, who signed with Tampa Bay as a free agent...
Players shouldn't lose their job to injury. But, in the NFL and other professional sports leagues it happens all the time and after the way that Corey Linsley has played for the Green Bay Packers in his first two starts at center in place of the injured J.C. Tretter, it may happen again. Don't get me wrong, I think that Tretter is a solid player. The Packers planned all offseason...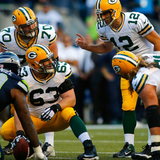 Green Bay Packers rookie center Corey Linsley admitted on Monday that the defending champion Seattle Seahawks got in his head with a little pregame trash talk. Prior to Thursday's season-opening game, Seahawks linebacker Bruce Irvin said he would pray for Linsley. "If I'm a rookie and I've got Brandon Mebane my first game – he's one of the best nose tackles in the league – it's...
MORE STORIES >>
Packers News

Delivered to your inbox

You'll also receive Yardbarker's daily Top 10, featuring the best sports stories from around the web. Customize your newsletter to get articles on your favorite sports and teams. And the best part? It's free!