We've updated our Privacy Policy.
By continuing to use this site, you are agreeing to the new Privacy Policy.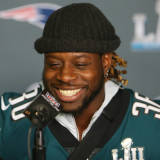 It's never easy to repeat in the NFL, but the Philadelphia Eagles have plenty to like ahead of the 2018 season. However, everybody knows about the Eagles now. There aren't going to be any surprises. That said, moves have to be made to improve the team to ensure they stay competitive. Well, except in one particular department: running back.Obvious moves the Eagles could make, according...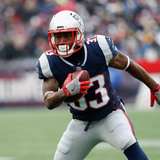 The New England Patriots enter a critical offseason as they look to rebound from a Super Bowl loss. They face many salary cap questions and have a number of impending free agents. One such player is running back Dion Lewis, who may not be back with the team.The Boston Herald's Jeff Howe wrote an article published on Saturday about the Patriots' roster situation entering the offseason...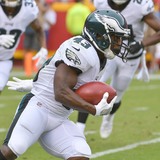 The Philadelphia Eagles have made it all the way to Super Bowl LII, despite key players suffering season-ending injuries. One of those players, whose season was cut short is running back Darren Sproles.In Week 3 of the regular season, Sproles suffered not only a broken arm but tore his ACL. At the time, losing Sproles was a big blow to both the Eagles' running game and special teams...
LIKE WHAT YOU SEE?
GET THE DAILY NEWSLETTER: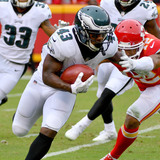 A name we have not seen in NFL news headlines since September is Philadelphia Eagles running back Darren Sproles. Sproles' 2017 season was cut short when he broke his arm and tore his ACL in Week 3.Rehabbing and on the mend, the 34-year-old running back is considering a return in 2018."I don't have to play next year, but I'm leaning towards coming back," Sproles said, via Dave Zangaro...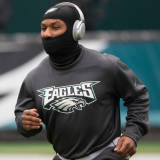 Eagles running back Darren Sproles has yet to decide on his football future. However, he says that he is leaning towards playing in 2018 (Twitter link via Jeff McLane of the Philadelphia Inquirer).  Sproles is still recovering from his knee injury, but he indicated that he wanted to leave the game on a higher note. "I can't end like this," Sproles said.The diminutive runner had high...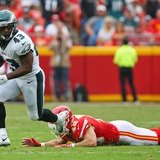 In some absolutely horrible news, veteran Philadelphia Eagles running back Darren Sproles will be out for the remainder of the season after he reportedly suffered a broken arm and a torn ACL on the same play against the New York Giants on Sunday. Here's the play in question. As you can see, Sproles was initially hit in the arm. He then went to the ground holding his knee. It's a...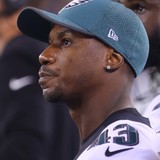 Darren Sproles left Sunday's game against the New York Giants with an injury that will keep him out indefinitely.NFL Media's Ian Rapoport says Sproles is believed to have suffered a broken arm and is out indefinitely. Sproles left the Philadelphia Eagles' game early on Sunday after getting hurt on a touchdown drive in the second quarter. Sproles was said to be holding his wrist in...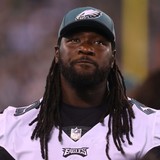 LeGarrette Blount remained a good soldier despite going without a carry for the Philadelphia Eagles on Sunday.Blount only had one touch — a reception that went for no yards — and no carries in the Eagles' 27-20 loss to the Chiefs. After the game, he was asked about his lack of carries. Blount maintained a good team attitude and deflected all questions. He kept saying that his lack...
Since entering the NFL in 2005, Darren Sproles has consistently been one of the quickest, most elusive players in the league. In fact, he's been a nightmare for opposing defenders to tackle for a lot longer than that. Sproles turned 34 on Tuesday. His current team, the Philadelphia Eagles, took to Twitter to wish him a happy birthday. They posted a highlight reel of Sproles back...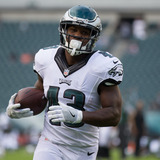 The Philadelphia Eagles will be without running back Darren Sproles, who's been ruled out with a concussion for Sunday's game against the Baltimore Ravens. Coach Pederson: Barbre (hamstring) will be questionable for Sunday. Sproles (concussion) and Vaitai (knee) are OUT. — Philadelphia Eagles (@Eagles) December 16, 2016 The concussion keeping the veteran back from playing was...
MORE STORIES >>
Eagles News

Delivered to your inbox

You'll also receive Yardbarker's daily Top 10, featuring the best sports stories from around the web. Customize your newsletter to get articles on your favorite sports and teams. And the best part? It's free!