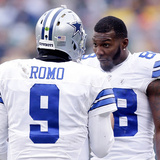 Daryl Johnston, a fullback for the Dallas Cowboys from 1989-1999, doesn't agree with Dez Bryant's decision to skip offseason training activities and minicamp while holding out for a new contract. Johnston appeared on SiriusXM NFL Radio and cited quarterback Tony Romo's availability as the main reason Bryant should be with the team. Moose Johnston: disappointed in Dez. 1st time...
The FOX broadcasting team starring Kenny Albert, Daryl Johnston and Tony Siragusa, along with the behind-the-scenes contingent of the crew, apparently have a tradition of rocking Christmas sweaters during a broadcast around the holiday season. Albert, according to the comments made by Johnston and Siragusa during the broadcast of the Minnesota Vikings-Miami Dolphins game on...Read...
LOOKING GOOD
Good god the crew working the Dallas-New Orleans game looked terrible.  I can't believe Fox actually let Daryl Johnston on air with that sweater; it's far worse than Tony Siragusa's.At least the crew probably got a good laugh out of it.  I know I did.Photos via: @cjzero, @coldinbuffalo
MORE STORIES >>
NFL News

Delivered to your inbox

You'll also receive Yardbarker's daily Top 10, featuring the best sports stories from around the web. Customize your newsletter to get articles on your favorite sports and teams. And the best part? It's free!