We've updated our Privacy Policy.
By continuing to use this site, you are agreeing to the new Privacy Policy.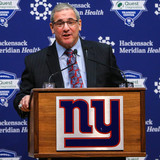 DeAngelo Williams is one of several former Carolina Panthers players who did not have a great relationship with Dave Gettleman, and the free agent running back has a warning for anyone who has to work under the general manager in the future.In an interview with "Boomer & Gio" on WFAN Tuesday, Williams was asked for his thoughts on Gettleman being hired by the New York Giants...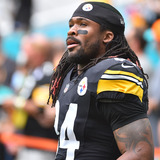 DeAngelo Williams recently revealed a list of teams he won't play for in 2017, and the Carolina Panthers were on that list.Now that Dave Gettleman has been fired, he's amending his statement. This is the strongest statement we've seen from a former player since the shocking news came out that Gettleman was getting the ax.Josh Norman and Steve Smith Sr. both expressed their feelings...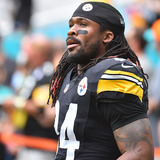 DeAngelo Williams still wants to play football at age 34, but the veteran running back created a buzz recently when he said there are four teams he would refuse to sign with even if they expressed interest.On Adam Schefter's "Know Them From Adam" podcast earlier this month, Williams said there is absolutely no chance he would play for four of the 32 teams in the NFL. In a return...
LIKE WHAT YOU SEE?
GET THE DAILY NEWSLETTER: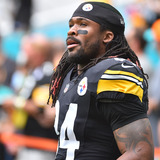 DeAngelo Williams battled some injuries last season and was hardly used after Le'Veon Bell returned from his suspension, but the veteran running back is not ready to call it a career at age 34.In an appearance on Adam Schefter's "Know Them From Adam" podcast this week, Williams said he is fully committed to playing in the NFL in 2017."I'm definitely playing football," Williams said...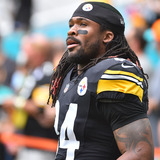 Former Pittsburgh Steelers running back DeAngelo Williams has yet to find major interest in NFL free agency—but he might have a future in pro wrestling.Well, if he can clean up his dives from the top rope.Williams showed up at a wrestling event over the weekend and took quite the spill while trying to slam someone through a table from the top rope: Williams had his own funny take...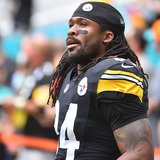 DeAngelo Williams' NFL career currently is on hold after the Pittsburgh Steelers opted to allow him to enter free agency. Finding no takers thus far this offseason on the football front, it looks like the 34-year-old running back will instead make a foray into the world of professional wrestling.A video posted this week by Impact Wrestling, formerly known as TNA, confirms as much...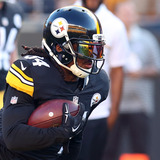 DeAngelo Williams was called out on social media for leaving almost no tip at a restaurant in Maryland over the weekend, and the Pittsburgh Steelers running back says the 75 cents he gave was too much. It all started when a server from the Ledo Restaurant in Maryland shared a photo of Williams' receipt on Facebook. The bill came to $128.26, and Williams left $129. "Just now at...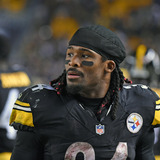 Steelers running back DeAngelo Williams isn't shedding any tears over Tom Brady's four-game Deflategate suspension, or any other setbacks the Patriots might experience. "I am glad they got problems. I don't care," Williams told the Pittsburgh Tribune-Review. "Everybody has their problems, and I am glad they have theirs." This isn't the first time this offseason that Williams has...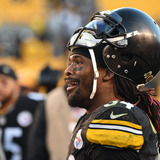 Since seeing his mother lose her battle with breast cancer back in May of 2014, the fight to help other women overcome the dreadful disease has been near and dear to DeAngelo Williams' heart. The former Carolina Panthers and current Pittsburgh Steelers running back has made it a point to show his support for those impacted by the disease when taking to the field over the past two...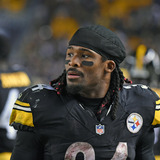 DeAngelo Williams became the second NFL player to make headlines over how he returned a participation award given to one of his children to teach a lesson. The Pittsburgh Steelers running back took to Twitter on Wednesday to show how his young daughter rose to the challenge and earned several ribbons after he took away one she received simply for participating in what appears...
MORE STORIES >>
Steelers News

Delivered to your inbox

You'll also receive Yardbarker's daily Top 10, featuring the best sports stories from around the web. Customize your newsletter to get articles on your favorite sports and teams. And the best part? It's free!