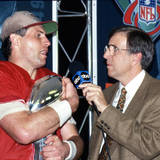 It's said that legends are made in the playoffs, when it matters most. That doesn't always mean the best players, either — though of course there are plenty of all-time greats who've made their marks in the postseason.Whether we're talking Hall of Famers earning their stripes or lesser-known contributors breaking out, these 25 legendary playoff performances are still remembered fondly by NFL fans.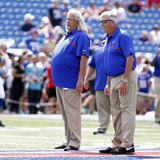 The Buffalo Bills have won three in a row since their 0-2 start, including a shutout of the New England Patriots in Week 4. Apparently a more hands-off approach from the Ryan brothers on defense has helped the team. According to veteran NFL reporter Mike Silver, the Ryans took a step back following the 0-2 start and allowed defensive coordinator Dennis Thurman to handle play calls...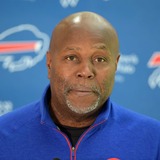 The Bills were penalized 15 times for 101 yards on Sunday, which is one of the main reasons they suffered a 23-20 loss to the Eagles, who had just five penalties. It probably goes without saying that Rex Ryan and his staff disagreed with many of the calls. For Bills defensive coordinator Dennis Thurman, that is an understatement. After the game, Thurman was spotted in the tunnel...
Given that Rob Ryan is now out of a job after the New Orleans Saints relieved him of his defensive coordinator duties with the team Monday, Buffalo Bills head coach Rex Ryan, admitted he's intrigued by the notion of adding his twin brother to the team's coaching staff. Although he did stop well short of actually stating he intends to do so, but added a "never say never" caveat...
ORCHARD PARK, NY – NOVEMBER 09: Kyle Williams #95 and Marcell Dareus #99 of the Buffalo Bills celebrate a sack against the Kansas City Chiefs during the first half at Ralph Wilson Stadium on November 9, 2014 in Orchard Park, New York. (Photo by Tom Szczerbowski/Getty Images)   The Buffalo Bills head into the 2015 season with a new defensive coordinator among their ranks – Dennis...
Here's a first look at the model who's accusing New York Jets defensive coordinator Dennis Thurman of slapping her after she and a pal told him to take a hike at a New Jersey bar.Jessie Steinberg, a self-proclaimed Giants fan and sales rep, appears nude and semi-nude in a series of photos, obtained by the New York Daily News.The 28-year-old Steinberg accused Thurman, a former NFL...
When news broke that New York Jets defensive coordinator Dennis Thurman was being investigated for an incident at a New Jersey club, there were many questions about what transpired.  Apparently a woman accused Thurman of slapping her hand and grazing her face after she flipped him off at the club last week. Courtesy of TMZ While there is some evidence that Thurman might have been...
MORE STORIES >>
NFL News

Delivered to your inbox

You'll also receive Yardbarker's daily Top 10, featuring the best sports stories from around the web. Customize your newsletter to get articles on your favorite sports and teams. And the best part? It's free!